With the unemployment rate for Gulf War-era II veterans at 12.1%, and showing very little signs of improving, it is obvious that it will take a cooperative approach to address and tackle this problem. This is one issue that has bipartisan support, and there has and continues to be a tremendous outreach for both the public and private sectors to help those who have served and protected the nation.
It is estimated that nearly 900,000 veterans are currently unemployed, and while many will read this and say, "How can that be?" the reality is, there is a huge need for more employers to actually recruit veterans to their workforce.
There are a wide variety of services and programs both free and paid that employers can take advantage of to recruit, hire and retain veterans to their organization, and I thought I would spend a little time today just outlining a few.
Milicruit and the Military Officers Association of America, in partnership with more than 35 leading employers, has launched the 10,000 Jobs for Veterans and Military Spouses Challenge, which has already resulted in more than 4,500 veterans and spouses being hired in just 3 months.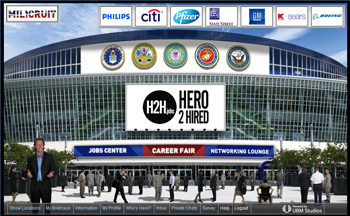 Milicruit will now host monthly virtual career fairs with the next one scheduled for June 26th from 1-4PM EST www.veteranscareerfair.com
Veterans and military spouses can view/apply for all available jobs by participating employers in the jobs center, visit employer booths in the exhibit hall, chat with employer recruiters in their virtual booths, meet with fellow veterans and spouses in the networking lounge, and from the comofrt and convenience of their home. In essence, Milicruit brings the career fair to the veteran and military spouse.
The Department of Defense has a great new program called Hero 2 Hired or H2H www.h2h.jobs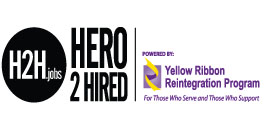 Launched in December 2011, Hero2Hired (H2H) is a comprehensive employment program powered by an enhanced job search website (h2h.jobs) and mobile application designed to address the unique needs of Reserve Component members. The mission of H2H is to simplify the job search while reducing the number of unemployed Reserve Component service members. H2H also allows military-friendly companies to access the talented men and women in the military, post job openings, search for candidates and invite them to apply, and participate in virtual and live hiring events -- all free of charge. Since its launch, H2H has signed up over 30,000 job seekers and 3,500 employers online. H2H is managed by the Office of the Assistant Secretary of Defense for Reserve Affairs and works in partnership with the Yellow Ribbon Reintegration Program and ESGR. More information for H2H can be found on their website at H2H.jobs.
JPMorgan Chase is leading an effort to hire at least 100,000 veterans by 2020, and in under a year, the coalition members have already hired more than 12,000 veterans. The 100,000 Coalition will host a career fair on July 12th in Chicago in collaboration with the Illinois Department of Employment Security, Illinois Department of Veterans Affairs, and the University of Chicago.
The Department of Veterans Affairs- VA for Vets
www.vaforvets.com
VA for Vets is:
a comprehensive career development program that helps veterans launch or advance their civilian careers at the VA. From dynamic job searches and military skills translation to professional development and deployment lifecycle support-there is something for every veteran at VA for Vets.
On June 26-28, VA for Vets will host a unique hiring fair in Detroit, MI.
As part of the 2012 National Veteran Conference, the Veteran Hiring Fair in Detroit will provide meaningful employment opportunities for thousands of Veterans seeking civilian employment. The Veteran Employment Services Office (VESO) is preparing hiring managers and HR professionals from VA, other federal agencies and private sector employers to make tentative offers on-site. Veterans can register at www.vaforvets.com
The Value of a Veteran www.thevalueofaveteran.com Employers who do not have a military recruiting program today, but who have an interest can take advantage of one to one training with programs offered by Lisa Rosser and The Value of a Veteran. Lisa's workshops educate employers on the steps both large and small that can be taken to adopt a military recruiting program with very little effort.
These are just a small sampling of the programs currently offered to assist veterans and their spouses in their search for gainful employment, and it is an effort that businesses both large and small can play an active role in. If every hiring manager in the Fortune 1000 agreed to hire just 10 veterans over the next year, we could all but eliminate the unemployment rate for veterans. Given all they have sacrificed for us, the least we can do is provide an opportunity for them to find a rewarding career. The last thing they are looking for is a handout, but they surely deserve an opportunity.