The search for employment after serving in the military can often be quite challenging, but not because employers are not looking to hire them. Many veterans' struggle with translating what they have done in the military to what they would qualify for in the civilian world. Veterans are not comfortable with self-promotion, and as we all know, self-promotion is exactly what is needed to find the right job.
Luckily, there are many great programs in place to help veterans understand just how valuable their skills and experience is to any employer. The U.S Chamber of Commerce Hiring our Heroes program has developed a personal branding resume engine that assists the veteran in translating their military experience and skill set to matching jobs with industry leading employers.
VRS, in partnership with dozens of America's most military friendly employers, will host the Thank You for Your Service virtual career fair on July 30th. With more than 70,000 jobs available, there is sure to be something for everyone who attends.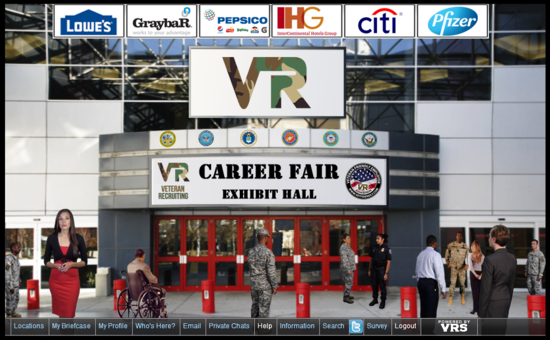 Katie Killius, Military Hiring Program Manager with Wells Fargo stated, "Wells Fargo believes each team member offers something extraordinary and recognizes the impact military experience can make in the company's work environment. Wells Fargo is partnering with Veteran Recruiting Services at every opportunity to reach our service members through virtual career fairs. Our Recruiters find this program a great way to quickly connect with dedicated job seekers in various locations to make that perfect career match."
Wells Fargo is just one of the employers who will participate. There are employers from all industries and even a few federal agencies. Some of the other employers include Aetna, Airgas, Capital One, Citi, Comcast, Convergys, Department of Energy, Emeritus Senior Living, Exelon, Graybar, IBM, Intercontinental Hotels Group, Kellogg, Lowe's, Loyola Marymount University, Military Spouse Employment Partnership, Penske, Pepsi, Pfizer, Philips, Progressive, NASA, The Mission Continues, Travelers, TSA, USAA, Union Pacific, Waste Management, Western Southern Life, and Xerox
"The VRS virtual job fairs provide Capital One a cost-effective way to recruit talented veterans across the country that we might not otherwise be able to reach. We find that military experience gives our new "recruits" a head start and provides a tremendous personal foundation for success. We know that the skills and qualities that made them outstanding assets in the military - the strong work ethic, rigorous discipline, the creativity to overcome obstacles - are precisely the kinds of qualities we look for at Capital One." Said Christian Giacchi, Manager, Military Recruiting Capital One
All the employers have a serious commitment to supporting our military community, but they participate because of the wealth of talent that veterans and military spouses bring to the workforce.
Tiffany Garcia, Fellowship Recruitment Manager with The Mission Continues said, "This has been amazing platform to reach out to thousands of veterans without having to use the time and resources it would take to engage this demographic all across the country. It simple and easy to use software that can make a difference in the veteran's life."
The VRS virtual career fairs have helped more than 27,000 veterans and military spouses find meaningful employment since September 2011. VRS and more than 30 employers have committed to hiring at least 50,000 veterans and military spouses by 2018 through the VetFriendly 50,000 Jobs Challenge
"We recently teamed up with Veteran Recruiting Services and other leading employers to support the White House Joining Forces Initiative to hire at least 50,000 veterans and military spouses by 2018. By partnering with VRS, our recruiters are able to speak with active duty, veterans, guard/reservists and military spouses simultaneously across the globe. We want veterans and military spouses to know Penske has excellent career opportunities in transportation and logistics available nationwide," said Penske Truck Leasing Recruiting Supervisor Chris Rzeppa. "We especially value the leadership qualities and experience our veteran associates bring to workforce. In 2012, veterans [were] 19 percent of our hired external workforce."
We encourage all active duty, guard/reservists, veterans and military spouses to register and attend the virtual career fair on July 30th by registering at http://www.veteranrecruiting.com.
Thank You for Your Service.