In years past, it was not uncommon for a job seeker to put on their best suit, print resumes, attend a career fair, and perhaps leave with an interview, or even a job offer. Anyone who has attended a career fair lately will tell you that it hasn't happened that way for them. The truth is, there are a variety of reasons why employers no longer are able to offer jobs or interviews on the spot, and I thought I would spend some time explaining why that is the case.
First, employers are obligated to do background, drug, education, and reference checks long before they can extend an offer. Imagine if they hired someone who has a criminal record, and only found out after they started work. Also, they need to show that all applicants have equal access to the jobs they have posted, and therefore ask that everyone apply online. If an employer does any work with the government, they need to show that they are doing what is necessary to make the jobs are accessible and available to veterans for OFFCP compliance.
Is this the best way for employers and job seekers to connect?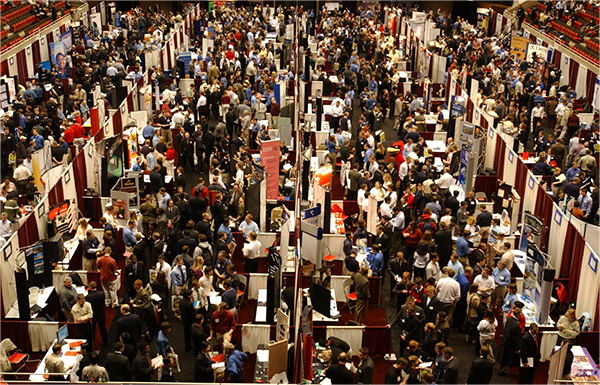 So if employers are no longer interviewing, or hiring at the traditional career fairs, what is really being accomplished? Truth is, not much at all outside of a branding opportunity, and at best a resume handoff.
That is why in my opinion virtual career fairs will soon become the standard model for employers and job seekers to have that initial interaction. There are tremendous benefits to a virtual career fair for both the job seeker and employer such as being able to recruit nationwide in a few hours, reduce travel costs, and job seekers are already online which is where employers need them to apply anyway. Virtual means equal access to all regardless of where they are located, and for the job seeker who may have difficulty getting to and from a traditional career fair, it really levels the playing field.
In 2008 I started a company called Milicruit which was designed to bring employers, veterans, and military spouses together in our virtual career fairs. In just four years, more than 11,000 veterans were hired, and more than 300 Fortune 1,000 employers participated in our events.
The term 'virtual career fair' gets tossed around quite loosely, but if you take a look at some of the true virtual career fair providers in the marketplace, you will see they are becoming widely accepted as an efficient and effective way for job seekers and employers to meet and interact in real time, and from the comfort and convenience of their home or office.
So when considering your career fair strategy be it on campus, or perhaps for our military, ask yourself just a few simple questions before signing on:
1. What am I hoping to accomplish at the career fair?
2. Can I accept resumes, interview, or hire on the spot?
If you are unable to answer yes to at least the second question, there is absolutely no reason to not consider virtual instead.