Welcome back to Road Trip USA, a journey to showcase the best of America's travelscape, one state at a time. Driving from state to state, it's my job to illustrate the breadth of possible adventures available to you in the most diverse country on Earth, and to remind us what we love to experience in these United States.
Road trip through Ohio took me to the Cincinnati Zoo & Botanical Garden, for a series of up close and personal animal encounters. Driving south I reached Kentucky, famous for bourbon, horse racing, bluegrass music and chicken; but did you know that it's also a home of glass?
KENTUCKY: Mark Payton Glass Center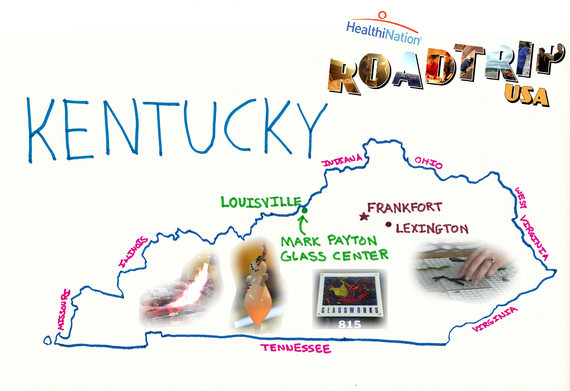 If you've ever seen a glass artist at work, you may have thought to yourself: Wow! This must be a skill people train all their lives to perfect. I could never do that. Well, you'd only be half right. The art of glass manipulation (and make no mistake, it's absolutely an art), is a skill set honed, nurtured and matured over many years to become a glass art master. But every master needs an apprentice, and at the Mark Payton Glass Center in Louisville, Kentucky, YOU can become the apprentice-for-a-day.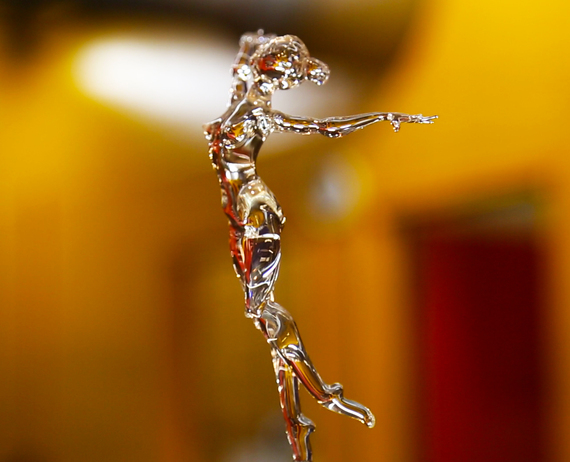 I'm serious! I signed myself up for a "flame your own" class, which takes place in the historic Glassworks Building in downtown Louisville, and learned the basics of flameworking to create my very own glass masterpiece. As you may have guessed, the photo above does not depict my artistic creation (I'll reveal my glass art later, and if you did think this was a piece I created, then bless you for giving me far more credit than I deserve). Pieces of this precision and beauty are the work of masters, but it all begins by learning the basics.

I'm going to back up for a second to give a shout out to Louisville herself. She's Kentucky's largest city, the home of the world famous Kentucky Derby (the most exciting two minutes in sports), the producer of the finest bats in baseball, the headquarters for the world's second largest restaurant chain (tip of the hat to Colonel Sanders), and Kentucky's premiere arts and culture capital.

At 815 W. Market St. in Louisville is the historical Snead Building, affectionately referred to as the Glassworks Building. It's on the National Registry of Historical Buildings and today it is the home of the Mark Payton Glass Center, where I took my very first steps in becoming a glass artist apprentice.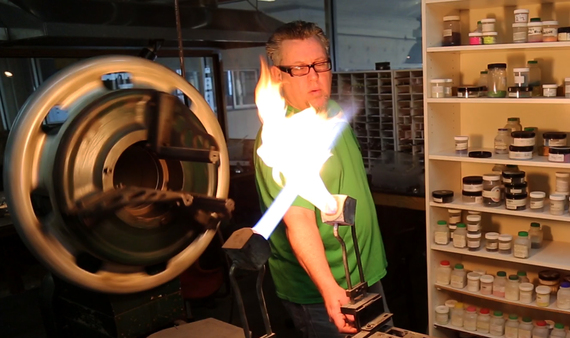 It all starts here! I mean, it all begins with your teacher, and I was lucky enough to have Mark Payton himself as my flame glass instructor for the day. I apologize to anyone who thought this was a photograph of the beginners tools for flame glass artistry. This was Mark showing off one of the delicate pieces of machinery used by the masters in their professional creations.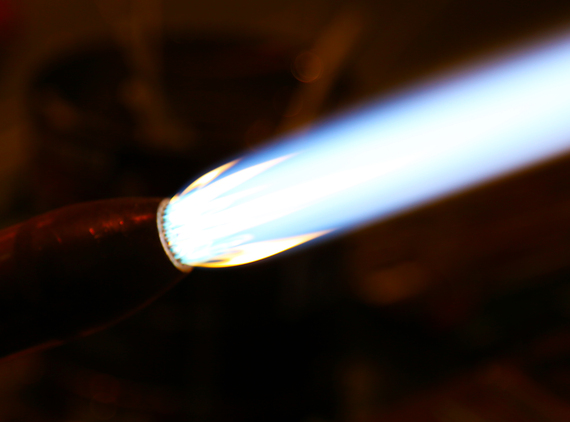 This is the tool you'll use in your flaming class (it's an oxygen/propane torch). The torch provides the energy necessary to manipulate the cold glass.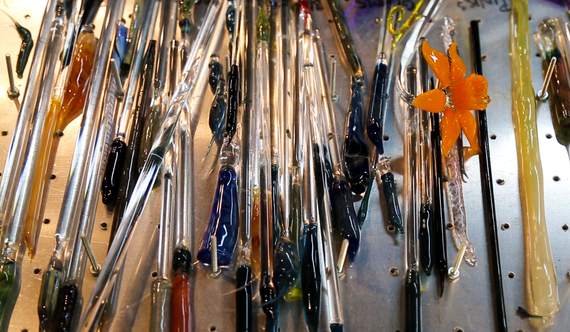 And these are your raw materials. Now you might be wondering, why is it called cold glass? These glass rods aren't cooled in any special way, they're just sitting at room temperature. There are multiple forms of glass manipulation, and the names distinguish glass which has been heated to a viscous state (hot glass) from glass which remains at room temperature before it is shaped (cold glass).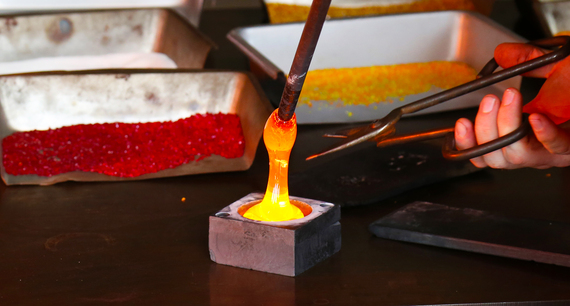 Here's a snapshot of hot glass being poured into a mold. FYI, there is a separate hot glass facility (Flame Run) in the Glassworks building with its own viewing room (where you can watch the hot glass artists at work) alongside a display and for-sale gallery.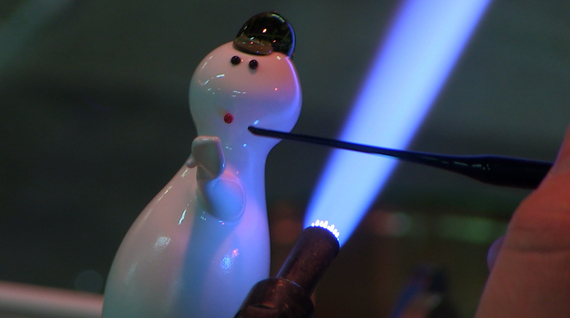 For my "flame your own" class I was going to learn how to create a snowman ornament. It may appear technically challenging, but I can assure you that anyone can learn the basics of how to put a piece like this together (no special skills required). In this image you can see the beginnings of the mouth application from a rod of black glass which has just been heated with the torch, just enough to deposit the correct amount of glass onto the ornament with a simple touch. Notice how the black mouth dot is still glowing red from when it was flamed.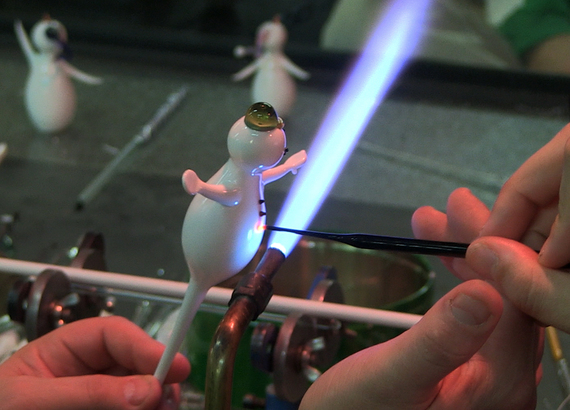 In this image you can see more of how heating the black glass rod and applying just the right amount of pressure deposits a 'dot' for the snowman's button.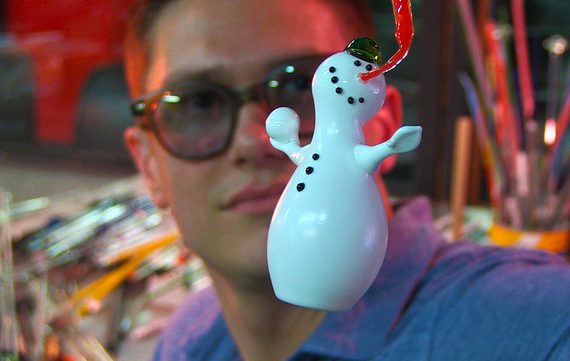 Voilá! My flamed glass snowman, created (with help from the master) without any prior knowledge of how to manipulate glass. Obviously I left out several of the critical techniques that went into creating this smirking athletic ornament, but those are for you to discover in your own class.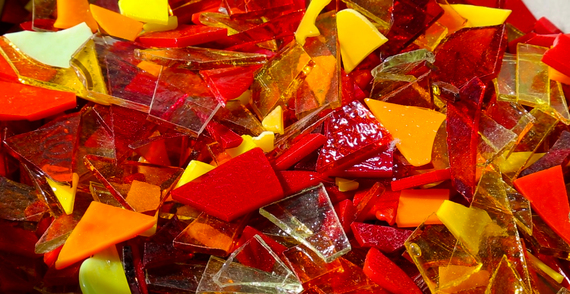 If you find yourself in Louisville and wish to do something simpler than taking a class in flame art, there's always the "Walk-In Workshop," where anyone can turn the glass pieces you see above (there are many different colors) into plates, platters, jewelry, bowls, coasters, vases, name plates, or decretive wonders. Art is what you make of it!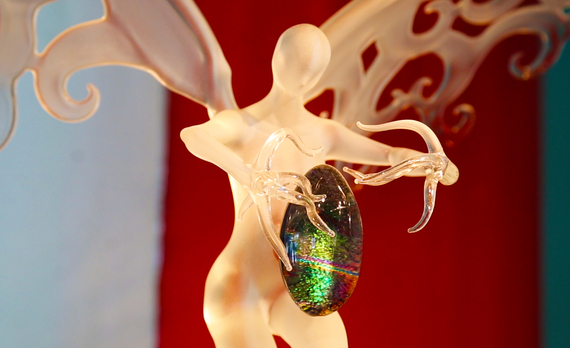 I've always had this intense reverence for those of us who are true artists. Creative expression is one of those qualities of mankind that evolutionary scientists love to theorize about how it came into being. My trip to the Mark Payton Glass Center reminded me how amazing it feels to watch (and be a part of) a creation of imaginative expression.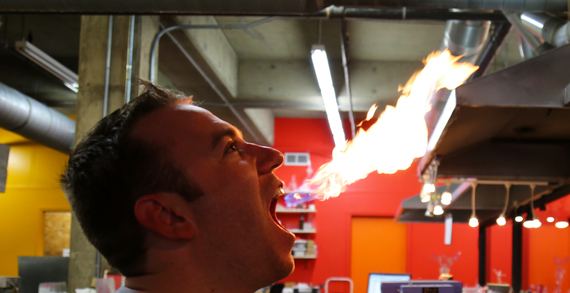 It also reminded me how much fun it is to try new things!
Next Stop: INDIANA!
Photographs in this piece were taken by Kevin Richberg and Alan Bamberg at the Mark Payton Glass Center and Flame Run in Louisville, Kentucky.