As previously discussed on The Herd Report; I got to experience the atmosphere in NYC and around the world first hand during the World Cup. It was electric like I have never seen it before, especially coming from a bunch of Yanks watching soccer.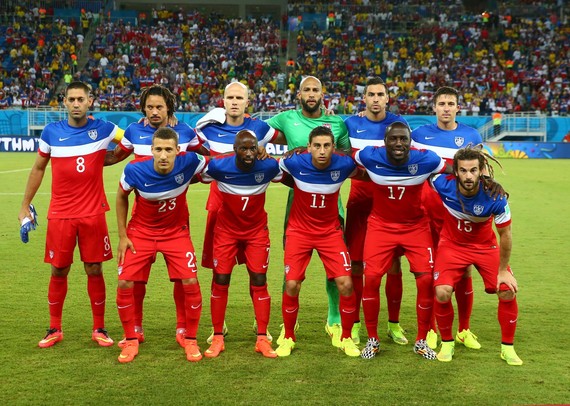 When Landon Donovan lead the American Outlaws on their 2010 run in the World Cup people were paying attention but it was mainly just soccer enthusiasts watching. It appears now though, that the excitement of the 2010 World Cup set the framework for soccer to grow over the last four years. In 2014 something has happened to soccer in America that simply wasn't there before. ESPN has said recently that "overall viewership for the World Cup is up 44 percent over 2010.
The USA-Portugal match during the 2014 World Cup registered 18.2 million viewers on ESPN, with the USA Belgium match surpassing 20 million. This surpasses the viewership numbers of other events such as MLB's World Series, the NBA Finals, and the NHL Finals.
I love American sports and I love my teams. Being a fan is fun. However, the one annoying part of being a fan at times can be the other teams fans. With the World Cup though, it didn't matter if you were from New York or Los Angeles. You were American and we all had each others backs. The World Cup brought back to America a sense of nationalism I haven't felt in several years. During all this shared excitement between almost everyone I think it is safe to say that the US Men's team taught America a few lessons.
We learned that Goalkeeper Tim Howard is The Man and according to twitter that we want him to run for president in 2016.
"Tim Howard for president" - 10 tweets about new US hero http://t.co/uht4hwurLM pic.twitter.com/iOaJM5byu9

— BBC News (World) (@BBCWorld) July 2, 2014
But that President Obama called Tim Howard to tell him to shave his beard and that the position of secretary of defense has already been filled, even if he had a record setting 16 saves against Belgium.
#USMNT @Clint_Dempsey and @TimHowardGK got a call from President Obama earlier today in São Paulo. pic.twitter.com/Vm21OhxHqX

— U.S. Soccer (@ussoccer) July 3, 2014
We also learned that Clint Dempsey is unstoppable on the pitch (President Obama called him too). Dempsey showed that he won't back down even if he gets kicked in the face and breaks his nose.
The United States also advanced farther in the tournament than England after coming out of the challenging group of death; reminding all American's just in time for Independence day whose still in charge 238 years later.
Coach Klinsmann showed us that while he initially annoyed America by not giving Landon Donovan a roster slot, publicly denounced the teams ability to win the whole tournament, and is not a big fan of MLS players; that he actually knows what he is doing. He brought together a US Men's team that could compete on the global stage and gain the attention of the world. This is a tremendous accomplishment considering the global opinion is normally that American Soccer cant complete with other countries on the pitch.
Most importantly we learned that if the 2010 World Cup run set the stage for this much excitement in 2014, The United States is well on its way to becoming a soccer nation in the coming years. 4 years from now the 2018 World Cup is going to be incredible. In 2018 it is safe to say that most of America will once again and more confidently be saying:
I believe that we will win!