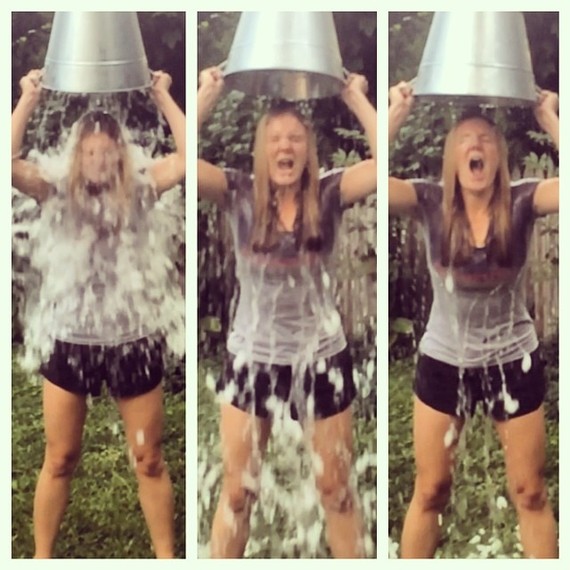 I have to admit that I was not a believer. Our vice president sent an e-mail on July 22nd explaining this crazy idea about people dumping ice cold water on themselves for the sake of awareness, I filed it under the category "ummm, maybe next year." It was only a matter of days before I noticed my two friends who also have ALS and their own foundations, bombarding my Facebook news feed. It was like the supporters of Pat Quinn and Pete Frates were everywhere I looked! And even then, I thought "good for them, it won't last."
Man, was I wrong! I mean, really wrong. The Ice Bucket Challenge had officially gone viral. The concept seems almost sophomoric but somehow it has found its way into mainstream pop culture and at the same time brought ALS with it. This horrible disease has received a few moments in the national spotlight over the last few years thanks to Steve Gleason and his foundation's tremendous efforts. But the Ice Bucket Challenge has accomplished some serious staying power!
Thanks to Twitter we are able to instantly insert ourselves into the biggest and loudest conversations happening on the planet with a simple hashtag. #Icebucketchallenge became not just an easily searchable term, it became a movement in a matter of days.
I knew that the moment I saw an ounce of negative press, the Ice Bucket Challenge had really arrived! After all, haters gonna hate, right? "IceBucketChallenge: Why You're Not Really Helping," was on the Huffington Post on August 7th and has been shared on Facebook almost 30,000 times. At first glance, I couldn't believe it. There's no way people can be blind to the impact this movement has created. But then I realized people were sharing the article out of spite and expressing just how wrong the author really was.
The concept is so simple, it almost doesn't make sense. Like most nonprofits, A Life Story Foundation is always looking for different forms of fundraising. We have been blown away with how this movement, this 60 seconds of ice cold giving has translated to actual dollars. Not only are people taking the challenge (it is hard to hide from your friends), they are actually donating too (the far easier act to avoid). There are not philanthropic police monitoring every Ice Bucket Challenge, people are giving because they want to and because it is so desperately needed.
As a foundation, the Ice Bucket Challenge has not only put us, but the disease itself in front of millions around office water coolers and dinner tables across the country. We have received over 95 percent of this year's online donations within the last two weeks. As if the money were not enough, we have an entirely new an energetic audience that initiated the conversation. These donors, or as we like to call them investors have come to us from across the country.
In the nonprofit space there will always be golf tournaments, galas, silent auctions, 5k's and our favorite event, The Celebrity Chef Dinner. What all of those have in common is that they are labor intensive and occur at one time in one place. The Ice Bucket Challenge has shown no boundaries and has rewritten the fundraising book. It is that same type of creative, determined way of thinking that gives everyone within our organization hope that we will Rewrite the End of ALS.