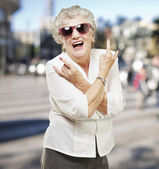 In this episode of SYS Chat, we touch on numerous topics and provide helpful tips.
First of all we talk about people saying that they are too old to start something new: if you think you are too old to start something new, then you better put your skates on and start doing what you love doing right now because your life is slipping away, don't come to the end of the road and say "shit, I wish I had done that!"
We also discuss the topic of competition, we believe there is no such thing as competition in business, yes, we know what you are thinking, but it's true and it's a really great way of running a business.
This is a longer than normal SYS chat but we think it is one of our best. Hope you enjoy it. xx
We would love you to tell us what your passions are in life. Also can you see yourself turning that passion into a business?
Comment below...
ps. Don't forget to sign up to our VIP list. Find out how you can benefit from being a part of Strut Your Stuff Entrepreneurs.