So we now know there are four types of street food nations and they each come with different views, outlooks, beliefs and aspirations. They all have commentators with views that range from boastful, hopeful, soulful, thankful and sorry-ful. This was observed after the close of the World Street Food Congress held recently in Singapore.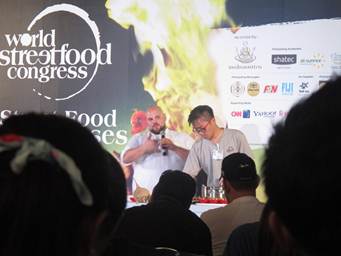 Anthony Ricco, Exec Chef of The Spice Market from New York, demonstrating how a Jean George restaurant transform street food.
Firstly, there are the countries which have at least up to a century of street food hawking heritage where once poorer folks plied the streets because of hardship conditions and sheer desperation. That came in an era when hawking in the streets was seen with disdain, associated with crooks and losers and had a reputation that's just one notch above murderers and rapist. But over time, it became a cheap source of food that fed a nation, offered by sometimes desperately creative street cooks who knew it was "think or die." They thought, and then came up with ideas and flavors inspired by the inherent culinary cultures of the land. Asians would come up with the colonial British heritage chow like meat chops with Worchestershire sauce and tomatoes and hawked it in the streets. Indians began to fry noodles the way their Chinese friends did and came up with mee goreng, with creative sambal concept license from the Archipelago. Now, at least a hundred years later, they are faced with extinction. Not many in this social media world want to take over these old brick and mortar concepts that benefit nothing from a thousand "likes" on their fan page. They would rather you come and eat, period. The problem of continuity is apparent and, of an organic culture that the country has grown to love, adore and adopted as their culinary "brand", it is a pressing issue. Malaysia, Singapore and increasing so in Thailand and Indonesia can face the prospects of eating "baked-doughs-with-logos" if this culinary heritage is left to rot. "I feel it's my duty to continue my parent's street food reputation.." says Jennifer Tan who left the medical industry to helm her aging folk's Nonya street food stall, Donald and Lily, in Malacca, "but I don't know what I can hand over to my children and if this family food name can continue", she reflects.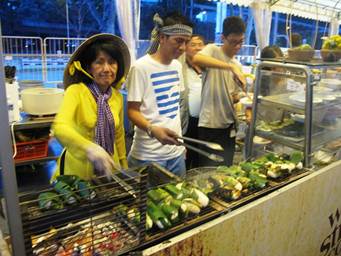 The Nam Bo stall from Vietnam, hawking humble grilled banana with sticky rice in banana leaf was one of the best sellers at the WSF Jamboree.
Then there are countries, with as old a street food heritage, and which not only their citizens, but the world has grown to love, that does not officially recognize such street hawking. A lone soldier here and there would occasionally stand up for their rights to vend and push for these entry level entrepreneur opportunities. But they are looking at conquering an almost insurmountable obstacle. Food critic and advocate Vo Quoc from Vietnam, encourages itinerant hawkers to observe rules of hygiene and food handling (often the bane of their government who does not have management rules on these hawkers, so they ban them outright). He will bring his celebrity friends to eat there in exchange for publicity and their promise to keep it neat and hygienic. He also takes in orphaned kids to intern at these stalls in the hope that some exchange and bond can happen and seed a new future of street food culture in Vietnam. In India, with centuries of street vending culture, it is still seen as an eyesore and an inconvenience to the government. They are still regarded as itinerant. Nasvi ( the National Assn of Street Vendors of India) is an NGO group dedicated to protecting and legitimising the livelihoods of these poor street hawkers. Their government has taken note of their mission and has now tabled motions of discussion on this topic in Parliament. Overnight, at least 3 million illegal street food vendors in India will be legit and one can only imagine the opportunities available then. Both Vo Quoc and Nasvi are represented in the World Street Food Council, a team selected to act as vanguards, observe and act on the future of the industry.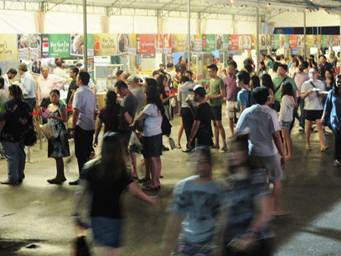 street food will always have adoring fans- part of crowds at the World Street Food Jamboree in early June this year.
There are also the newer kids on the block. They have less than 30 years of street food culture and most operate street food carts and trucks as one meaningful way to see each month through and are seen as what Anthony Bourdain calls "hipster hawkers". They are youngish, hawkish (they love aggressive and progressive rules that protect their livelihoods) and energetic. The US, Australia and even Britain are reveling in this culture and currently faces no problems about continuity ( "not enough licenses issued" claims one observer), and has no idea what old street food legends can do to and for their city's image should they fade into oblivion. Also, another set of issue will arise if the nation suddenly realise that there are 500,000 of such vendors all over their country and outside their homes, hawking away with a dio-deisel generator humming and a boom-box pounding on. Governing street food hawking is no simple matter. When they flourish, they will have an impact on the country's health care cost and environmental issues.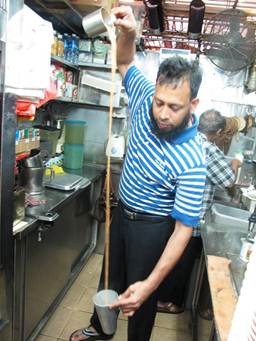 Rafee is a pulled Indian tea hawker in Singapore and over 20 years, have pulled himself out of joblessness and now own a comfortable condominium apartment for his family.
The final category are nations with hardly any or no street food industry. They took note and realised that the rights to vend in the streets, cheaply and safely, can be an avenue out of poverty for many. Some, like in many European nations, just don't have this culture embedded in them since day one. But the dark economic clouds that are always hovering close, is forcing some to think about this food culture. It is a cheaper form of mass feeding. In the troubled economic weather Spain is now facing, (with over 25% unemployment), the cheapest decent meal one can have there at the truck stop cafes can set you back by 12 Euros. That amount can feed a family of six with decent street food offerings be it at the streets or in a hawker centre in Asia. Government officials from troubled and recovering Rwanda, asked if the World Street Food Congress can help start street food culture in their country, as a means to help their people get back on their feet. There's no way we will say no. We are acting on follow ups now. We will also need the support of everyone out there for the liveliness of the world street food culture and industry to flourish as it's not just about continuity, hip culture, deliciousness and charm, it is also a way out of desperation and poverty. It is also a less trodden road to success for folks seeking alternative lifestyles and who can't fit in.
And to the many who feel that street food vendors must remain in the streets and be cheap , the "that's why it's called street food..duh!" advocates, and who also revel in the charms of these third world hawkers who lend colour to their pseudo Somerset Maugham lifestyles, you should ask if they are keen to remain poor and stand there all their life hawking your fantasy. Ask the hawkers and their kids if they have any ambitions. They should move up the ladder and set the stage for others to emulate their journey.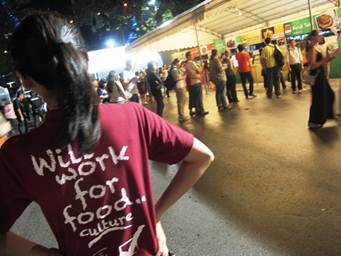 Love the street food culture and be a soldier that defend it heritage and protect the right of the displaced (and misplaced) to vend in the streets.
If we can't, in our own little ways, make this industry something we can be proud of and like, then we are mere bloggers and followers looking for more cheap and delicious food from poor street food vendors. Eat , digest the culture and help seed an industry that create jobs, opportunities and help farm people out of poverty.
The World Street Food Congress will be raising funds to help cities, organisation and displaced folks to fend for the cause and themselves, to provide better entry level entrepreneur opportunities in this industry.