He was christened a Makansutra Hawker Legend in 2005 and these awards aren't up for grabs every year. We have not given out this street food accolades since. Legends in any form, don't grow on trees and fruit yearly. But Mr Ng Siaw Meng sells satay beehoon, a Southeast Asian Silk Road dish of sorts that made its journey from Indonesia, through China and evolved to this version in Singapore and unique to this nation.
It's a simple dish, by concept, a plate of blanched beehoon (rice sticks) slathered in a smooth yet nutty spicy peanut satay sauce that's topped with lean pork, prawns, cuttlefish, blood cockles, tofu and textured with bean sprouts and water spinach (kangkong). But it only sounds easy to do, like sending a rocket to the moon. His rendition is addictive at the least, and it's a culinary pilgrimage you must do each time you mention his dish and stall. It's a very rare dish and it's not easy to find nor learn to cook it in Singapore.
The queues at his stall each evening in the East Coast Food Lagoon, are relentless, fragile with patience, till the last plate is served just before midnight. Technically, Mr Ng serves the world's best plate of satay beehoon.
Fast forward. He tells me the doctors have now given him less than three months to live when I met him last week. He's sat through the best chemotherapy available in Singapore and now he's only hoping for the best, a miracle perhaps, while expecting the worse at the same time. Slaving over his stoves and woks for almost 40 years grooving to the same routine everyday, he woke up one morning earlier this year and noticed he was getting visibly thinner. It was stomach cancer -- "stage 4" -- revealed his doctor.
This staunchly stubborn, proud expert and master of this one dish never once before entertained any request for demo classes nor sale of his recipe. But now he relents somewhat. "I need S$200,000 (about $160,000) for my brother's and my remaining medical fees," he says. (His trusted assistant and brother fell at their home two years back and was incapacitated from the neck down.)
So the news hit front page of local tabloids, and in a country obsessed with local food culture and unwilling to witnesses any death of local food heritage, it's major news. A few interested parties came a-calling and offered to appease his last wish. But his healthy pride was in the way: "Most wanted to buy my name and later desecrate my recipe and turn them into chemical laden sauce packs," Mr. Ng laments, stating clearly "I would rather bring my recipe to the coffin." It would be a shame if his legacy went under.
As if the heavens were watching, a Mr. Allan Moo asked if I could help fix an appointment (as Mr. Ng seems to believe I can send only the sincere buyers to see him), citing the usual "I am very keen to inherit a legend's recipe and carry on his heritage in a humble stall run by me and my family and close friends. No machines and franchise, just old fashioned elbow grease goodness." He even wrote a note of intent and promised Mr. Ng his "peace of mind."
But 15 minutes into that meeting with Mr. Ng, I sensed Allan realized the task and responsibility of inheriting the recipe and name was bigger than he originally thought. "It's subjective if the price is high or not," Allan said. "It depends on what one wants to do with it" and he is currently wondering if he has the talent and expertise to do justice to this legend's dish.
For starters, hints the frial Mr. Ng, "My five-spice powder is actually made with nine ingredients and we buy them fresh to be grounded every week." It's an idea of the scope ahead for any interested parties.
Meanwhile, the search for a savior of this Makansutra Legend's food culture continues.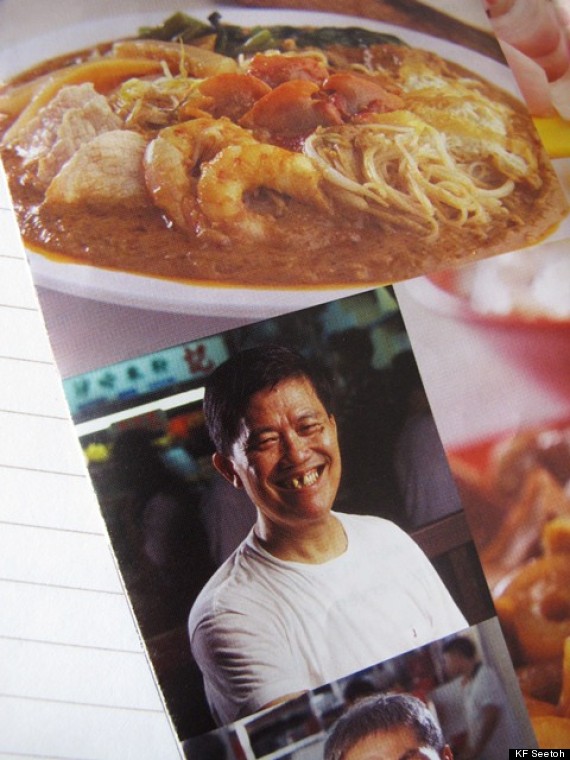 Mr Ng with his Legend's satay beehoon dish, as featured in the Makansutra Hawker Legend brochure in 2005.