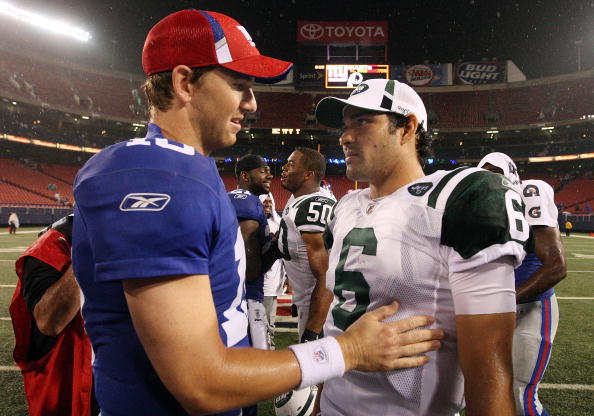 The hype leading up to tonight's preseason game against the New York Giants and New York Jets has been primarily one-sided. And for good reason as the Giants have gone relatively under the radar this off season, while the Jets seem to have something to prove as they do at the start of every season.
The Jets surprising appearance in last seasons AFC Championship game and the filming of the hit HBO TV series HardKnocks has their confidence high and their respect at a minimum towards the team they've played second fiddle to for over five decades. And while their recent success is to be commended it really shows of who is King and who isn't of New York.
Tonight's game will not settle anything as the score and performance will mean nothing once the game is over. But what is interesting is how much longer the Jets expect Giants fans, players and the organization to remain patient with their reckless words and ridiculous taunting. The Giants have nothing to prove to the Jets and while the same can't be said for them, because of their post season success last year they feel somehow superior having done nothing since their 1969 Super Bowl Championship.
I say this out of understanding that while what the Jets accomplished last season was impressive. Respect in this town is not given it is earned...and one successful season may open the door, but it takes more than one season to get the respect they so desperately crave.
The fact remains that despite it all, the Giants were the first football team in New York and nothing can ever change the 35 years gap between the two franchises. No disrespect to Jets fans who should be proud of their team but let's be realistic and understand that with all eyes on you...the pressure at this moment couldn't be greater which is something the Giants relish in. With the world watching the overly cocky and extremely confident Jets have allowed their mouths to write many checks this season that the media will sit back and pick apart if they fail to deliver. A word of advice from a fan of the number one team in NewYork...sometimes your silence is golden and can serve as the peace you'll need when things don't always go according to how it's written and predicted.
Live coverage of tonight's game will be broadcast on ESPN and My9 for local fans in New York. Kick off is at 8:00 PM EST
To Jets fans...it is with hope that players for both teams leave the game healthy and injury free...other than that, who wins or loses is of no consequence.
Maybe we'll see each other in the post season, until then...it's just another preseason game!