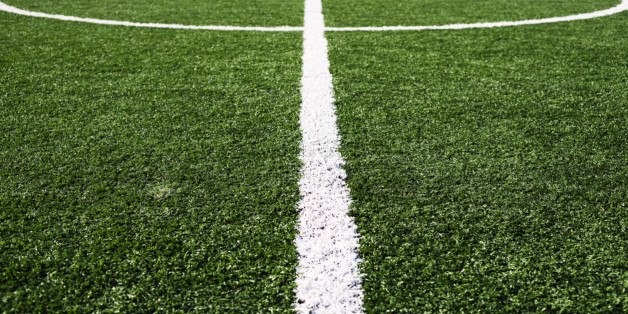 Ezra Frech is a blue belt in karate, the starting kicker for his school's football team and a basketball star who led his team to an undefeated record last summer.
He also happens to have only one leg and is missing three fingers on his left hand. But that's beside the point.
"When I play sports, it makes me feel at home -- I just feel like I am one of the guys," Ezra, who is nominated for the Sports Illustrated SportsKid of the Year award, tells Kids in the House. "I'm not thinking about being different."
While Ezra's differences have never stopped him from pursuing his dreams, the strength he's had to demonstrate throughout his young life is apparent. Born with one leg shorter than the other and only one finger on his left hand, Ezra endured extensive surgery at the tender age of 2 1/2. Doctors amputated the shorter leg and took a toe from the amputated foot to replace one of his missing fingers. He now uses a prosthetic leg, which must be replaced periodically as he grows. "I don't even know how many legs I've had," he says. "You grow half an inch, you get another leg... another half an inch, another leg. I get lots of legs -- like more than I can count."
Ezra acknowledges that other kids notice his differences, but he welcomes and encourages their questions. "I really like it when kids walk up to me and ask, 'What happened to your leg?' or 'Were you born like that?'"
Despite Ezra's positive attitude, there are times when his physical challenges frustrate him. "Sometimes I ask God for another leg," he admits. "But to stay positive, you have to think of all the good things. Think of what you have, instead of what you don't have."
What Ezra does have is a resilient spirit, endless energy and an indisputable talent for athletics. His achievements in sports would be impressive in any circumstances, but are even more remarkable due to what he's had to overcome. But in Ezra's opinion, it's all just a matter of mindset. "You can do anything you want to," he proclaims. "You can dream it, you can hope it, or you can make it happen. I choose to make it happen because that's the only way you are going to get it," says Ezra.
Kids in the House is endorsing Ezra for SportsKid of the Year, and if you watch this video, you'll see why. To vote for Ezra, visit www.sikids.com/skoty. Voting closes 12:00PM ET on October 13th.