Freetown, Sierra Leone -- Just off the busy Congo Cross roundabout in Freetown, Daniel Sewah is reorganizing the contents of the four-wheel drive which carries the members of "Burial Team 7." It's the start of another busy for those managing the safe removal and burial of bodies in Sierra Leone's capital -- although no one yet realizes just how busy it will be.
Since the city was declared a high-transmission zone, the body of every person who dies outside of a hospital must be brought for what is described as a medical burial, whether or not they displayed symptoms of the Ebola virus. This involves a team of people wearing full protective equipment and adhering to strict protocols. The elaborate procedures may at times appear excessive, but this is an essential part of breaking the chain of transmission.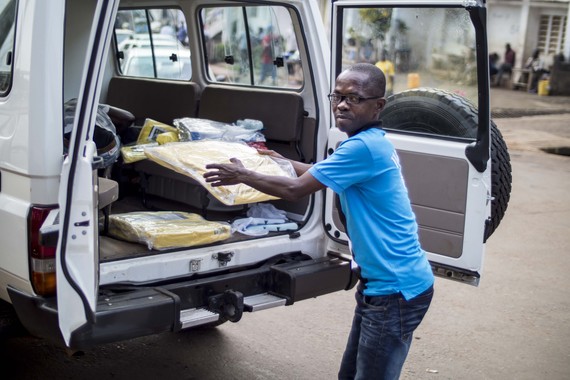 "It's estimated that 70 to 80 percent of Ebola transmission is through contact with dead bodies," says Fiona McLysaght, country director for Concern Worldwide, which recently took over the management of ten burial teams in Freetown. "There is a whole set of traditions surrounding death in this country, and sadly Ebola has turned those traditions into a deadly source of infection."
And the burial system here has been struggling to cope. Just a couple of weeks ago bodies were remaining in homes -- or even on the streets -- for days. But for the past 14 days, every death in this city has resulted in a safe burial within 24 hours.
For those on the front line it's a difficult, and potentially deadly, task. The body of an Ebola victim can be highly contagious in the hours after death. "I know it is dangerous, but I take my time and feel that I am well protected," says Daniel Sewah.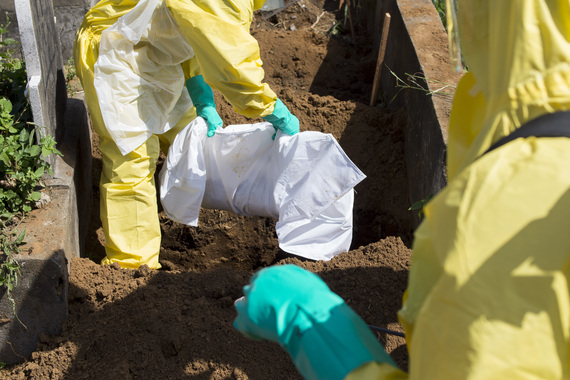 His job is to operate the chlorine sprayer, used to disinfect the scene and the protective equipment of the burial team. He is the first man in to the location of the body. "I have been doing this every day for over a month now -- it's very difficult," he tells us, as he loads hazmat suits, latex gloves, face masks and visors into the back of the team's Land Cruiser. "We lose so much sweat using the PPE (personal protective equipment)."
A burial team consists of 12 members, all with different specific tasks, from swabbing the body for Ebola testing, to recording the details of the deceased, to carrying the body from the scene and later to the burial site. "All of us watch each other -- we can't afford to make mistakes," says Daniel. "I am very close to my colleagues now."
And it's not just the physical challenges and dangers which face the burial teams. "Many of these men and women are stigmatized and shunned by their communities because of their association with Ebola," according to Fiona McLysaght. "Quite a few of them have been evicted from their homes, and we are working to ensure that they have a proper support system."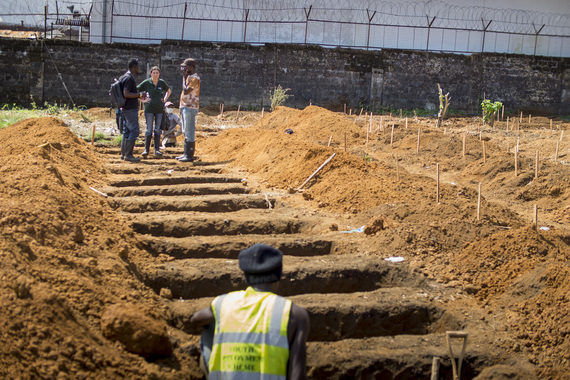 Daniel has a wife and three children and he says that it has been hard on his family. "My wife supports me in what I do -- she trusts me and is not afraid. But my neighbors stigmatize me, even my church."
That day would turn out to be the busiest yet for the burial teams in Freetown, with 70 bodies interred at the cemetery in Kingtom. Daniel Sewah feels that their contribution to tackling the Ebola crisis is an important one. "I am not working for myself -- I am working for my country, for humanity."
Concern Worldwide is an international non-governmental organization dedicated to reducing extreme poverty through emergency response, recovery and development programs. For information, please visit concernusa.org or follow us on Twitter at @Concern.