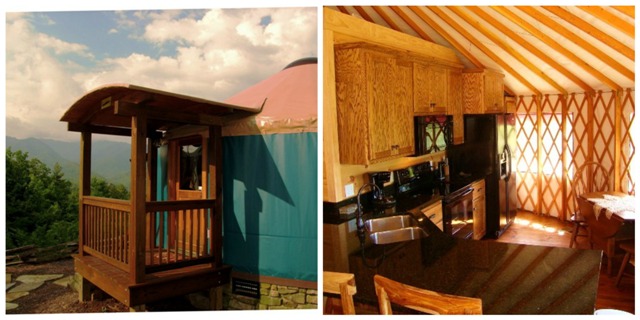 Sometimes we find diamonds in hidden places -- treasures so unique, unspoiled and deliciously gorgeous -- we want to keep them secret and not share. Then again, wonderful jewels kept in darkness never dance with the light or bring joy to anyone. I stumbled on two such nearly hidden jewels on my recent backroads trip in Western North Carolina.
The first backroads treasure is a mountainous get-a-way called Sky Ridge Yurts located in Bryson City, NC, and is owned by Melissa Little. Sky Ridge Yurts is an enchanting Mongolian tent village nestled in the majestic Nantahala Forest, atop a mountain with breathtaking views of the Great Smoky Mountains. This jewel is close to the popular whitewater rafting spot the Nantahala Gorge, which is hosting the 2013 Freestyle Kayaking World Championship -- the ultimate whitewater competition -- which will be held the first week of September.
Melissa Little erected the three traditional Mongolian tents known as yurts, after her husband was killed. She said her "professional cyclist husband rode off into the sunrise the morning of St. Patrick's Day in 2010, and was hit by a car. He was gone, and with him my best friend, my children's father, my partner, my provider. But, dust settles with any tragedy, and soon things went back to what I now call 'the new normal.'"
But for Melissa the 'new normal' was a widow who had to provide for her small children. She traveled across the US to clear her head and on her way back from Alaska found yurts all around her. Wanting to beat the fad of the yurt wave heading east, Ms. Little came back to NC and started a unique vacation rental. She credits her mother, Rosa, who first introduced her to yurts when Rosa bought and built one to live in. Melissa is also grateful to her husband's cycling team who came out in full force to help Melissa build her own tiny yurt village to support her family.
To reach Sky Ridge Yurts, you'll wind your way along the picturesque countryside of Bryson City, NC, then travel up a gravel road to Melissa Little's charming yurt village consisting of three colorful and plush Mongolian yurts which rival any five-star hotel. The yurt I stayed in had a separate bedroom, a large kitchen with granite counter-tops, a dreamy slate bathroom, AC, heat, private decks and too many other luxurious amenities to list.
Melissa Little calls it 'glamping.' And it definitely is and more. It is a glamorous alternative to camping, and the perfect paradise to enjoy the area's many attractions and end the day with fireside conversation and smore's.
I love smore's and imagine finding a pit stop where you can go from buying your smore's ingredients and paying for gas to eating vodka blush scallops. My second treasure is Caffé Rel, a French restaurant connected to a Hot Spot gas station/convenience store located in downtown Franklin, NC which serves up exquisite French dishes such as New Zealand lamb lollies, veal marsala, New Orleans catfish with grilled sausage, soft shell crab and more mouth-watering fare.
Caffé Rel is owned by Chef Richard Earl Long (Chef Rel). Aside that it is a culinary dream come true, the genius Chef Rel says another huge part of its appeal is its location. And the only thing separating the busy gas station and the European bistro are glass doors covered with crisp white sheers.
Chef Rel said he fell in love with the town and the people of Franklin, NC and wanted to create a neighborhood café where all were welcome. "Everyone in the world should be able to eat good, wholesome food at a reasonable price," he said.
When I visited, Caffé Rel was packed by people who were clearly enjoying Chef Rel's tasty dishes. Chef Rel described his impressive culinary background to me, which includes being mentored as a young man by Russian Chef Peter Macheska. He was then mentored by the great Chef Otto Indemauer, a third-generation Swiss chef. After seven years of training, he was accepted in the renowned Greenbrier Hotel Apprentice Program in White Sulphur Springs, WV.
It's no wonder Caffé Rel is a hidden gem you'll find in Franklin, NC which is dubbed the gem capital of the world.
So the next time you're searching for a vacation paradise and/or great cuisine, you might find it hidden in a tent or behind the gas pumps.