Now, it's Syracuse University coming under fire for allegedly failing to act on reports of suspected abuse by a coach (Bernie Fine).

A few days ago, it was The Citadel in South Carolina facing the same criticism.

Before that, of course, was the horrific Penn State abuse and cover up scandal.

Why is it apparently so hard for respected institutions to move quickly and responsibly when a trusted teacher, coach or cleric is accused of molesting a child?

As someone who spent years being violated in a Catholic orphanage, I approach this question with horrific firsthand knowledge. And as someone who has devoted years to recovery, I also approach it with a bit of distance, being far less haunted these days by the psychological trauma I was forced to endure at such a young and vulnerable age.
Here are four factors that contribute, I believe, to organizations and institutions trying to hide, not confront, abuse allegations.

1. An obsession with image
2. An 'idolatry' of high-performing individuals
3. A culture of superiority (both Penn state & Catholic hierarchy consciously cultivate a sense that "we're better than the rest) that may help attract students, staff and adherents. But it's not healthy, especially in child sex cases.
4. Risk of losing funding from government, charities and other sources
Additionally, when I see a problem, my nature is to seek a solution. I asked David Clohessy of SNAP (The Survivors Network for those Abused by Priests) what steps should be implemented to protect vulnerable children. He said, "The first step is a short term, legislative move: reforming or repealing predator-friendly laws that make it very hard for victims to expose predators in court, both civil and criminal. Step two would be a long term educational effort: child molesters aren't obvious social creeps who are easily detected, but the charming, charismatic people we know and love and seem so normal."
But, it's hard to offer solutions when we fear authority. At its core, I think fear is a real quandary for society. All we have at the moment is exposure of crimes and a salute to the victims, the brave ones who courageously stand up to these bullying organizations and institutions.
Maybe that is the solution. Maybe we can follow the example of these individuals who refuse to be silenced, who instead point the finger despite the fear of being disbelieved or the threat of losing their job. These bold souls are teaching us how to be brave. The least we can do is be a voice with theirs.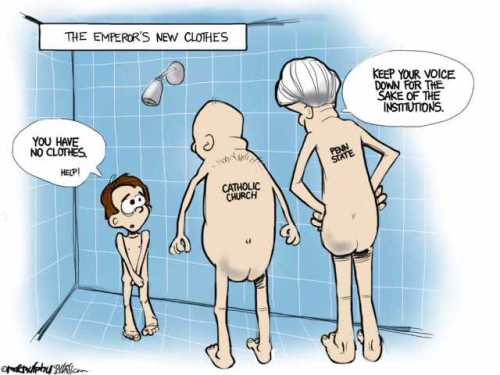 *cartoon by Marc Murphy used with permission