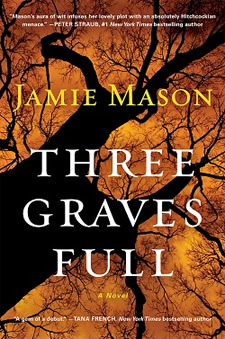 There is something to be said about a writer who can craft prose of macabre beauty and wit and weave it into a masterpiece mystery. So it is with Jamie Mason's debut, Three Graves Full. From the opening line to its clever conclusion, you find yourself immersed inside an intriguing hologram of action, crime and deception.
"There is very little peace for a man with a body buried in his back yard," the author tells us. And so begins the suspenseful journey when a docile Jason Getty buries a body in his back yard, only to later discover the graves of two others. Mason captures the very essence of the sinister and fallible side of humanity with dark humor and great skill.
Three Graves Full is a fresh and riveting tale of crime and its consequential bedlam, with a cast of vivid characters who straddle the intricate liar's margin that Mason has brilliantly created.