David Carradine has passed away. When I heard the news, and how it might have possibly happened, I was incredibly, almost weirdly sad. Carradine could be a handful (and his recent appearance at the Aero Theater in Santa Monica after a Bound for Glory screening proves as much). But he could also be a superior actor -- in Martin Scorsese's Boxcar Bertha (co-starring one of his famous partners, Barbara Hershey whom he had a child with, named Free), and then that bloody, drunken cameo in Scorsese's Mean Streets (shot by brother Robert), Walter Hill's The Long Riders (alongside brother's Keith and Robert), Kung Fu, Paul Bartel's Death Race 2000 (I love that movie), Ingmar Bergman's The Serpent's Egg (a great, intense performance), Quentin Tarantino's Kill Bill (his speech about Superman was especially memorable and more heartfelt and soulful, moreso than was probably written) and Hal Ashby's wonderful, lyrical Bound for Glory, in which he played Woody Guthrie to many viewers' surprise.
Through the passage of time, and especially with all the scandal, many forget the more sensitive side to Carradine. Yes he was Kwai Chang Caine and Bill and maybe even kind of a "weird-o" whatever that means (and god bless the real weird ones, not the pseudo eccentrics). He was a man who walked his own path (which makes nothing strange, only more exceptional -- damn all the rest). He was also something of a hippie (for a time) and his own man, a one of a kind -- probably for good and for bad. After all, as Tammy Wynette sang "he's just a man."
Hailing from an acting family, he was born right here in Hollywood, California, the son of Ardanelle Abigail and famous American actor John Carradine, "the voice" (a favorite of John Ford). He was also the half-brother to Bruce, Keith (who is the most famous, acclaimed brother -- "I'm Easy" -- so great) , Christopher and Robert Carradine. His dad was something of a hell-raiser, he witnessed quite a lot, I'm sure, and Hollywood families are often problematic units to grow up in. But then, a lot of families are.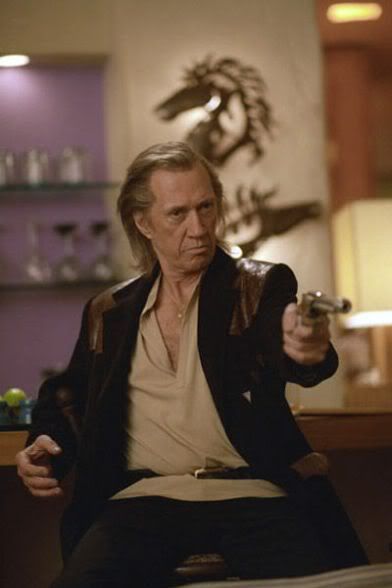 With all of these salacious stories scuttling out like fiending cockroaches -- classless ex wives declaring Carradine kinky (yeah...so?). He rode his horse clad only in a Speedo (what's wrong with that?). He used to tie himself to calm down (big deal...) etc. and so on; Carradine is getting more press than when he walked among us. And then there's the lame jokes (please no more Bill has been killed jabs) and the alleged sexual nature of his death, which will be Hollywood Babylon material for years on end. People are always curious by sexual deaths because, I believe, they wonder these things in themselves, and then after that moment of self reflecting fright, some (not all) start throwing stones. As such, Carradine is not being treated most honorably and I think even Beatrix Kiddo would be pissed off by this. I only wish she could walk into that ex wife's house with all that beautiful fury and start some serious hand-to-hand combat in the kitchen -- a heavy duty, pots and pans, Kaboom style tangle. But that's the movies.
And yet, Carradine, whose career spanned so many years and directors and genres and quality, was the movies. The actor who struggled as a B-lister (I hate saying that -- I hate using letter grades, but this is how Hollywood viewed him) -- a man who made some bad and great exploitation pictures, as well as some genuine masterpieces and some memorable television along the way, got his Hollywood ending. His big screen, mysterious, exploitation/art-house finale -- an ending Abel Ferrara or Joseph Sarno or Gaspar Noe might have directed. Which isn't bad company, cinematically speaking.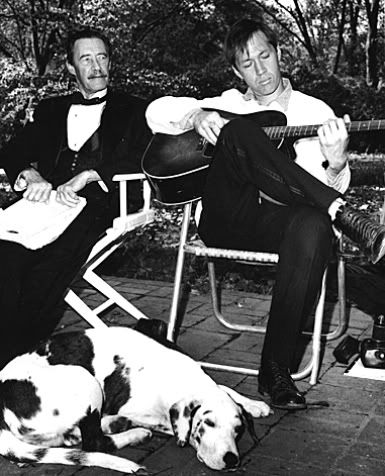 And which leads me to...so what? So he might have been a little freaky. So he might have been playing a dangerous game (the death remains tragic -- for his family, his loved ones, anyone not expecting such a quick exit for a man who appeared pretty damn healthy at 72 -- no matter how many chemicals he's surely consumed). But...who the hell are we to judge? David Carradine was a talent, a personality, an icon all his own (and in an almost inscrutable way), and a force of nature. Tell all the stories you want ladies, laugh at his alleged curious ways of getting off you hypocritical finger-wagging moralists, break him down and park him in the darkest corner, but nothing will take away what he could bring to the screen. To borrow from a Woody Guthrie song, he may have been going down a dusty old road but he "ain't gonna be treated this way" -- not by me. Rest in noble, crazy and enigmatic peace David Carradine.
Read more Kim Morgan at
Sunset Gun
and her photo and video page,
Pretty Poison
.