I have always been interested in how literature and place intersect, especially in my adopted city of Washington, D.C. Over five years ago, my friend Dan Vera and I started what might seem a strange hobby: we would comb old City Directories and writers' correspondence in the archives of area libraries, find addresses of where writers once lived in the city, go to those places, and see if they were still standing or not.

It's an odd idea of fun, I'll grant you. We are odd people.

But then it occurred to us that others might be interested to know who lived in the neighborhoods where they live or work too. Thus was born a massive new website, D.C. Writers' Homes, just published on November 1. The site maps the former homes of novelists, poets, playwrights, and memoirists.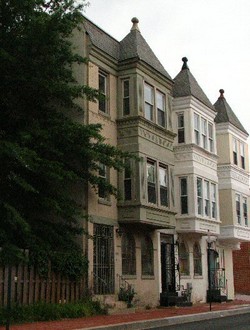 We decided to only include poets who have passed away, for reasons of privacy, and only houses that still stand. Or, as I keep saying, the writers must be dead, the houses must be alive. Some authors remain famous, such as Paul Laurence Dunbar, Zora Neale Hurston, Sinclair Lewis, and Katherine Anne Porter. Others are rediscoveries.
The earliest homes include those once owned by Francis Scott Key and Frederick Douglass. The newest include writers who died in just the past few years. Because the list of authors is large -- and still growing -- we sorted them into categories by geographic location and affiliations. This way, it is easy to find authors who lived in the city at the same period (for example, during the Civil War or the Harlem Renaissance). The categories include racial or ethnic groups (African Americans, Jews, Latinos), writers who were major prize winners or U.S. Poets Laureate, environmentalists, journalists, hosts of literary salons, writers with showbiz connections, and those with radical politics.

There are lots of surprises. Some folks were more famous for other things but also wrote, such as Pearl Bailey, Julia Child, or Andy Razaf. The list includes writers who: hold the first patent for a modern brassiere (Caresse Crosby); had a species of mountain chickadee named in her honor (Florence Bailey); got the famous cherry trees planted around the Tidal Basin (Eliza Ruhamah Scidmore); and had a crater named for her on the planet Venus (Clara Barton).

To see the website, go to: www.dcwriters.org.
Photo: Paul Laurence Dunbar's home. Photo by Dan Vera.