We are fresh from the loud popping noise of yet another bubble, where cash once coursed through veins and every other day a headline included "The Gilded Age" with a colon after it, no doubt documenting yet another one hundred room mansion in the Hamptons with it's own heliport, usually courtesy of some guy who moved money from one account to another, it is a sad yet unexpected relief to view it all as an "era"-- one that has undoubtedly passed.
I recently discovered the works of artist Rachel Kaye in Miami this December, as the crash had started to sink in. I was taken with Kaye's portraits of ladies of society in New York in 1903. She takes subject matter and portrait styles from the past to depict the contemporary elite and aristocratic sphere in decadent and luxurious surroundings. During our interview, she mentioned that the moment that launched her into this series was a reaction to the schmaltziness of the Rococo paintings she experienced while on a trip to France when she was young. To the extent that art represents the times, I cannot help but to wonder whether or not a future artist will have a similar reaction to recent art; one that might spawn a series in reaction to Takashi Murakami's Louis Vuitton Bags and Damien Hurst's skull covered in diamonds, "For The Love of God." Her solo show "The Colony" at the Triple Base Gallery in San Francisco runs through March 22nd.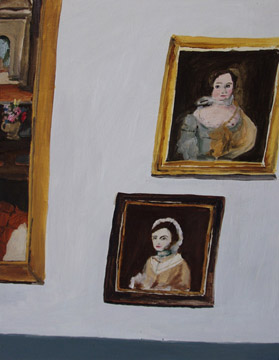 "Wall Study (At the Met) 16" x 20" oil on panel 2008
Kimberly Brooks: What was the primary inspiration behind this body of work?
Rachel Kaye: Lately I've been thinking a lot about France. I visited Paris with my family when I was 11. I remember going to the Louvre. My parents really wanted to see the Rococo Room. I remember seeing the art (and the paintings in particular) and disliking them. They reminded me of all the Laura Ashley frills that filled my room. I thought it was too decadent, too pink, too feminine as a 11 year old, but my memories are so vivid from that day, that I know they had a profound impact on me. The decadence, absurdity, and wealth of Rococo have influenced my work.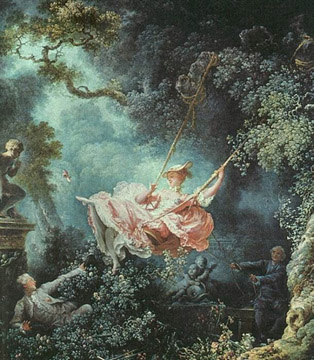 Jean-Honore Fragonard, The Swing, C. 1766-69.

KB: Tell me about the painting "Inside George Condo's Studio".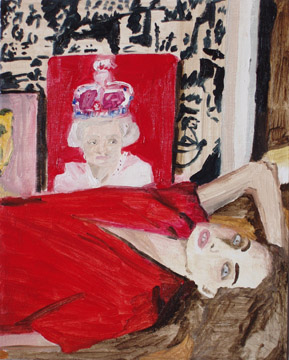 Rachel Kaye, "Inside George Condo's Studio" 8" x 10" oil on panel 2008.
RK: I had been holding onto this image for a few years before actually painting it. I love that the model is reclining behind a collection of art, and that the art belongs to a famous contemporary artist, George Condo. I think this painting holds a few ideas that I've been thinking about for a while: painting a photograph of a painting, reclining models (the idea of the muse), and still life. All of these concepts are very old, very traditional. But I am really thrilled at the thought of following in the traditions of painting.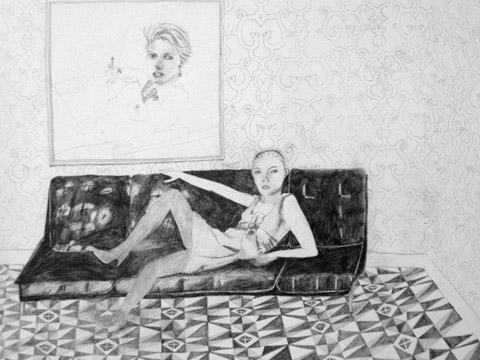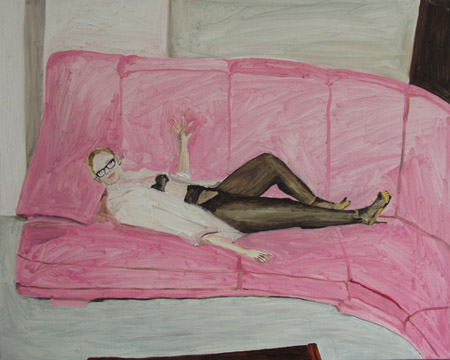 TOP: Rachel Kaye, "Sienna Reclining Behind a Portrait of Sienna" 26" x 30" graphite on paper 2005; BOTTOM: Rachel Kaye, "Y.F.V. on Pink leather Couch" 20" x 24" oil on panel 2009.
KB: What is your process for creating these images-- are there any routines you may have that might be unique or curious?
RK: Every month I get a stack of magazines in the mail. I go through the magazines and catalog certain images of interest (portraits, interiors, black and white, woman with animals, etc..) I have been doing this for about 5 years now. If I'm inspired by a film or location or personality then I go on the Internet and pull images and catalog those as well. As far as my studio practice, I do what feels right that day (paint, draw, and recently sculpt). When I need a break, I take my dog out for a walk to the park or window shop.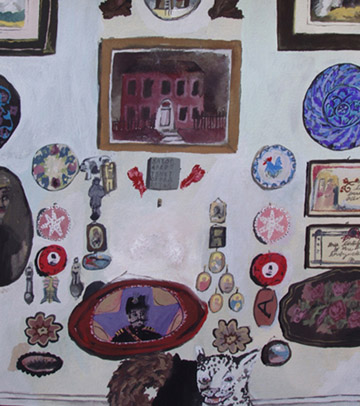 "Things" 10" x 11" gouache on paper 2008
KB: As an artist, I find myself continually tunneling into subjects. I get curious about something very specific and then pursue it rather obsessively. Tell us, what are your obsessions lately?
RK: The actress Kirsten Dunst. I've been painting her recently and have been into her expressions. Which lead me to rent Interview with the Vampire, I think there are some interesting stills of her as a child. Then there's Versailles. This goes back to my interest with France. I really want to go back and document all the things they owned. From porcelain cats to chandeliers. I think that would provide me with a lot of source material.
KB: Show us a work of art that inspires you.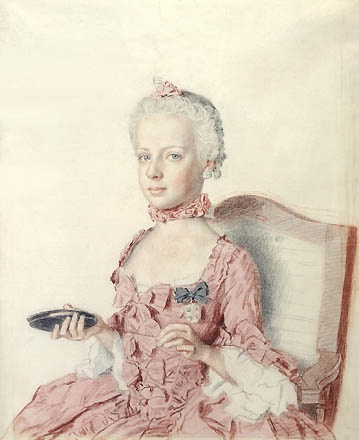 Jean Etienne-Liotard, Archduchess Marie-Antoinette of Austria, 1762
RK: Jean Etienne-Liotard. I saw a show of his work 3 summers ago at the Frick Museum. I was blown away. His work was no larger than 2' x 3' and the majority of the work was less than 12" in size. The museum provided magnified glass to examine the detail. The Portraits of Marie Antoinette and her siblings lined the wall. The expressions on their faces and the detail of their clothes all with pastels.....amazing. I am also fascinated by portraiture and how historically this was the only way to document the royal/affluent families, a lineage I see myself following.

Rachel Kaye is currently based in Los Angeles, but will be returning to Brooklyn in May. In 2004, she graduated with a BFA from California College of the Arts, San Francisco. In summer of 2006, Kaye held a residency at Chashama in Pine Plains, NY. She has a solo show at the end of this month at Triple Base Gallery, SF. In addition, she has exhibited work at the Nada Art Fair (with Triple Base), Gavlak Projects (Miami), Kayo Gallery (Salt Lake City), and Paul Morris Gallery (NYC), and Adobe Books (San Francisco). Kaye's blog is "Buy This Smile"


--
--
First Person Artist is a weekly column by artist Kimberly Brooks in which she provides commentary on the creative process, technology and showcases artists" work from around the world. Come back every Monday for more Kimberly Brooks.