There are three royal cities that make up the Kathmandu Valley and since we had already seen two of them (Kathmandu and Patan), we decided to check out the third, which is called Bhaktapur. Bhaktapur is known as the City of Devotees, the City of Culture, the Living Heritage, and Nepal's Cultural Gem. Don't you wish you were as important as Bhaktapur to have that many nicknames? Bhaktapur is an ancient city and is renowned for its elegant art, fabulous culture, colorful festivals, traditional dances and indigenous Newari community. It is just twelve kilometers east of Kathmandu but gives the feeling of prehistoric times given the ambiance of traditional homes, lifestyles and environment. Unfortunately, the city has been severely damaged by the recent 7.9 magnitude earthquake. Many buildings and historical temples, including some in the Bhaktapur Durbar Square, collapsed. Regardless, it was still a charming, welcoming, jolly town.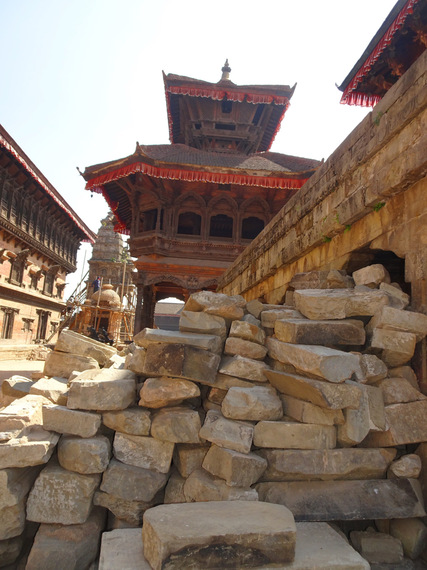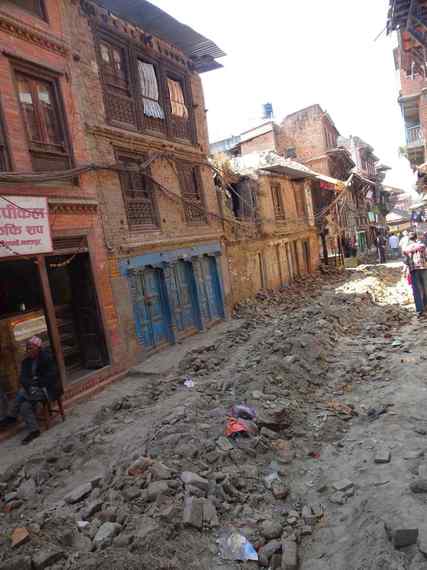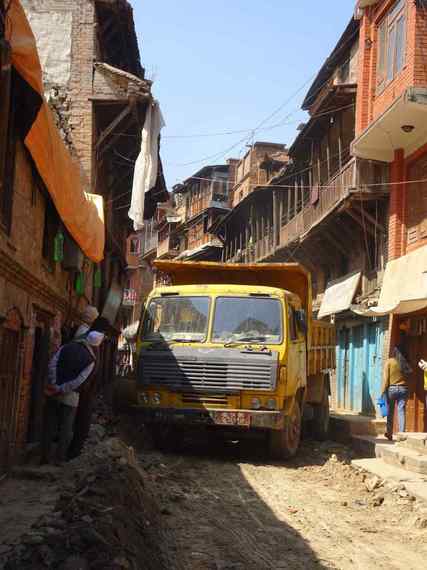 Just like in Patan, we went on a two hour self-guided walking tour thanks to Lonely Planet. And every step we took, every corner we turned, every person we passed, made us fall more in love with it. The locals were beyond friendly and the overall demeanor made us feel like we were living hundreds of years ago. Things were simple, easy and extremely old school. It was the epitome of time travel.
We saw a few girls getting water from an actual well...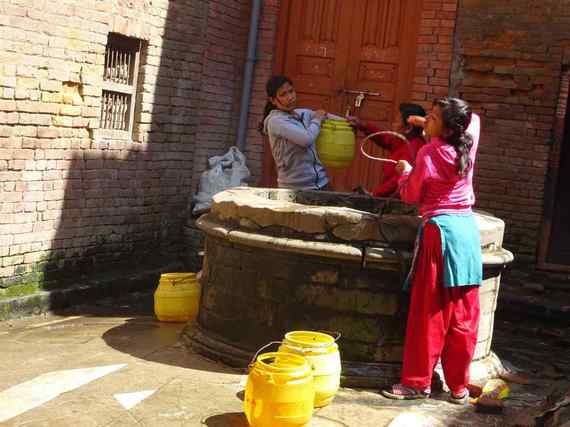 A woman balling yarn with a wheel...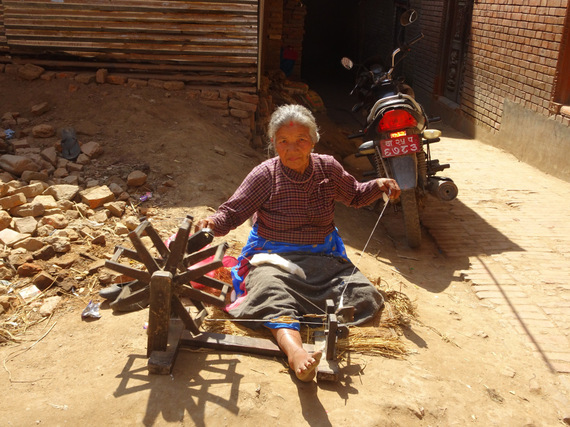 Kids playing handball in a courtyard...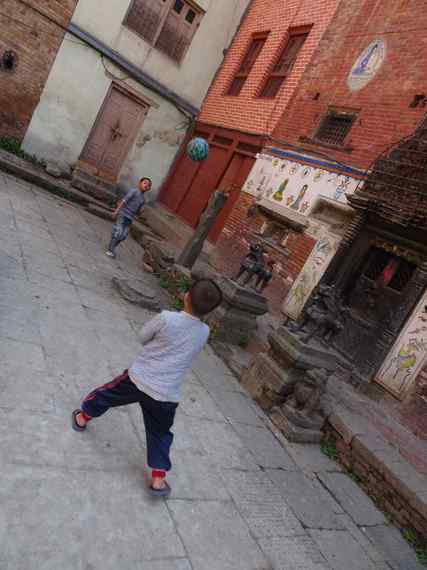 Two older gentleman enjoying an afternoon smoke...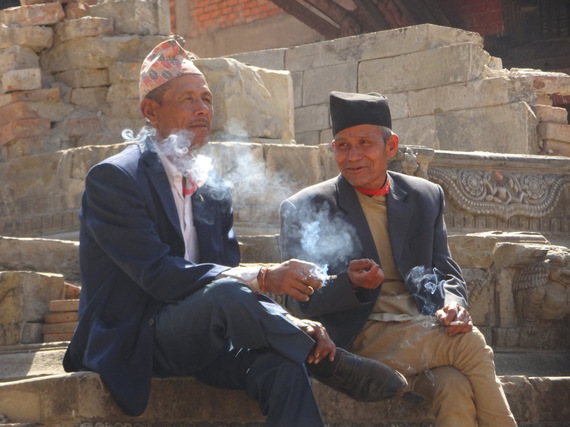 A pretty young girl all dressed up for the Maha Shivaratri Festival...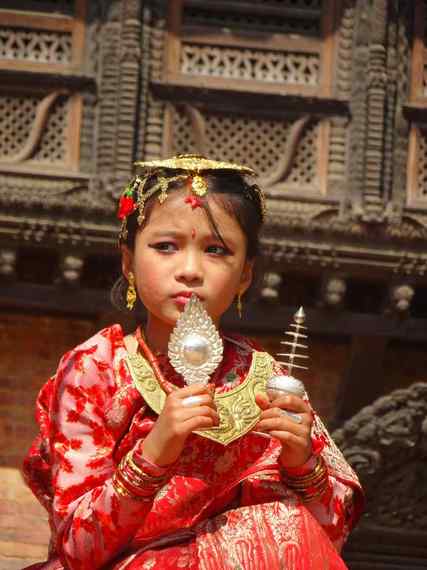 Kids filling up their water balloons in the pond...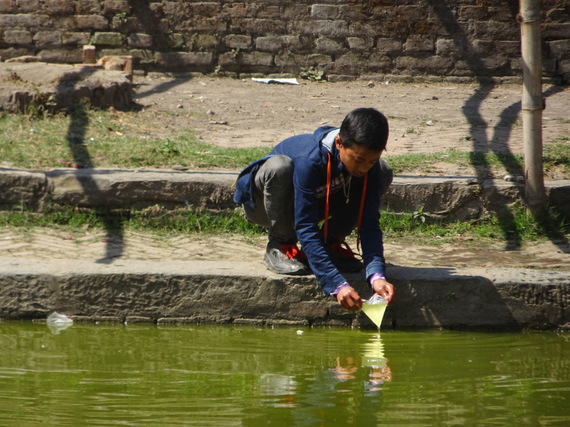 The streets were narrow yet lively...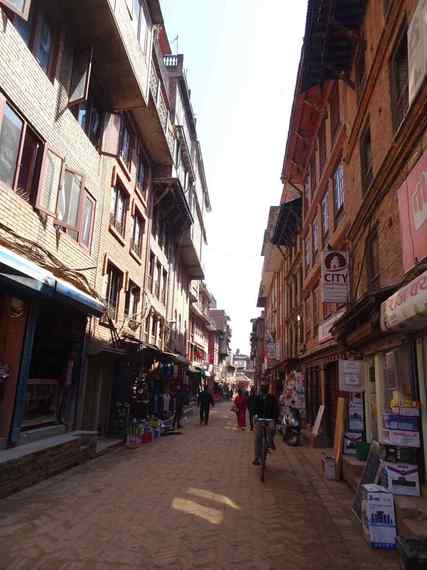 The children were playful...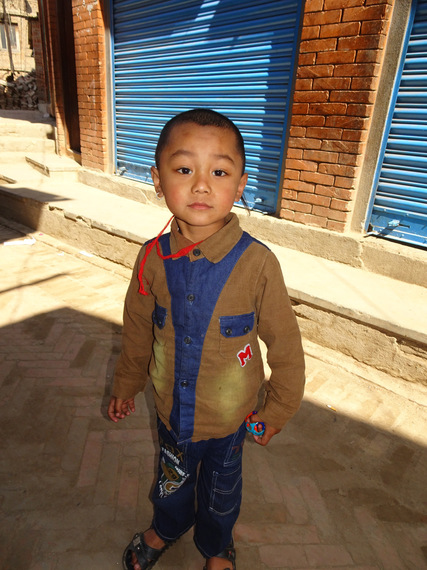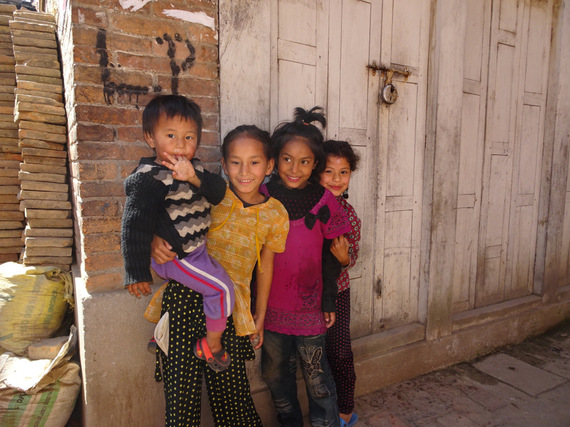 The Pagoda's that were still in tack were mesmerizing...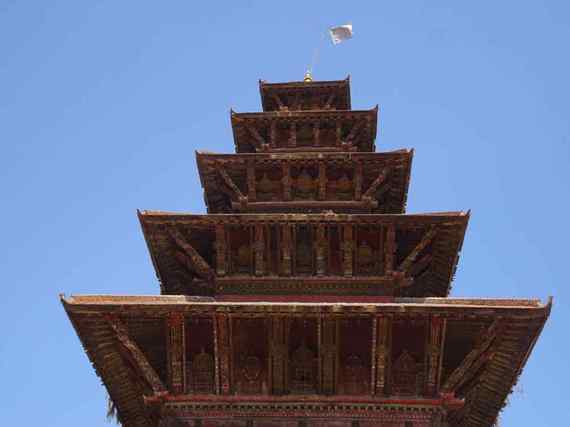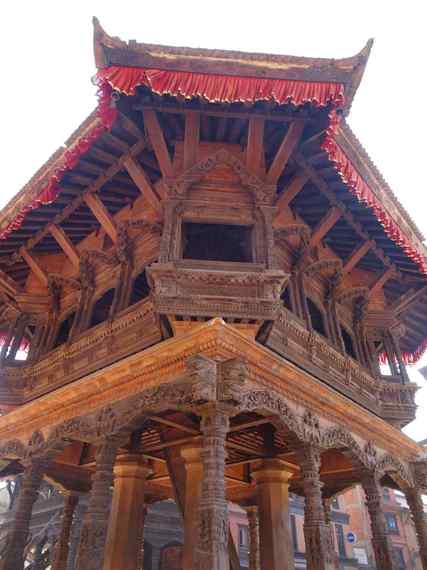 And there was a somewhat scary yet entertaining spiritual dance being performed...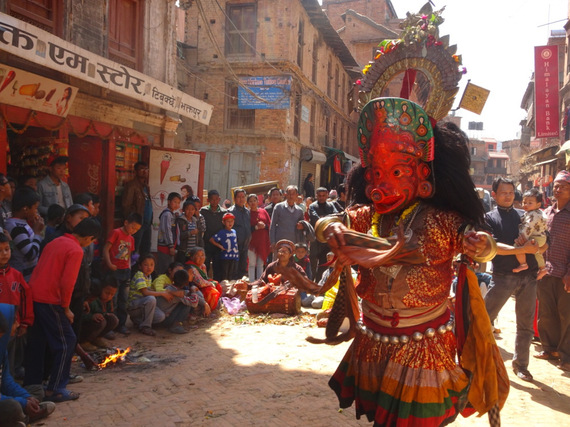 As mentioned earlier, today is the Maha Shivaratri Festival, in honor of Lord Shiva. And a long standing tradition on this day is for kids to block the roads and lanes throughout the city with strings and ropes, only to let you by once you've paid your dues. Over the course of the day, between me, Vinny, Jennifer and Laxman, we all forked out about one hundred rupees in total, which is not a lot at all. I think it's more about the fun of game than the actual prize itself. It almost is their version of Trick-O-Treating but this was done in broad day light and consisted of money, not candy.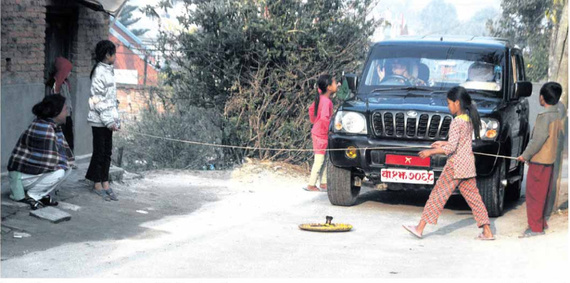 Next up was the Kopan Monastery, a monastery in the Gelug tradition of Tibetan Mahayana Buddhism under the guidance of Lama Zopa Rinpoche. It is the home of 360 monks, lamas, teachers and workers. The monks come from all areas of Nepal and Tibet with ages ranging from seven to sixty years old. They have devoted their lives to the study and practice of the teachings of Buddha Shakyamuni, with special emphasis on the teachings of Lama Tsong Khapa, the founder of the Gelug Lineage. It sits on top of a hill, high above the city, with refreshingly clean air, stunning 360 degree views and intricately detailed traditional Buddhist architecture.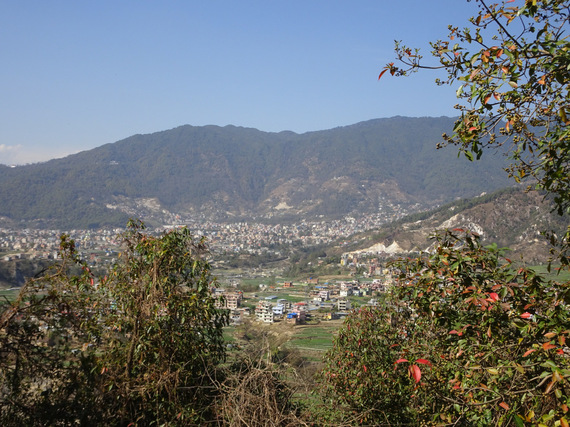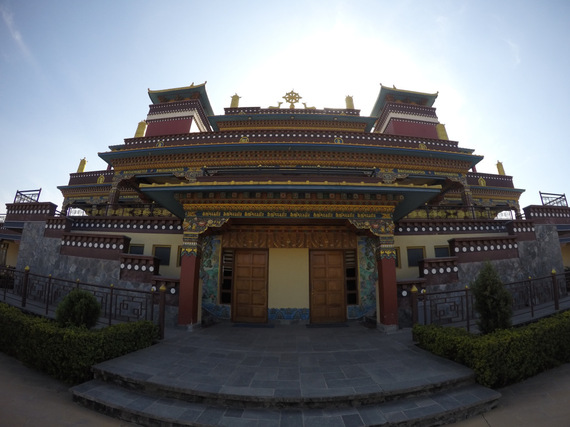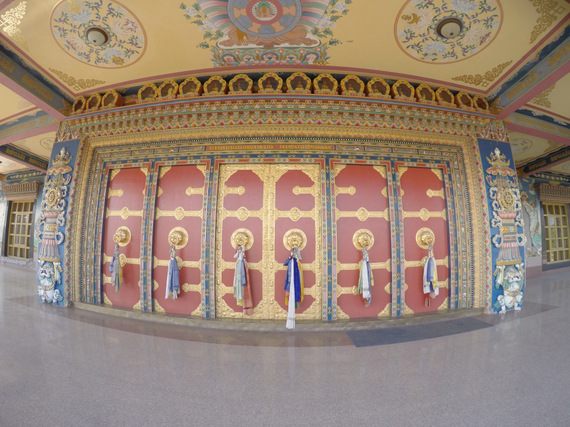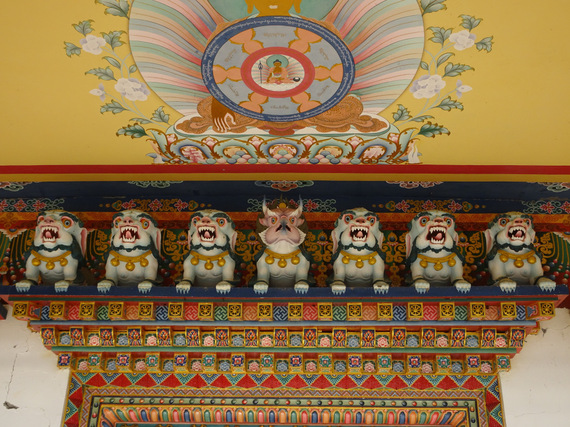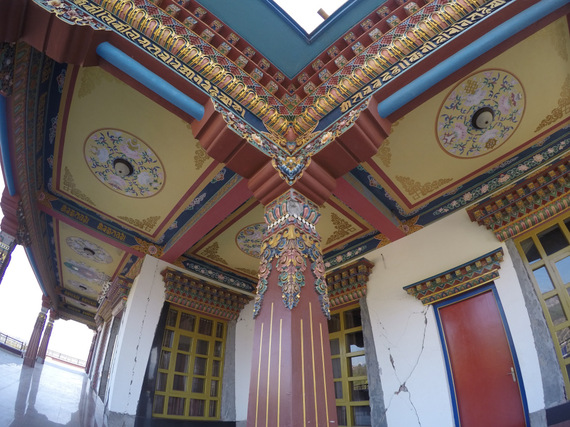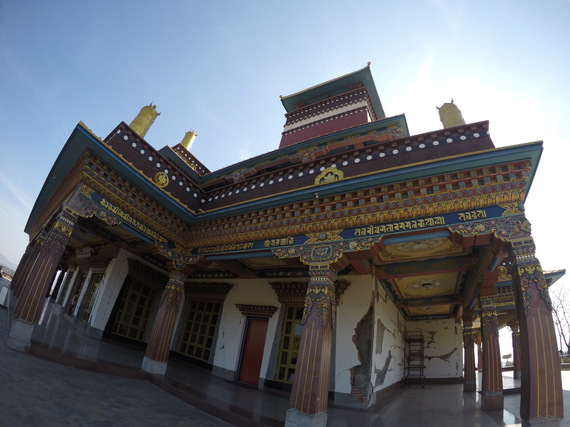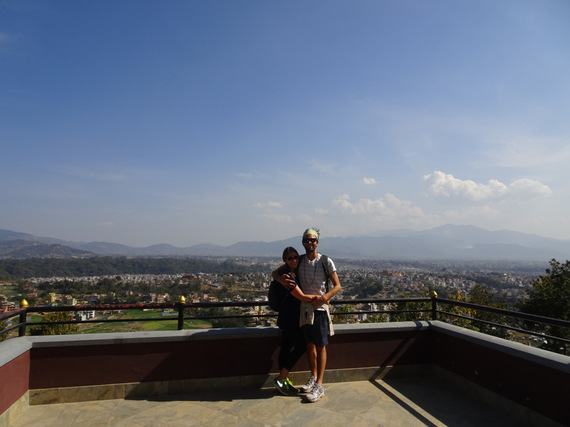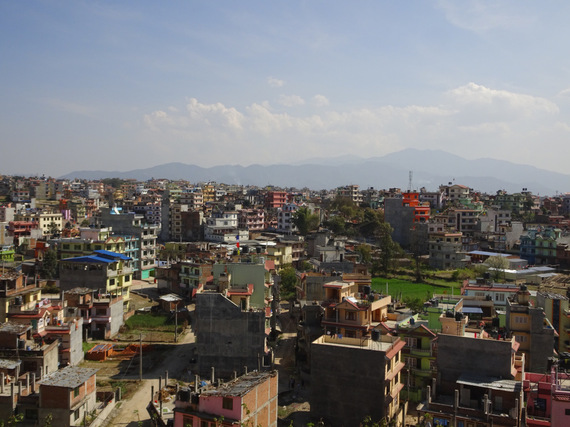 That night, we went back to Dhokaima Cafe for dinner, sat outside, shoved our faces with food and then for the cherry on top, we each ordered our own cake with ice cream. And not one of the pounds I gained made me feel guilty in the slightest. Cosy Nepal was hosting a small get together in the courtyard of our Newari house as their way to celebrate the Lord Shiva day. About 30 people gathered for drinks, food and good times. We took part in the festivities for a little but were heading to Chitwan at 6:30 a.m. tomorrow morning so didn't stay too long. Are you wondering why we needed to leave so early? Well, I'm going to tell you even if you aren't interested. Apparently there is one road from Kathmandu to Chitwan and it is currently under construction (like everything else) so if we don't get to a certain point by 11 a.m., we will be stuck there until 4 p.m. And that doesn't sound fun.
I hope you enjoyed our three full days in the Patan/Kathmandu/Bhaktapur area as much as we did. Despite the pollution, lack of electricity and severe damage from the earthquake, this small town captured our hearts in a very memorable, genuine, endearing way. The people here are by far my favorite. They had me at Namaste.
Look forward to reconnecting once we are one with the animals in Chitwan National Park!