We flew from Kochi, Kerala, which is the world's first airport completely operated on solar power, to Goa, which is the smallest state in India. We had another layover in Mumbai but this time things went much smoother than our previous layover there. We still had to exit then re-enter (I'll never fully understand this); however, there were half the amount of people so it made the process a lot more manageable. Hip hip hooray to that.
Goa is divided into two main parts, North and South. The North is a more cosmopolitan and developed affair, befitting its status as the place where tourism began back in the hippy days. The South tends to be a slower paced, more bucolic region, dominated at first by a long range of five star hotels then followed by heritage homes and Portuguese mansions. The North is basically known for its drugs, its parties and its love affairs. Without realizing this reputation, we booked our accommodations in the North. Party on, Wayne.
Around 4pm, after an hour and a half drive, we arrived at Yab Yum, our hotel for the next five nights. Right when we pulled up, we could tell this was going to be a super duper, veg out like a veggie platter, kind of vacation. Masala Chai Tea will be replaced with sweet lime soda, hopping from one historical monument to the next will be replaced with hopping from one beach to the next, lakes will be replaced with oceans, saris and leggings will be replaced with bathing suits and sarongs, and eating will be replaced with, oh yeah, eating. Thats universal.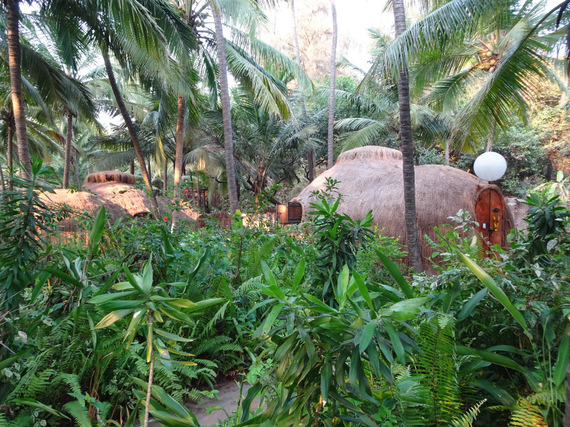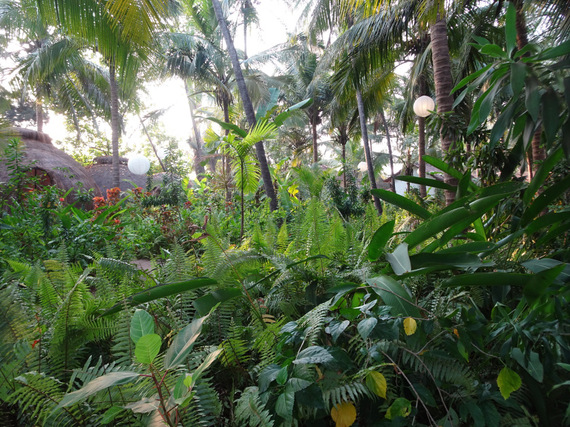 Yab Yum was one of the most unique lodgings I've ever stayed in. Hidden away behind 2 acres of lush palm grove, sheltered by sand dunes and facing directly west across the Arabian Sea, every inch of the property was immaculately green with stunning landscaping and a much appreciated shady oasis. One can either sleep in a dome or a cottage. We chose the dome. They had a space-age design to them and were constructed of locally available materials such as lava rock, palm leaves, grass, mango wood, local clay and sand. We took glamping to the next level, the $125 a night kind of level.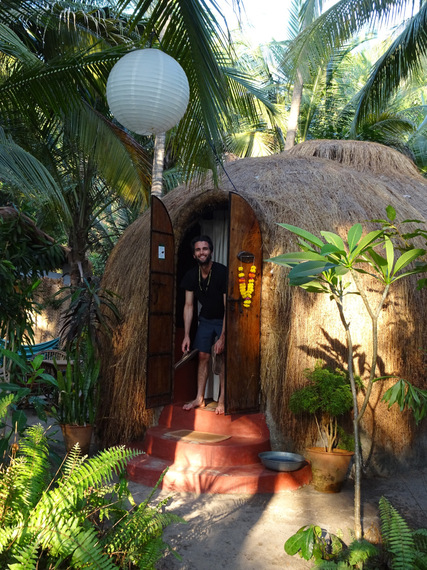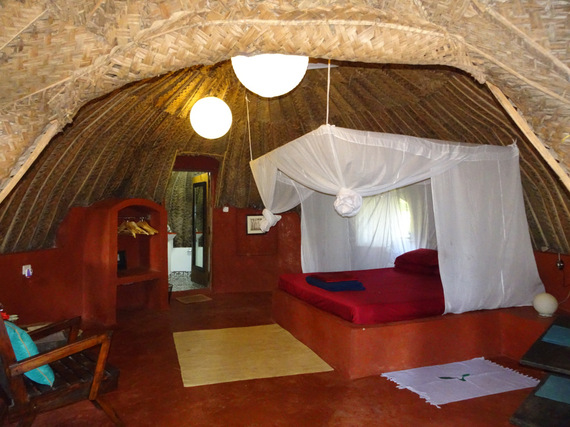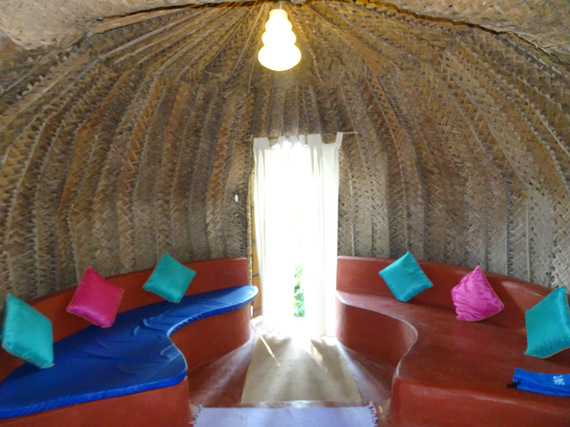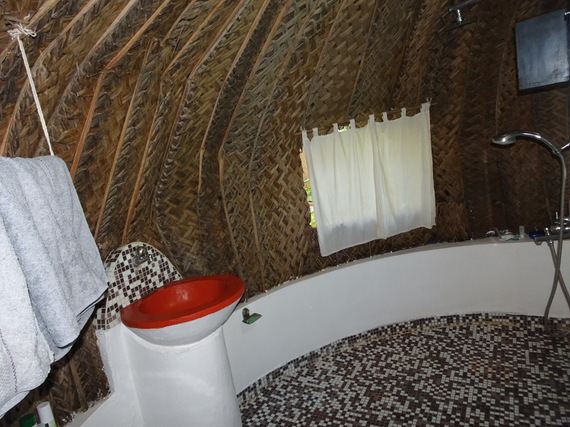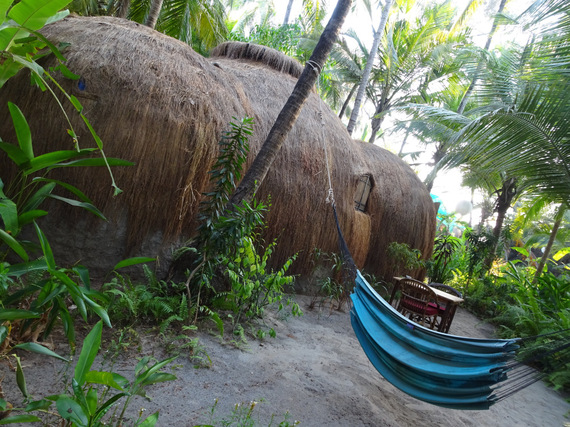 We were a little nervous staying in the North given what we had heard and read but at Yab Yum, you are in your own little world. It is located directly on Ashwem Beach, which is one of the most peaceful and least developed beaches in Goa. We literally walked outside our hut, dragged our bare feet in the sand and within seconds, the ocean breeze welcomed you with a nice big wave (HA, you get it?). This beach was long, wide, clean and relatively secluded. It was paradise. Not Hawaii paradise or Caribbean paradise. But Indian paradise. And I never knew that existed until now.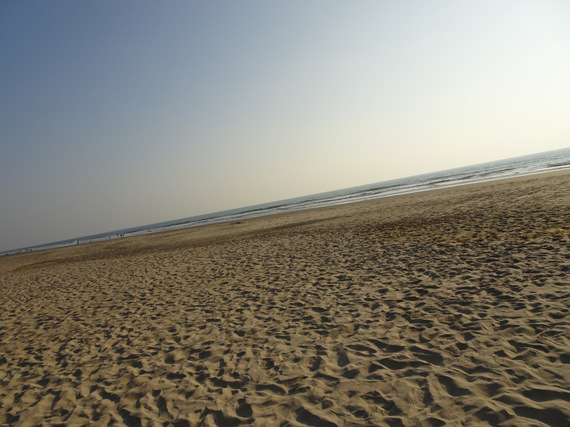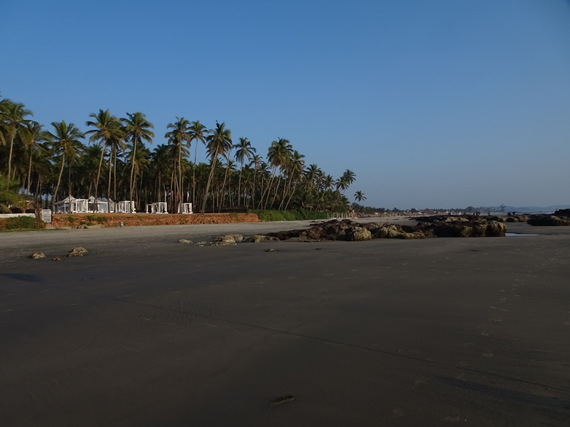 Since it was already 5:30pm by this point, we decided to take a leisurely stroll with no destination in mind. The weather was absolutely perfect and the water temperature was more than ideal, giving you that sense of refreshment without being unbearably cold. It was low tide so we were able to enjoy the hard sand, watching as our feet left prints behind us, then quickly washed away within seconds. I couldn't wipe the smile off my face at this point. There is something about the ocean that brings me so much happiness. I feel free and alive. On our walk, we saw some dogs fighting over a dead crab, a man reading a book titled "Jesus Lived in India" and a woman walking topless. We also saw an artsy design created by a tiny crab, a group of people enjoying some Yoga on the beach and a natural born happy face.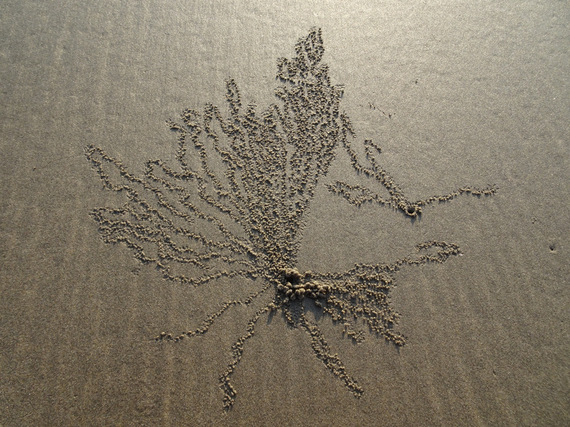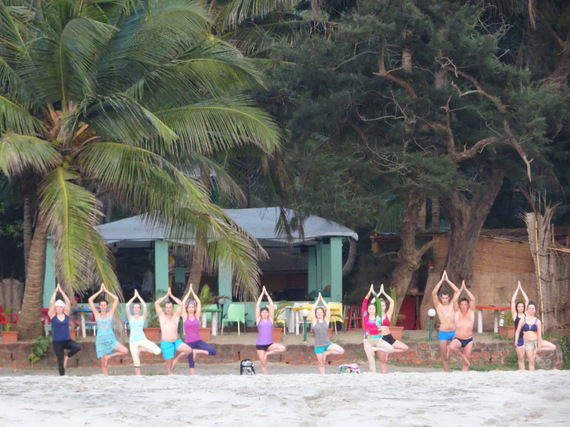 And then all of a sudden, as we looked to our right, there was the sun, on it's way down for the night. What a beauty she was.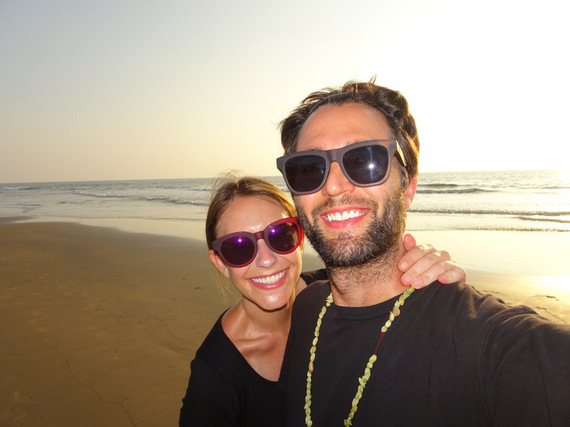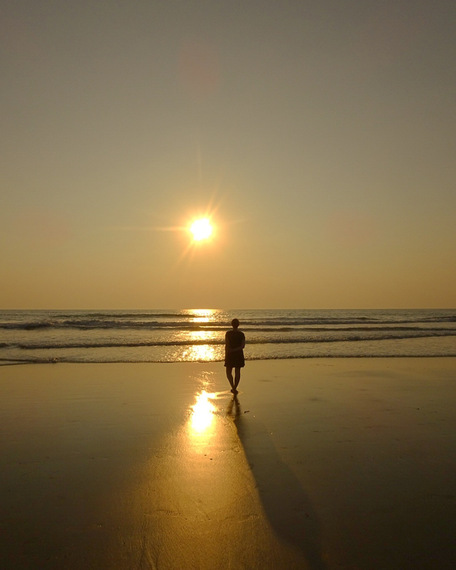 As I mentioned earlier, we are taking malaria pills to avoid getting malaria in Goa. Ironically, as Vinny was examining the packaging, he noticed that the pills are actually manufactured in Goa. Random. Another amazingly cool thing about Yab Yum is that they light cow dung on fire around dusk time to turn away the mosquitos. Ummm, yes please. Can I take the melted cow dung and rub it obsessively all over my body? It was so nice not to have to anxiously worry about thousands of mosquitos sucking your blood one slurp at a time.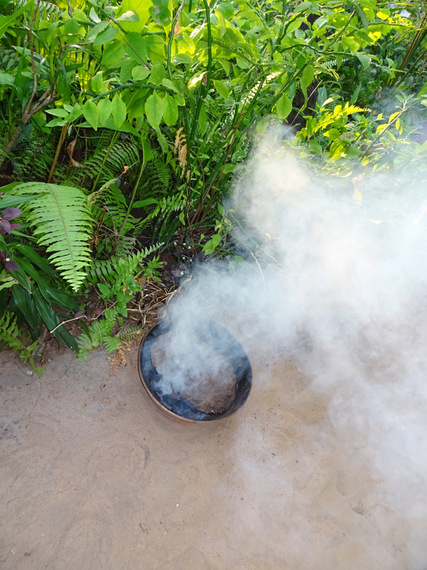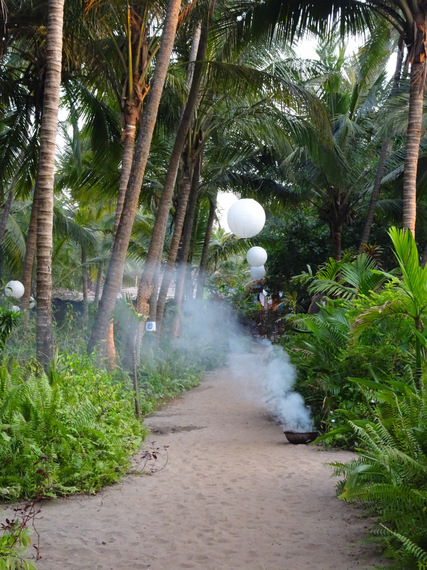 That night, we had dinner in their bamboo restaurant and ordered a Thali, which is a selection of various dishes served on a round platter. The idea behind a Thali is to offer all the six different flavors of sweet, salt, bitter, sour, astringent and spicy on one single plate, in individual bowls. According to Indian food serving customs, a proper meal should be a perfect balance of all these tastebud stimulants. Let's talk about how delicious it was. My stomach had more waves in it after finishing this Thali than the ocean did. We sure did sleep well in our hut, with our mosquito net, listening to the most quiet atmosphere we've had yet.
Every morning, breakfast is personally delivered to you, on the table right outside your room, at the time frame you checked, with the order that you requested the night before. And there were a handful of options. Eggs eight different ways, five different fresh juices, four different teas, cereal, bread, Indian dishes, etc. Life is just so beautiful when you can wake up, walk two seconds out the door, dig your feet into the sand and enjoy the most important meal of the day. Good thing we have four more mornings to do this over and over and over and over again.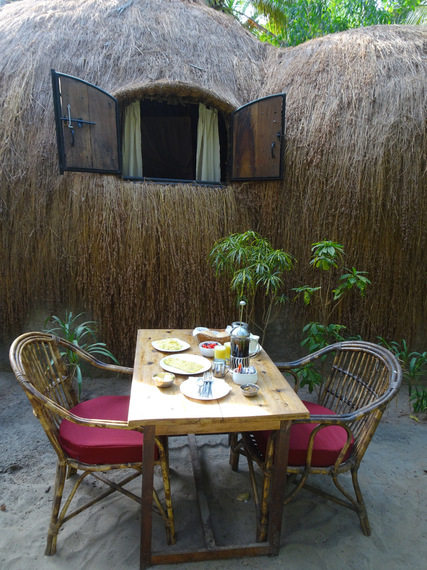 The next five hours were spent at the beach. We were as lazy as dogs, took the day at a snails pace, frolicked in the ocean like wild dolphins and laid on chairs like beached whales. Local women were walking up and down selling anything and everything you could imagine from fresh coconut water to sarongs to necklaces to massages to pedicures to henna tattoos. They stop to talk to you, ask you what your name is, inquire what country you are from, sweetly compliment how pretty your teeth are and then start their pitch. I'm never interested simply because I don't have the room in my backpack but they always walk away by saying "promise you'll look tomorrow, so many girls, please remember my name". When they do find a tourist though to buy their stuff, I noticed they take the money, kiss it, say a little silent prayer and then put it in their fanny pack.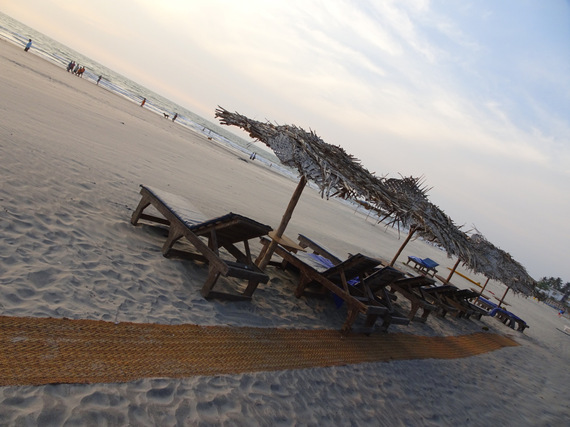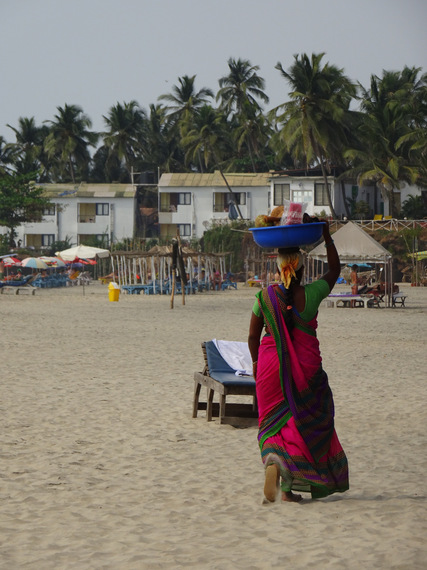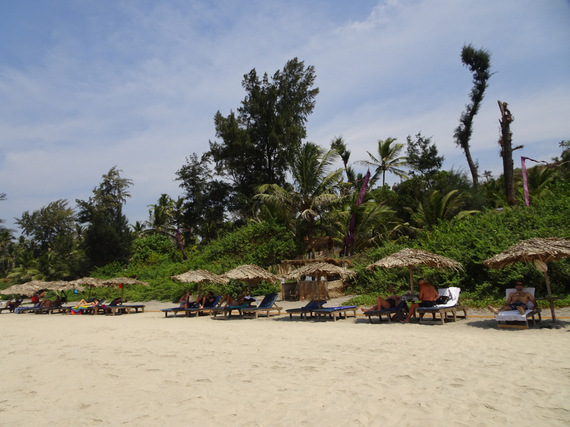 For the remainder of the evening, we enjoyed the sunset (it's hard not to when it literally happens right in front of our hotel) and walked along the beach to La Plage for dinner. What a splendid place this was. Tables are in the sand, trees are wrapped with little white lights, music was French inspired and the food was superb.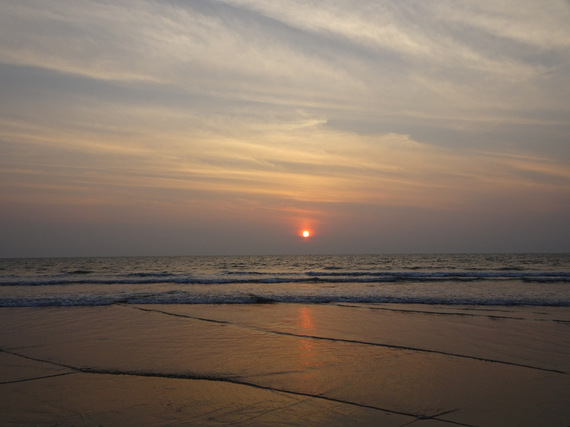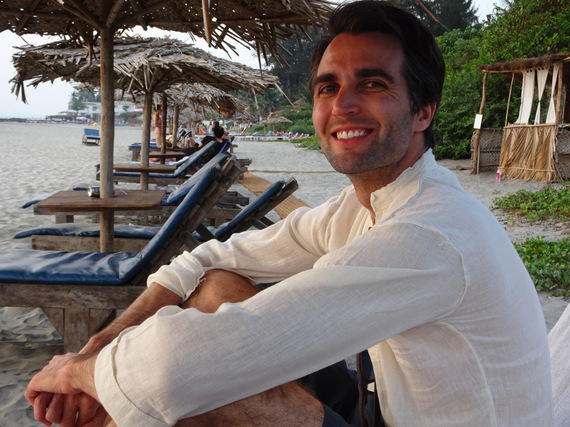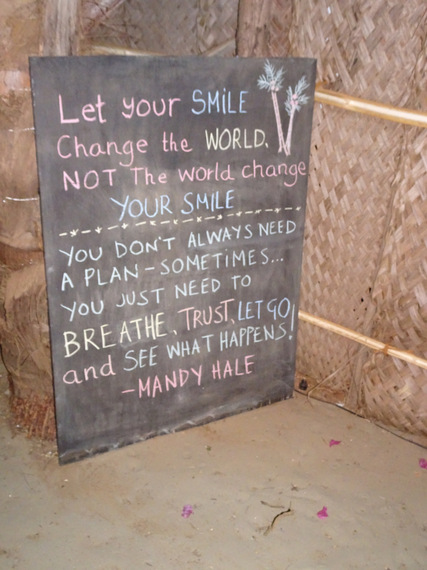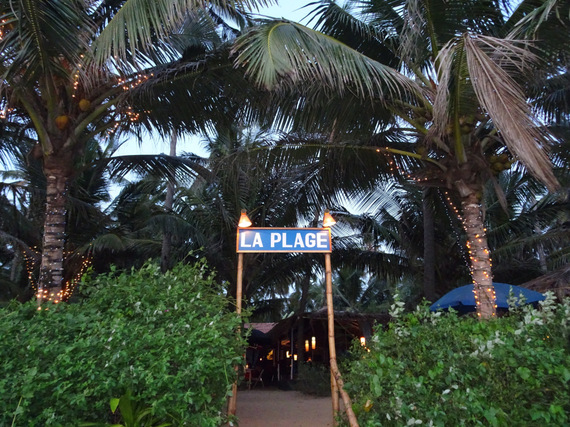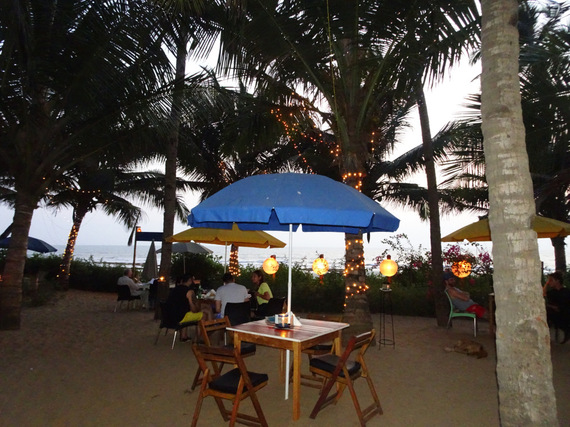 Day two was started with talking to our good friends, Emily and Dustin. They are an incredible couple who inadvertently inspired us to take this trip. Years and years ago they backpacked through Europe as early twenty year olds on a very tight budget with no internet or cell phones. The stories and experiences they came back with, good or bad, pretty or ugly, will remain as memories for the rest of their lives. And that's what we wanted. We wanted memories and experiences not material possessions. So thank you to them for giving us the motivation we needed to make this dream come true.
Apparently, renting scooters is the thing to do in Goa. We were pretty hesitant for many reasons at first but then figured when in Goa. So we took a ten minute walk down the road to get our very own scooter but unfortunately, they were all sold out. This made me so bummed because I now had my heart set on the experience yet I couldn't do it. But there is always tomorrow so we'll try again. Instead, we laid at the beach for a few hours and I finally finished Shantaram. Wow. What an amazing book. It was long and kind of went on some random tangents but overall, it was extremely enjoyable. The characters became your friends and being familiar with the various Indian cities referenced throughout the chapters made it even more interesting. I'm excited to go to Mumbai next and visit some of these infamous sites Linbaba was always talking about such as Leopold's Cafe, Crawford Market, Colaba, etc.
The end of February always marks our anniversary. We don't have a particular day, we just know it's after Valentine's Day and before March. Since we were in Indian paradise, we figured we would celebrate five years of being together here. So I put on some makeup and Vinny did his hair for the second time in forty four days. However, it ended up being an epic fail. It was so beyond windy on the beach we couldn't enjoy the sunset. I know, poor us. We then walked about twenty minutes to a restaurant we were recommended but no one was there and the menu was super overpriced so we were those obnoxious people that sat down and then go right back up. After all the effort to make our date night special, we ended up back at our hotel, in their bamboo restaurant, in a casual environment, enjoying each other's company. Which was equally as romantic. Don't worry, eat curry! That was our motto.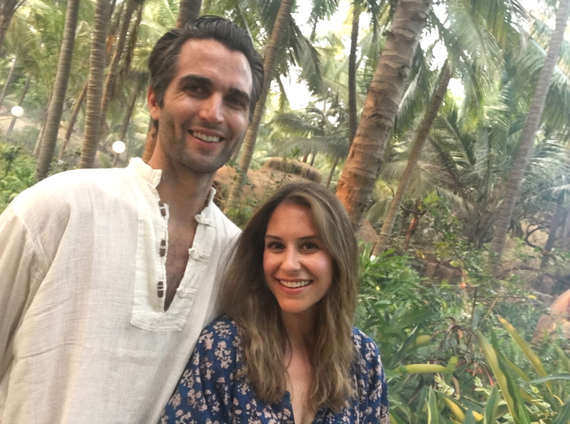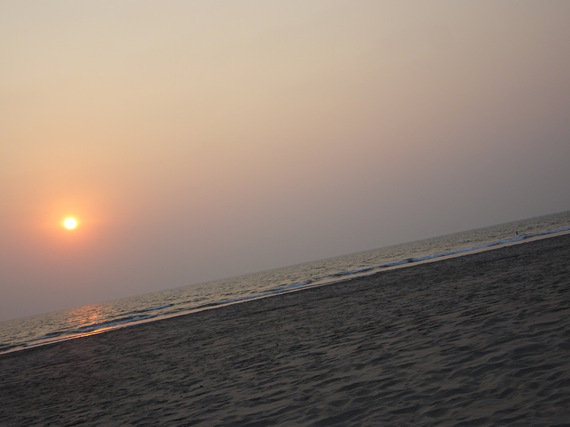 Around 9:30am on day three, we had breakfast outside (per usual) but this time around, there were quite a few ants speed racing to eat our food before we could. The eggs were a little runny so there was some left over water residue on our plate. After I took my last bite, I looked up at Vinny and saw him meticulously picking something up with his knife. When I asked him what he was doing, he responded with "I'm trying to save this ant from drowning in the water from my eggs". Are you serious? When I say he would never hurt a fly, I guess I should add an ant in there too. Gotta love him and his sincere heart.
Four hundred rupees, or $5, got us a scooter for the entire day. Here goes nothing. While Vinny cautiously drove, I was in the back, holding on tightly, feeling like a dog with its head outside the window, letting the wind hit my face and my hair blow in every which direction it wanted.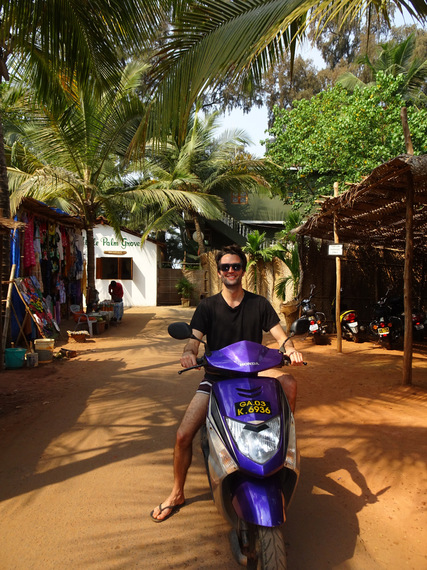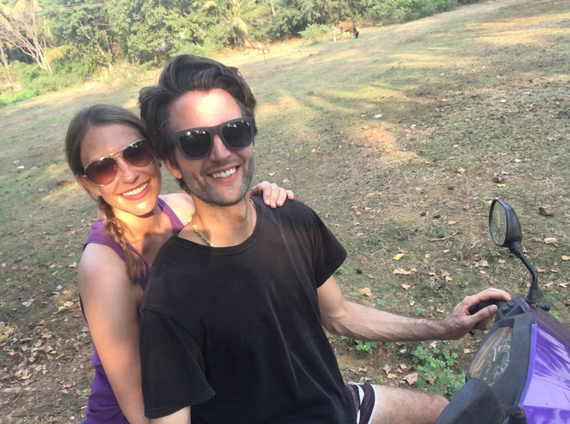 We drove through little towns and big towns, got lost then found, crossed a few bridges and enjoyed some people watching along the way.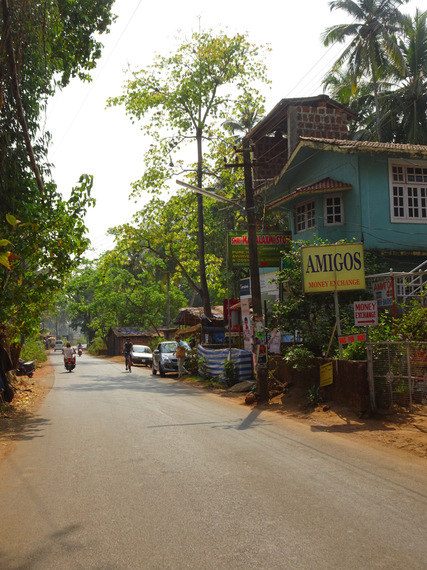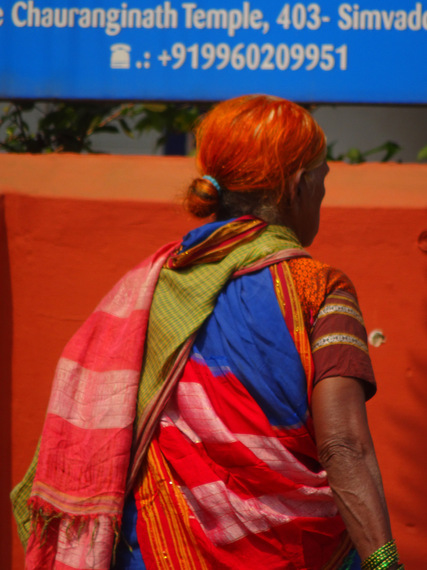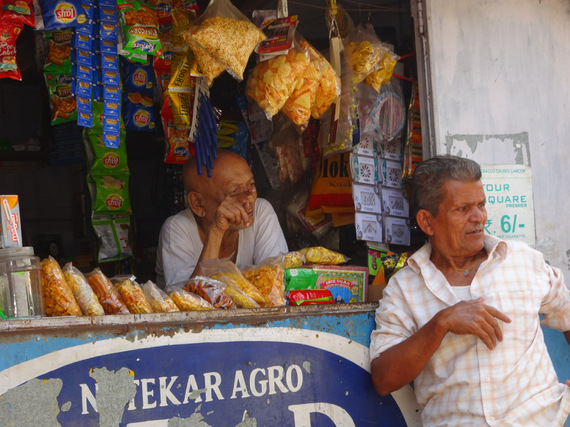 And after an hour or so we finally arrived at our first stop, Baga Beach. This beach was very developed, maybe even overdeveloped, packed with locals, umbrellas, restaurants and a variety of water sports including parasailing, jet skiing, boating, tubing, etc. We didn't feel the need to stay long so we hopped back on our scooter and rode away.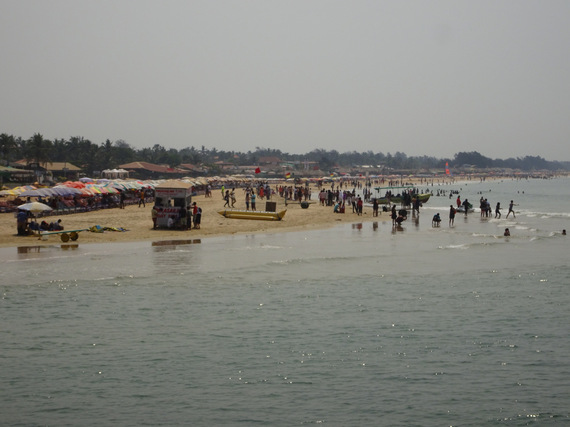 Next up was Vagator Beach, which was a lot less crowded. Through the grapevine, we heard that this crescent shaped beach has become a favorite spot among tourists for midnight parties. But we are more like grandma's and grandpa's so never experienced them first hand. There are two beaches in Vagator known as Big Vagator and Small Vagator (so creative). Big Vagator lined with dense palm plantations and white sand is the main beach that is undeniably beautiful. However, as it is a prime bus stop for domestic tourists, a lie on the sand or a peaceful swim is out of the question here. Small (or Little) Vagator to the south is more secluded. Also known as Ozran beach, one has to walk from Big Vagator to reach here. At the end of Little Vagator is a prominent landmark of the face of Shiva sculpted by someone on a rock on the shore. Unfortunately, it has been eroded by wave action.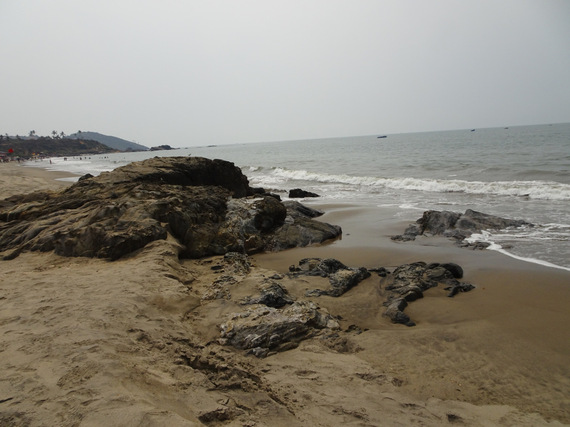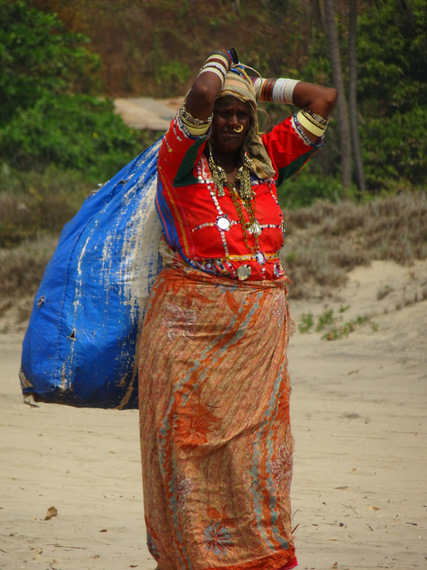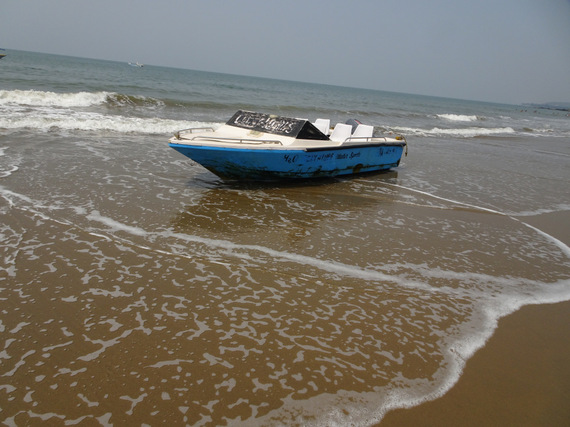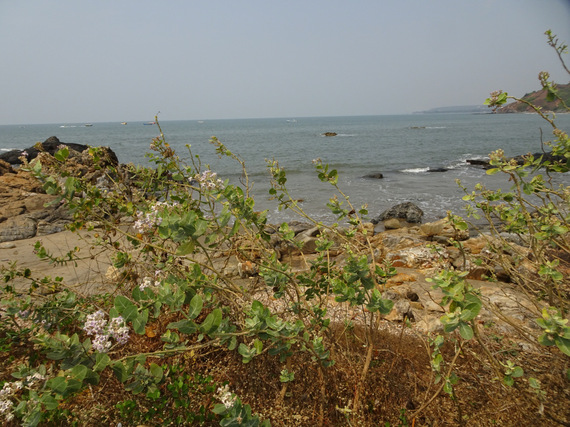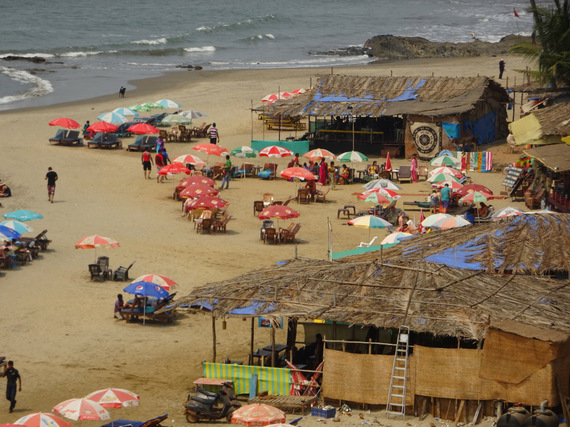 One observation we noticed along the way was that Indians don't swim in bathing suits like we are used to. Instead, they either swim in their underwear or they swim in their clothes. And this cow knows how to have fun...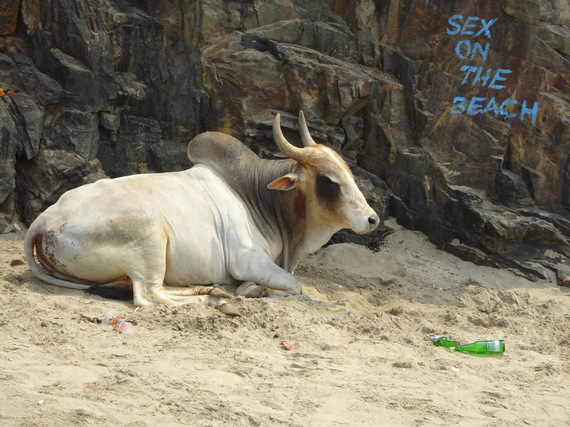 Fresh coconut water for sale...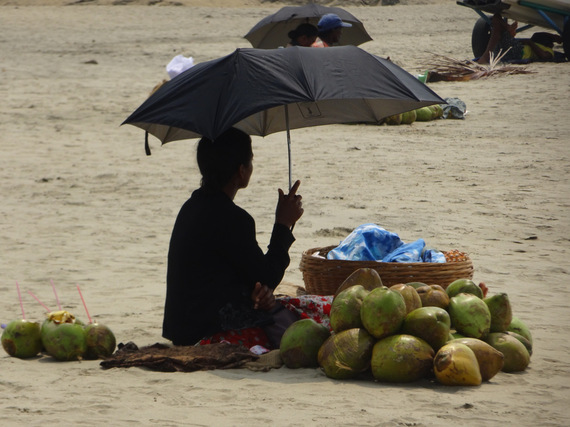 Always a balancing act...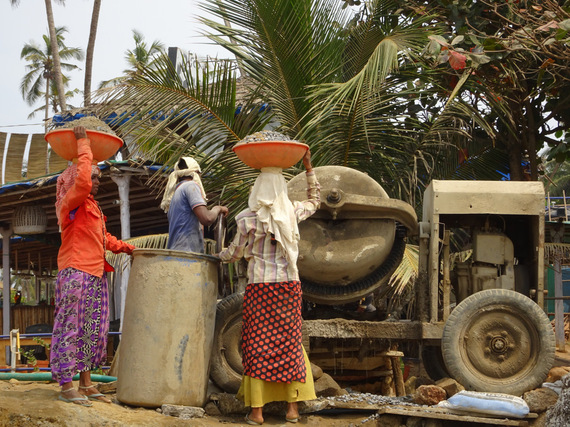 This little piggy went to the supermarket...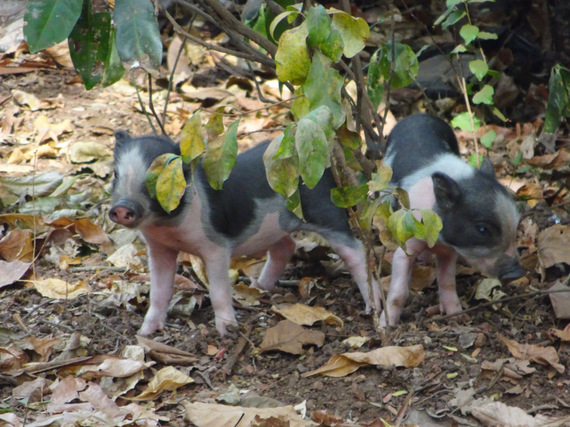 Our mission was to find a restaurant called Thalassa for lunch. It was a greek restaurant that was highly recommended in a blog I've been following on Goa. But a mission is an understatement. We thought it was directly on the beach so we walked and walked and walked but couldn't find it. We asked a few people but no one knew what we were talking about. I was getting hungry and you know that means, watch out. But after a few more attempts, we were finally pointed in the right direction. We had to climb up a rocky hill, hop over a fence, turn left at the large tree, walk down the road and it should be on our right hand side. Cha-ching. There it was. And it was worth every minute we took to find it. Sitting on top of a cliff, the views were impeccable and the food was tasty.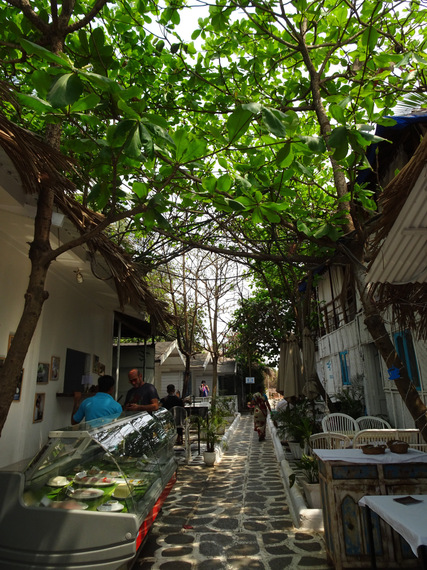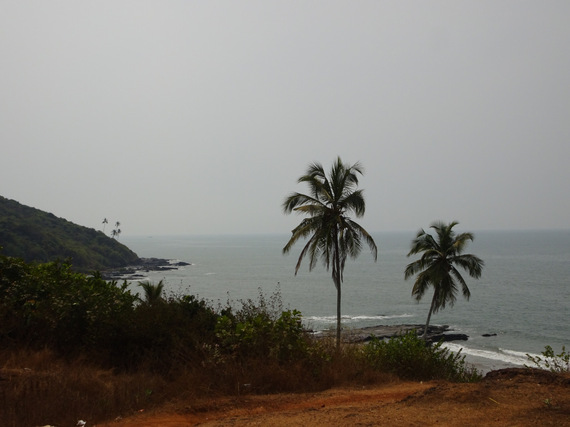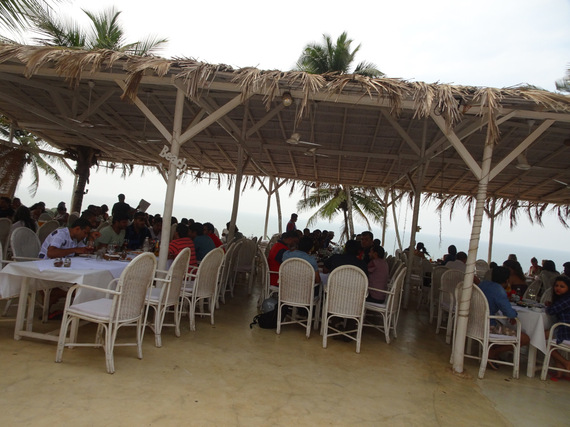 I ordered a chicken gyro and Vinny ordered a lamb gyro. Here is his lunch being prepared.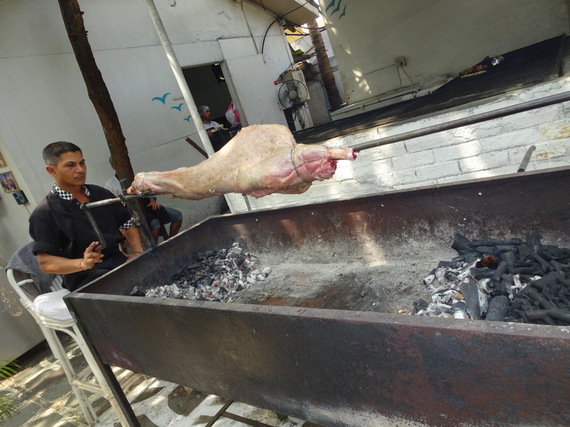 Following lunch, we drove our little scooter to Anjuna Beach, which is the queen of them all. In order to get there, we had to ride down these little streets filled with markets and locals asking if we wanted drugs such as marijuana, cocaine, hash, etc. They weren't even trying to be sly about it. Always love transparency. But don't worry, we didn't buy anything, I promise. Anjuna Beach was filled with tourists, mainly backpackers, and it almost felt like a Vegas pool party the way restaurants were blasting trance music. But it was full of energy and radiant vibes. Everyone seemed happy. Happy to be alive, happy to be in Goa, happy to be happy. I was very happy to witness this scene yet very happy to not be staying here as well, although the scenery was mesmerizing.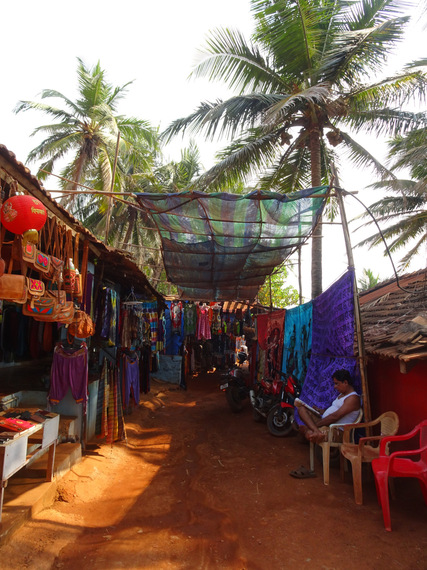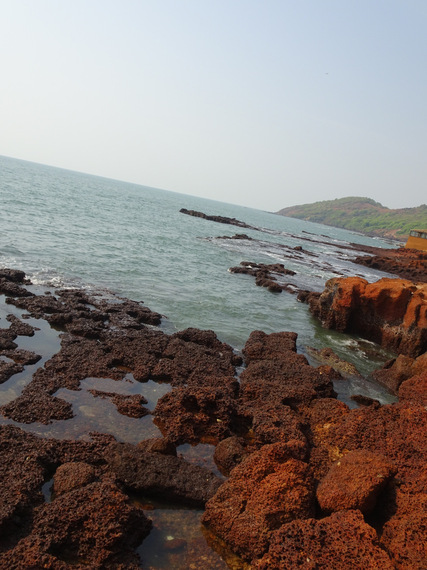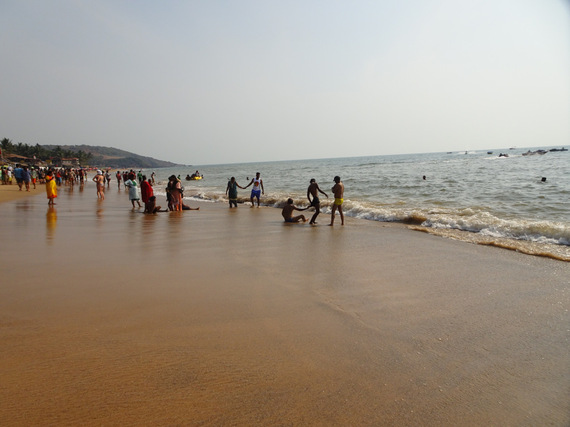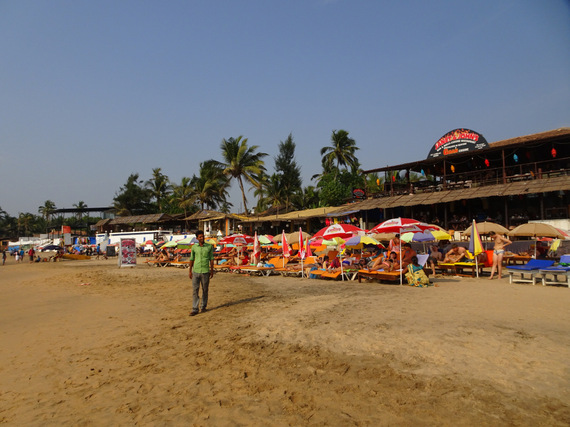 Would you like some wine with that cheese?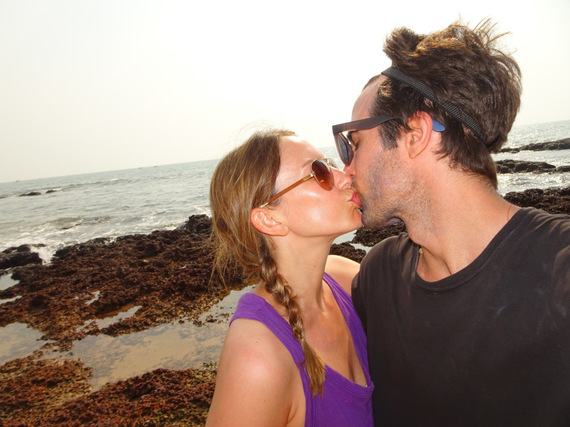 The clock was ticking down for sunlight so we decided to head back to Yab Yum before dark. Somehow, I remembered how to go and we didn't get lost once. I am not sure how that happened, especially knowing my sense of direction isn't half as impressive as my sense of humor (HA! Just kidding). Since we were going to be taking the scooter to dinner, we needed to fill her up...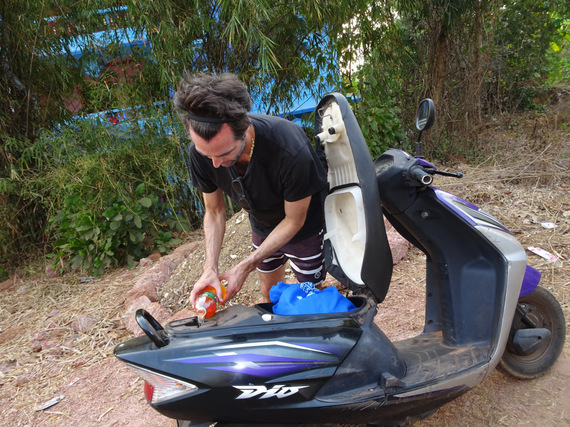 When we got back safely and in one piece, we had a non-stop ticket to the ocean. It was so wonderful to be swimming at 6:30pm, under the setting sun. No words or photos can accurately describe just how sensational this moment was.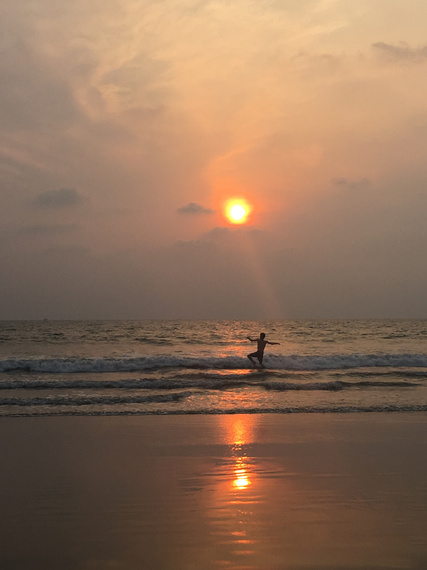 After we dried off, changed our clothes and got back on the scooter, we made our way to Sublime for dinner, which was a super cute, delicious food kind of place, yet again.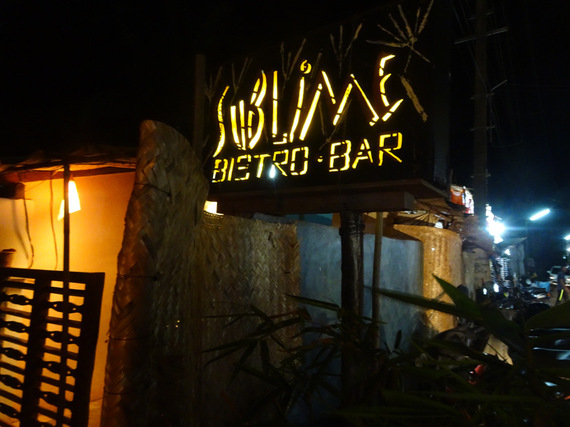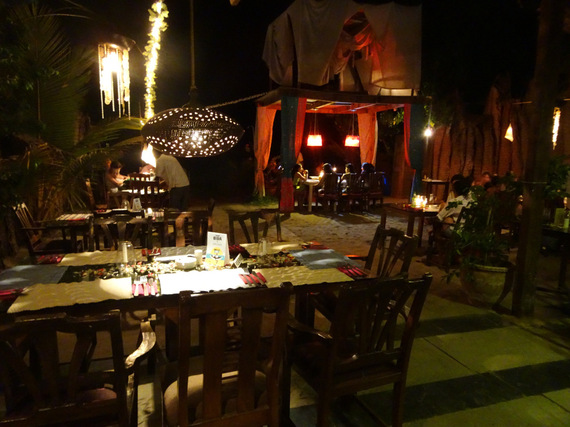 From 10am-9pm, we had such an exhilarating fun day. By far one of our favorite experiences to date. Having the freedom to ride around a beach town was just so cool. In the famous words of Ice Cube "today was a good day".
Day four was our last and final day in beautiful Goa. When I went to brush my teeth in the morning, I couldn't help but smile because there was this little frog on our shower head who was just chilling, minding his own business. Look hard because he sort of blends in.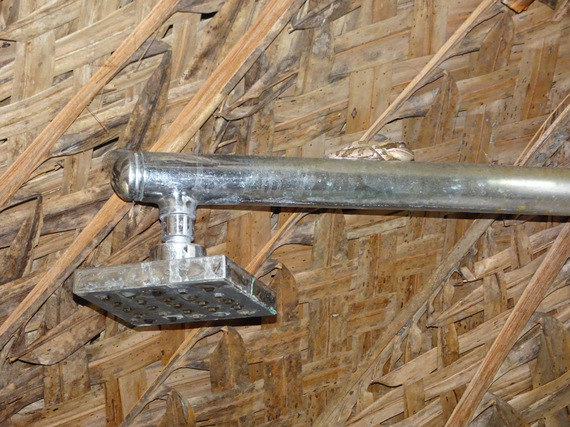 We ended up taking a walk up to Arambol Beach, which is a very hippie culture where locals and tourists alike meet to play drums, dance and enjoy life together. We had lunch, people watched and then walked back. It was a nice four hour excursion.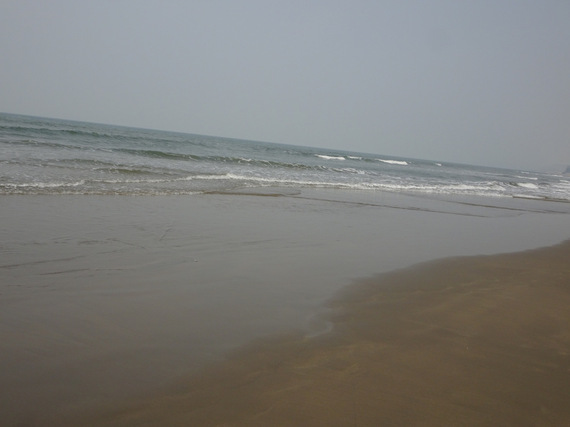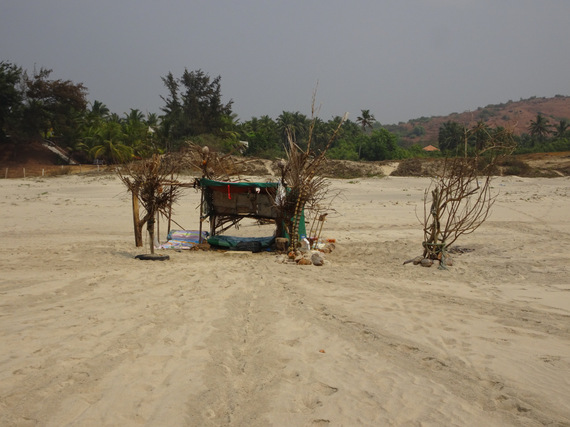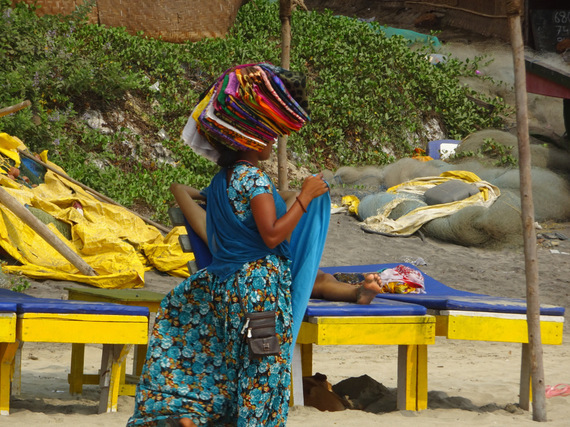 I'm always so fascinated with all the different sizes, shapes and colors of humans. Some are short and stubby, some are tall and skinny, some are hairy and some are not, some are bottom heavy while others are top heavy. No two people are exactly alike and that is what makes life so intriguing. But I don't think anyone is every fully happy with who they are. Curly hair wants straight hair. Brown hair wants blonde hair. Green eyes wants blue eyes. Short wants to be tall. And vice versa all the way around. Happiness is the one common thing that we are all pursuing in this world but if we are always striving for something different or better, will we ever be genuinely happy?
Our time in Goa has been absolutely incredible. Yab Yum and Ashvem Beach are the perfect combination to create the perfect vacation. We went swimming in the ocean all four days, we watched the sunset all five nights, we tried almost half of the dishes on the hotel's menu, we made friends with the staff, we went on a stupendous scooter adventure and we celebrated a whole handful of years together. It doesn't get much better than this.
That wraps up our time in paradise. Goa's yoga flowing, hippie going, tree hugging, beach laying, Xpat living, backpacker tripping, sun soaking, soul dancing kind of vibe was so majestic. I hope we meet again soon.