Around 9am on Sunday, March 6, my childhood friend Jennifer, who joined us on this trip, walked over to our place. Sailesh, who has been serving as our local tour guide, made us coffee and we all chatted it up. We were asking him all sorts of questions about the April 2015 earthquake, what life was like for him growing up here and the most important of them all... what is the deal with no lights at night? He basically informed us that a good majority of Nepal doesn't have power, day or night, but a lot of the shops, restaurants and hotels run off generators. He also mentioned that there is an app that informs the local residents of the electricity schedule and when they can expect to have power or not have power. Just like with everything, "there's an app for that". This blew our minds. Yes the app part but really more the fact that electricity is such a luxury here. That is something we never think twice about, and rightfully so, since we don't know any better. Could you imagine if the US had no WiFi, no running water, no power outlets to charge our electronics, no air conditioning to cool us down or heat to warm us up, and no lights inside or outside, unless one owned a generator? It would be breaking news on CNN. "United States Crisis Watch 2016 - no electricity for the night. Watch to see how they survive." But here, it's life as usual. I will never take power for granted ever again. Mark my word.
Today we hired a driver to take us around the Kathmandu area. His name was Laxman and he was real suave. Hair neatly gelled back, leather jacket as fresh as can be, jeans perfectly fitted. This guy had style. As we were driving, Jennifer was in the front and we were in the back. The roads were extremely narrow and unpaved, the turns were tighter than Spandex and every minute that passed was a blessing if we didn't hit a pedestrian or a motorbike or another cKayhkar. Watching her experience this was priceless. Her eyes were as big as gum balls and her mouth dropped lower than a Basset Hound's ears. Her reactions were exactly how we felt our first week in India. Now we are somewhat numb to it, for better or worse.
Our first stop was the Swayambhunath Stupa, which is the most ancient and enigmatic of all the holy shrines in the Kathmandu Valley. Its lofty white dome and glittering golden spire are visible for miles and miles. Each morning before dawn, hundreds of pilgrims will ascend the three hundred and sixty five steps that lead up the hill, file past the gilded Vajra as well as the two lions guarding the entrance, and begin a series of clockwise circumambulations around the stupa. On each of the four sides of the main stupa, there are a pair of big eyes, which represent wisdom and compassion (supposedly Buddha's eyes). Above each pair of eyes is another eye, considered the third eye, signifying the wisdom of looking within.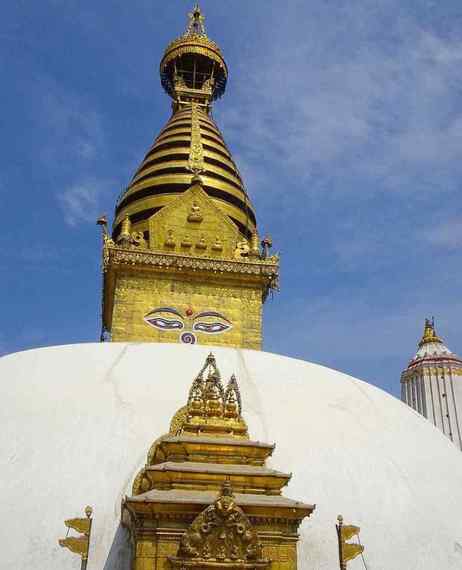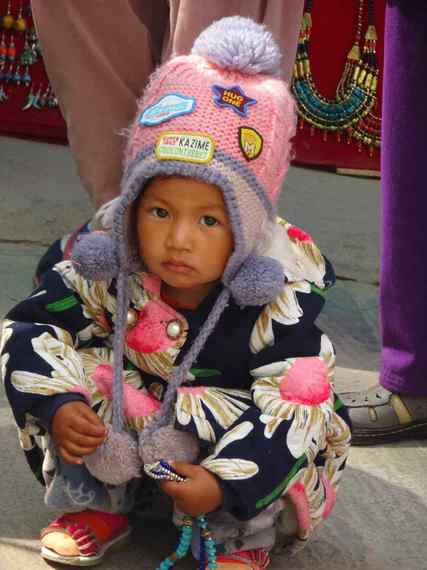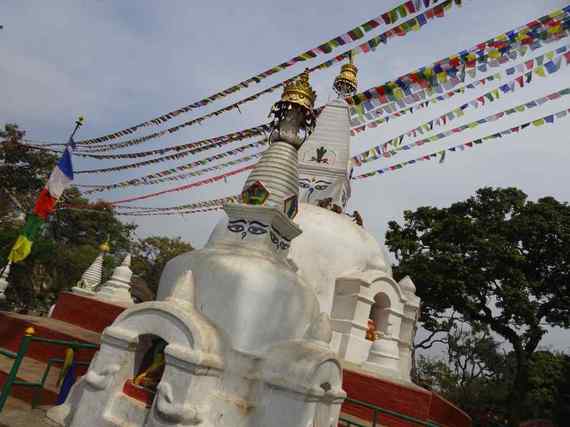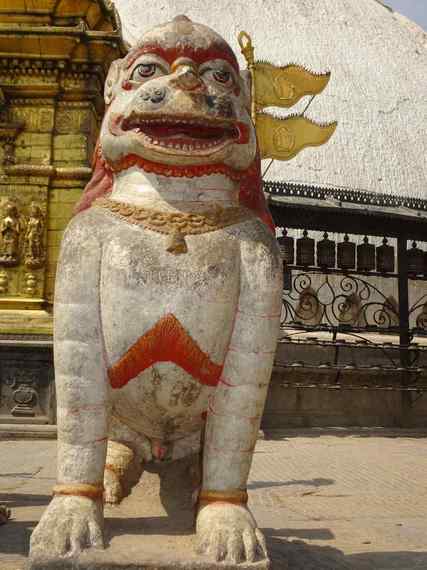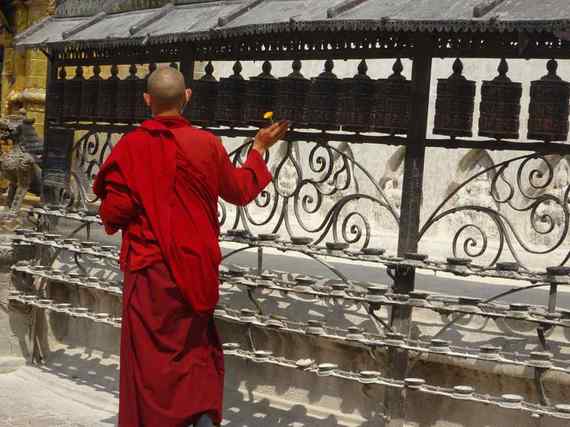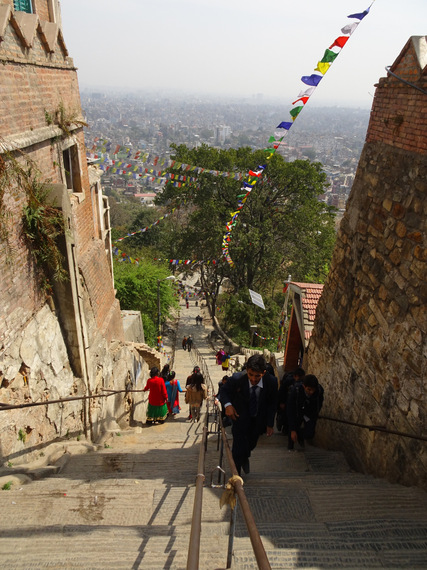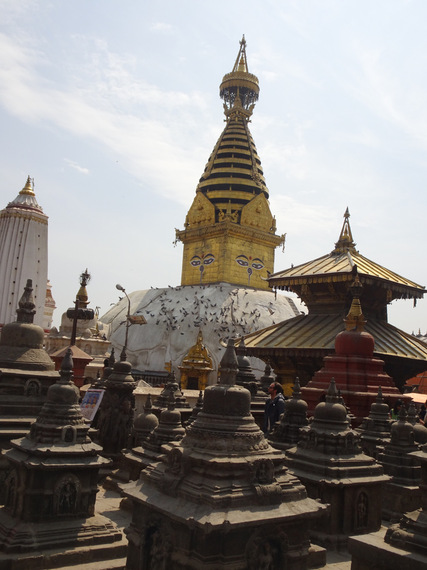 I love my "what doesn't belong here photos" so I am not going to stupa now...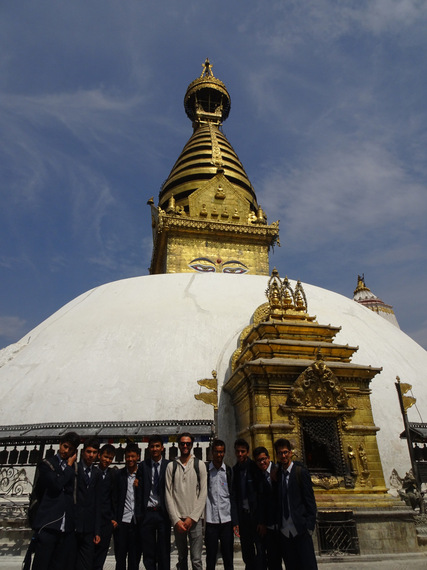 Despite the hazy and polluted skies, you could still see most of the Kathmandu Valley and it sure was incredible. We aren't too bad either, right?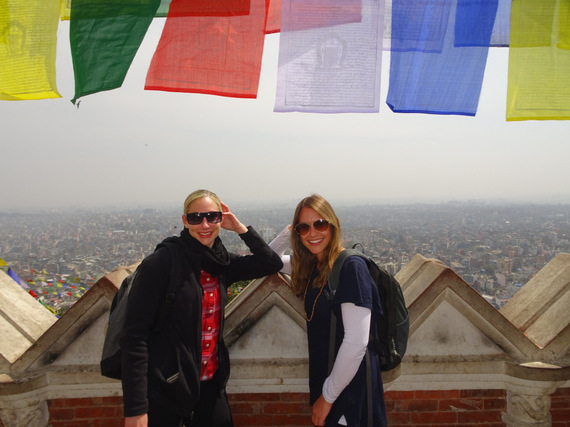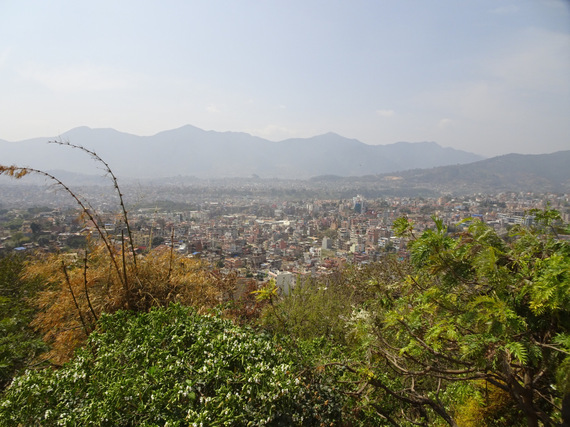 This stupa is also called the Monkey Temple because, well, there are a ton of holy monkeys that hang out here. Apparently this monkey wanted a different view. I like his style.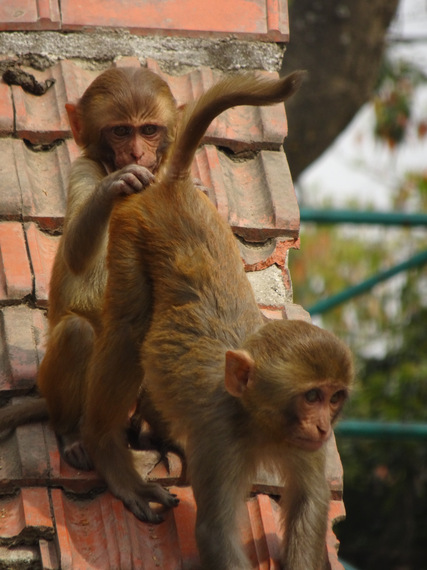 Our second stop was the Pashupatinath Temple, a 2,000 year old temple and one of the most significant Hindu temples of the god Shiva, the third deity in the Hindu trinity and known as the lord of creation, preservation and destruction. It is considered to be the oldest and holiest Hindu temple of Kathmandu. The Bagmati River, which runs next to the Pashaputinath Temple, has highly sacred properties. Thus, the banks are lined with many ghats (bathing spots) for use by pilgrims. Arya Ghat, dating from the early 1900s, is of special importance because it is the only place where lustral water for Pashupatinath Temple can be obtained and it is where members of the royal family are cremated. If you are not of the royal family, the main cremation site is Bhasmeshvar Ghat, which is the most-used cremation site in the Kathmandu Valley. This area has been referred to as the Varanasi of Nepal and that description couldn't be any more accurate. From the cremation ghats to the beggars to the smells, this was a very familiar scene to us. There were people without arms, legs, fingers and toes sitting along the walls, with bowls waiting to be filled with rupees. It's hard to swallow sights like this, especially when you want to help but there's just too many to make a difference. It's quite overwhelming to say the least. But I just love the way the Hindus dress. They are so bright, so spiritual and so decorative.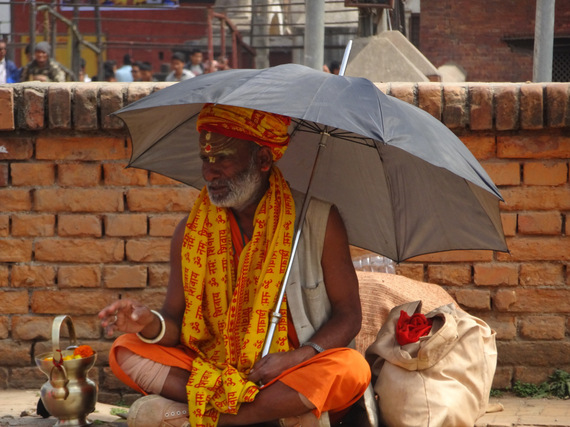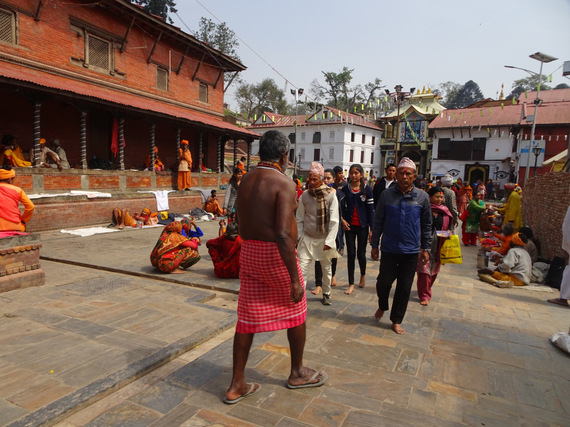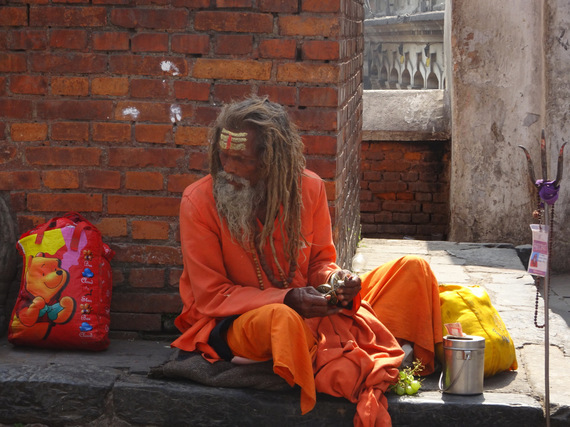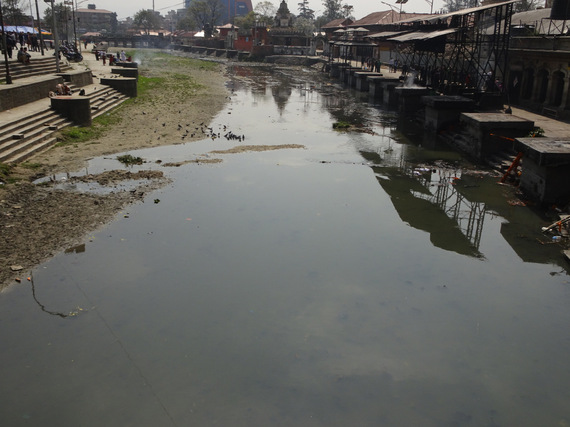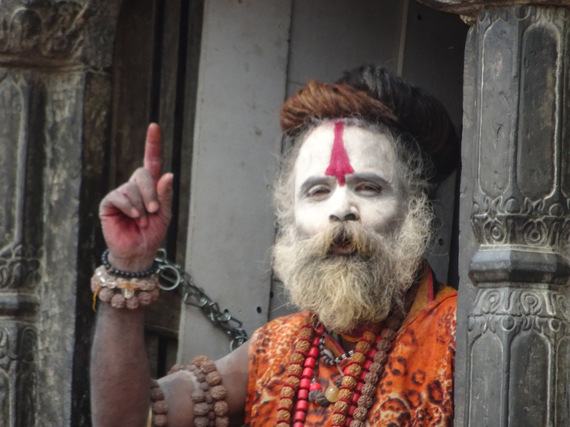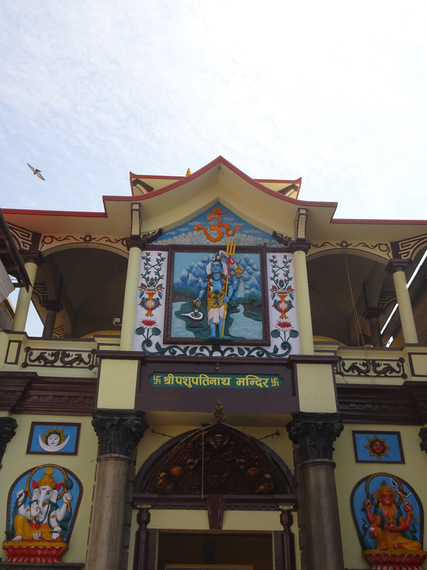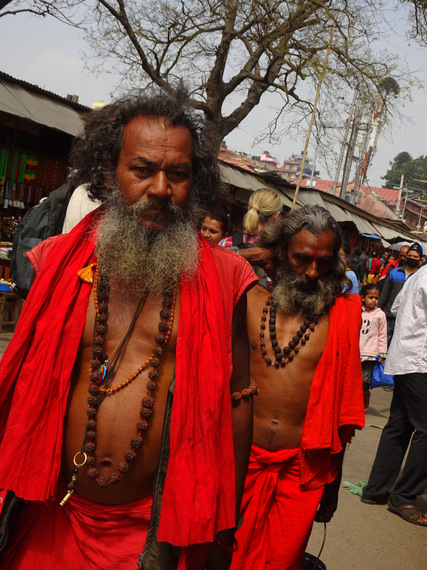 It was pretty cool to be here at this very moment because tomorrow, March 7, is the Maha Shivaratri festival, celebrated annually in reverence of the god Shiva. Over one million people from all over Nepal are expected to come together by praying, covering their bodies with ashes and partaking of the God's sacred cannabis-infused drink 'Bhang' or smoking chillums of hashish. Cannabis use has always been an integral part of the worship of Shiva. Sounds like an epic weed smoking, beer drinking, music listening, food eating kind of party. They were setting up various rides, games and booths as we were visiting.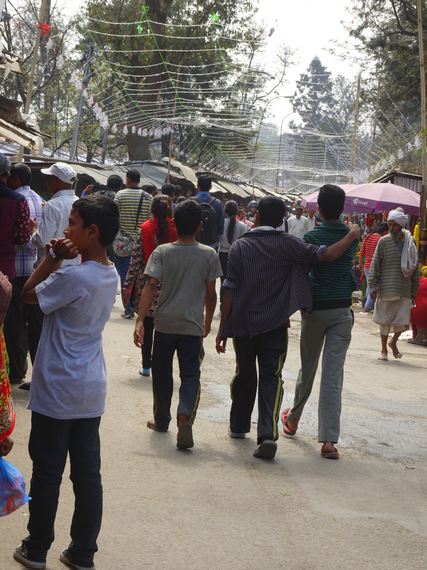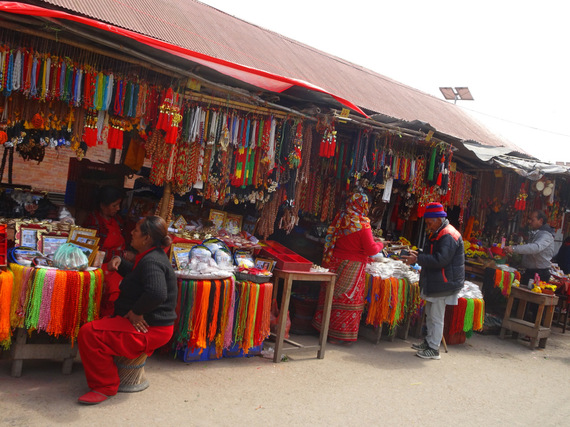 The third stop of our Kathmandu sightseeing tour was the Boudhanath Stupa, which is the largest stupa in Nepal and the holiest Tibetan Buddhist temple outside Tibet. Boudhanath was built in the 14th century, after the arrival of thousands of Tibetans following the 1959 Chinese invasion. Today it remains an important place of pilgrimage and meditation for Tibetan Buddhists and local Nepalis, as well as the number one thing to see according to TripAdvisor for tourists. When one thinks of Nepal, this stupa is usually front of mind. It is the Eiffel Tower of Paris, the Great Wall of China, the Sistine Chapel of Vatican City, the Taj Mahal of India, the Empire State Building of New York. We were all pretty stoked to see it in person. After we paid our two hundred and fifty rupees to enter, we quickly realized, there was no stupa. It was currently undergoing a facelift since it was badly damaged in the earthquake. Are you serious? Why didn't anyone tell us this was happening? We were all so sad. But this wasn't the first time our luck snuck away. When Vinny and I were in Rome, the Trevi Fountain had no water and was completely covered in scaffolding. And when Jennifer was in Brazil, the Statue of Christ the Redeemer, was being cleaned so she couldn't see it. Okay, she wins. That really sucks. Oh well. Even though the main attraction wasn't fully there, the surrounding area was still great to explore. The tiny town was lined with restaurants, shops, hotels and Tibetan Buddhist monasteries. We had lunch at Flavor's Cafe, located inside the Boudhanath Square.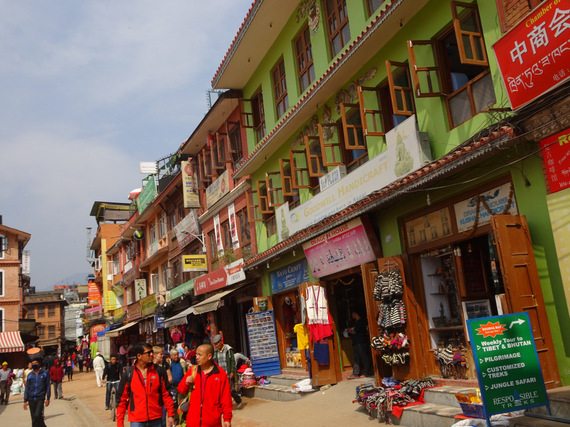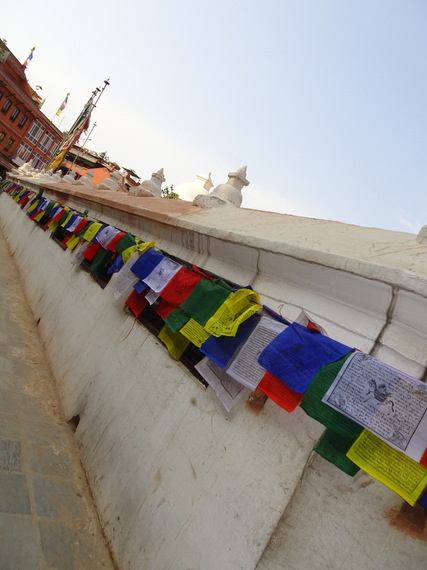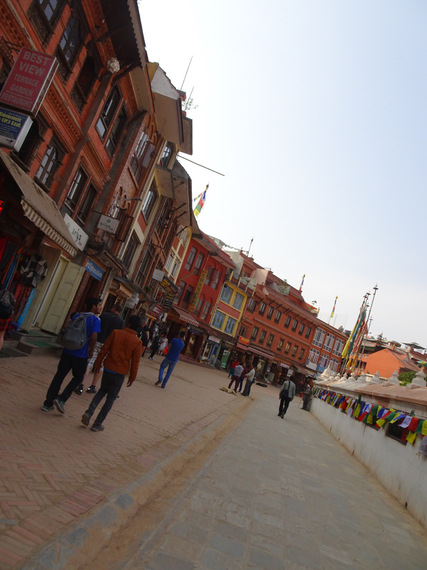 This is what the stupa looks like now...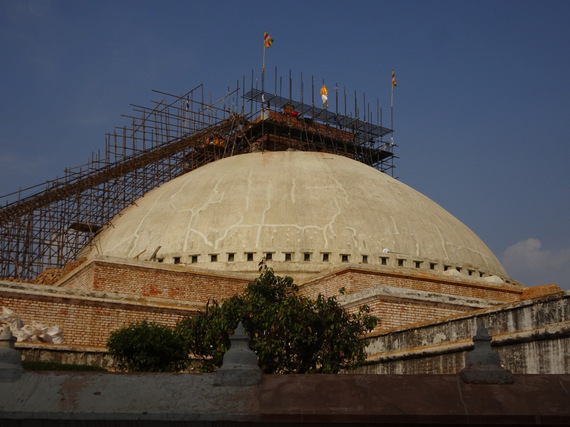 And this is what it usually looks like (a picture of a picture)...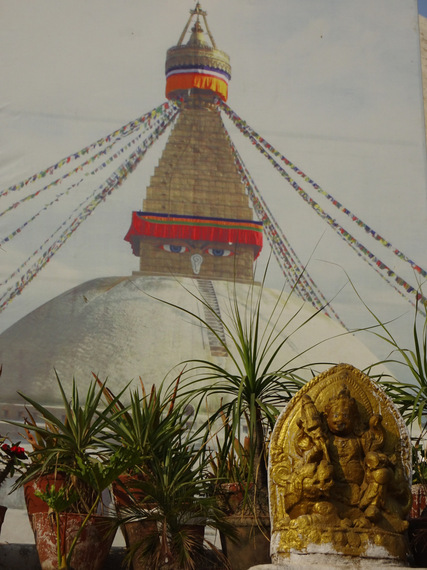 Oh, and because the pollution is so bad in Kathmandu, Vinny decided to buy a mask to help save his lungs. All the locals wear them too so it wasn't offensive to the culture if you are wondering that. Children, beware. He is quite scary.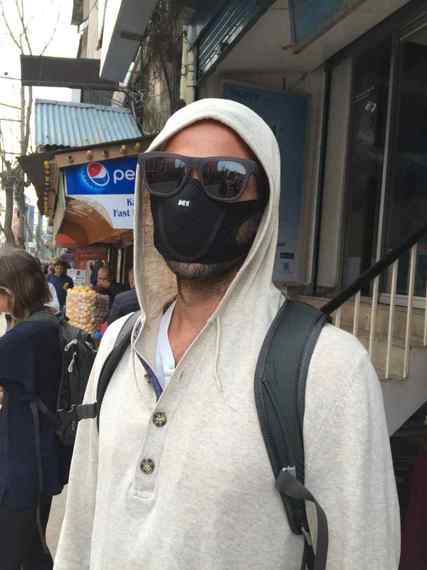 After an unsatisfying stupa experience yet a very satisfying lunch, we met back up with Laxman and headed to the Kathmandu Durbar Square. On the way, we drove through Durbar Marg, what seemed to be the Rodeo Drive of Nepal. A posh area with luxury hotels, restaurants, pricey boutiques, travel agencies and brand name stores including Nike, Zara, Levi's, etc. Very different than the rest of Kathmandu with paved roads and modern buildings. When we arrived at the Durbar Square, we learned that we had to pay one thousand rupees, or about $9 USD, to just enter. We decided to pass on this not so much because of the steep price but because it looked like it was also going through some renovations. It is so tragic to see how much a natural disaster can completely ruin a city filled with so much history, charm and exquisite architecture. Almost a year later, they are still struggling to rebuild what was severely destroyed.
A handful of times today we saw a line of roughly sixty or more motorbikes waiting to fill up at the gas station. When we asked Laxman if they were giving away free trips around the world, he laughed and told us Nepal is currently in a shortage of petrol, which is a result of the "blockade" they are having with India. Gas, along with electricity, are now both hard to come by. People will wait in line for hours if they have to. And one day is for motorbikes while the next day will be for cars. It's become such a problem that most people are buying their petrol off the black market which is increasing the price for everyone else. I mean, poor Nepal. First the earthquake, then the lack of power and now no gas. For a country with some of the absolute nicest people in the world, it certainly sucks to see them have to go through this.
That night, we walked to The Village Cafe, which is owned and operated by indigenous women who grow and make their own food. As we picked up Jennifer (on foot of course), we attempted to walk to the restaurant, although we weren't quite confident we would actually make it since directions are a little inaccurate with no street names or real roads. Being pitch black wasn't our only issue tonight. It started raining and the wind not so nicely started throwing a dirt fight, which was aggressively entering our eyes and mouths. The word miserable doesn't quite explain the emotions we were all experiencing at this very moment. I could tell Jennifer wanted to give up and go back while Vinny was determined to make it there. I was neutral but didn't really enjoy the taste of dust going down my throat. Eventually, we arrived, a little wetter and a little dirtier than when we had left. And to be honest, the food wasn't worth the trek in our opinion. No biggie though, at least we supported an all women's initiative and have a great story to tell.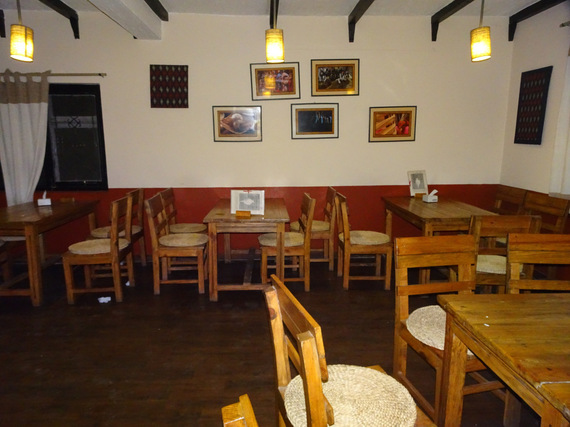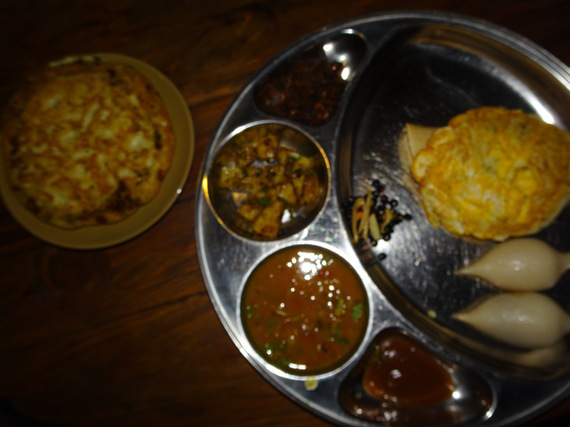 Despite the Boudhanath Stupa being nonexistent, the Kathmandu Durbar Square going through renovations and the unsuccessful first attempt to fall in love with local Nepalese food, we still thoroughly enjoyed our day. What we were lucky enough to see was quite impressive. Excited for what tomorrow brings!