Over the weekend, an online firestorm erupted when an astronomer referred to "boys with toys" when talking about telescopes during an interview with NPR. That comment might not, at first glance, seem particularly offensive. But it's yet one more recent example of a pervasive culture of bias -- whether conscious or unconscious -- in fields that typically have low (or lower than normal) percentages of female representation.

Kate Clancy, listening to the program with her daughter, was upset both as a scientist and a mother, and so she did something about it. She created the hashtag #girlswithtoys and posted images of herself and her daughter to Twitter. Here's the story in her own words.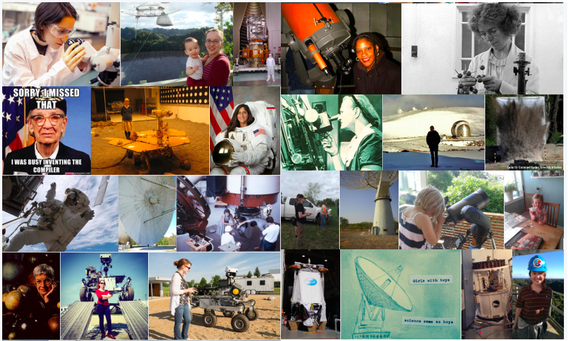 A selection of the photos uploaded on Twitter over the past few days for the hashtag #girlswithtoys. Please see the Twitter images page for links and credits on each photo.

It's great to see social media used for something positive. In fact, one could argue that without Twitter, the astronomer's offhanded comments would have just been broadcast into the ether. This type of sentiment could have been absorbed into the social consciousness as it has been countless times before. But Twitter, and other social media platforms, seem capable of helping groups, in this case, mostly women scientists, who are spread across time zones/geography, and fields of study, corral efforts to support and encourage not only themselves but also upcoming generations of workers.
We're also choosing to focus on the glass being half full in this case. Instead of just being tolerated or repeated, the "boys with toys" comment sparked a virtual onslaught of constructive and inspiring images and messages of women in science. Here is a selection of some of our favorite astronomy-themed pictures from the hashtag #girlswithtoys:

I'm late to the party, but Arecibo is a big toy. This from 2008: me and baby daughter. #girlswithtoys pic.twitter.com/I2jeiMtJ1K

— Karen Masters (@KarenLMasters) May 19, 2015
I play with Mars rovers. #girlswithtoys pic.twitter.com/j6N5tscc8U

— Tanya Harrison (@tanyaofmars) May 17, 2015
Don't forget #girlswithtoys Vera Rubin, discoverer of dark matter in galaxies pic.twitter.com/PI64sXd4nr

— Meg Urry (@Meg_Urry) May 17, 2015
Me with my 'scopes on top of Mauna Kea. #GirlsWithToys @bealagram pic.twitter.com/jF1QtlY2Kz

— Catherine Q. (@CatherineQ) May 17, 2015
Reva K. Williams: first black female PhD in astrophysics. #GirlsWithToys #BlackandSTEM pic.twitter.com/D8tk9iQPhp

— Jess Shanahan (@Enceladosaurus) May 16, 2015
What about Annie Jump Cannon? Pioneer in classifying stellar spectra. #GirlsWithToys pic.twitter.com/1WCX5sclTi

— Jess Shanahan (@Enceladosaurus) May 16, 2015
Astronaut Eileen Collins commanding the STS-93 mission Space Shuttle Columbia. #Girlswithtoys https://t.co/rILx51hzMi pic.twitter.com/QHa2MLeh2j

— Kim Kowal Arcand (@kimberlykowal) May 16, 2015
Nothing like building imaging spectrometers... except maybe flying with them after. @NASAJPL #GirlsWithToys @joepalca pic.twitter.com/yG0urr9yAG

— Holly Bender (@hollyaprilb) May 19, 2015
Just running the largest fully steerable radio telescope in the world. NBD. #GirlsWithToys @GrnBnkTelescope pic.twitter.com/q2GAArdHWQ

— Nicole Gugliucci (@NoisyAstronomer) May 16, 2015
#girlswithtoys on Mt. Bigelow, finding asteroids before they find us. @nprscience pic.twitter.com/j43OYmolWN

— AlessondraSpringmann (@sondy) May 16, 2015
Astronaut @Astro_Cady with Capillary Flow Experiments-2 on the space station http://t.co/HUeWSC2uqJ #Girlswithtoys pic.twitter.com/cIfqQz7HeH

— Kim Kowal Arcand (@kimberlykowal) May 16, 2015
We are very grateful to Kate Clancy and all of the people who took the time to post photos of women scientists and engineers with their "toys." Paying attention to how our words can be understood by those different than ourselves is a useful lesson that all of us should likely be working on.
Kimberly Arcand and Megan Watzke are co-authors of "Your Ticket to the Universe: A Guide to Exploring the Cosmos" by Smithsonian Books and the upcoming book "Light: The Visible Spectrum and Beyond" by Black Dog & Leventhal.