The world witnessed a truly momentous event on August 7, 2014, one over 35 years in the making. On a fairly innocuous stretch of land in the outskirts of Phnom Penh, some 500 Cambodian citizens and international dignitaries, monitors, and press packed into a courtroom to hear the verdict for two aging leaders of the radical communist Khmer Rouge regime, Nuon Chea and Khieu Samphan. As the chief judge read out a guilty verdict for crimes against humanity charges, millions of survivors of Khmer Rouge atrocities could finally exhale.
For many victims, the verdict represented "relief", a long sought after measure of justice. Yet, some commentators would have you believe otherwise. Although well-meaning, various journalists and human rights advocates all too often belittle the Khmer Rouge tribunal and its achievements. They instead focus on grievances, such as delays and allegations of political interference. While some of these grievances justifiably deserve attention, they do not overshadow this tribunal's valuable contributions to the world's effort to hold accountable those who participate in genocide, crimes against humanity, and war crimes.
The ECCC, on balance, is a major success for international criminal justice. The longevity of the international human rights and rule of law movement depends on building on such successes, while understanding the challenges in their context.
By way of background, the Khmer Rouge's close to four-year reign unleashed a level of human depravity seldom seen in modern human history. Their intent was to eliminate undesirables and violently transform others into like-minded communist radicals. After their regime crumbled in 1979, close to 2 million Cambodians, ethnic Vietnamese, Cham Muslims, Buddhist clergy and others had died from summary executions, torture, and forced labor. The death toll amounted to 25% of Cambodia's population at the time.
The Khmer Rouge tribunal, formally the Extraordinary Chambers in the Courts of Cambodia (ECCC), is an internationalized domestic tribunal established by a treaty between the UN and the Cambodian government. Operated jointly by Cambodian and international judges, prosecutors, defense attorneys, investigators and victim representatives, the ECCC was established to investigate and prosecute only senior leaders and "those most responsible" for the Khmer Rouge-era crimes.
In 2010, the ECCC found Kaing Guek Eav alias Duch, guilty of war crimes and crimes against humanity. Duch was the warden of the horrifying S-21 interrogation and detention center in Phnom Penh, where over 12,000 prisoners were tortured and murdered. On appeal, his sentence was increased from 35 years to life imprisonment.
In the August 7 verdict, the ECCC found two members of Pol Pot's inner circle guilty of crimes against humanity in the first of at least two trials of these individuals. This verdict related to the forced transfers of millions and extermination of deposed Khmer Republic civilian and military officials. The next trial will cover additional charges relating to forced labor camps, detention centers, rape, forced marriages, internal purges, and alleged genocide of Cham Muslims and ethnic Vietnamese.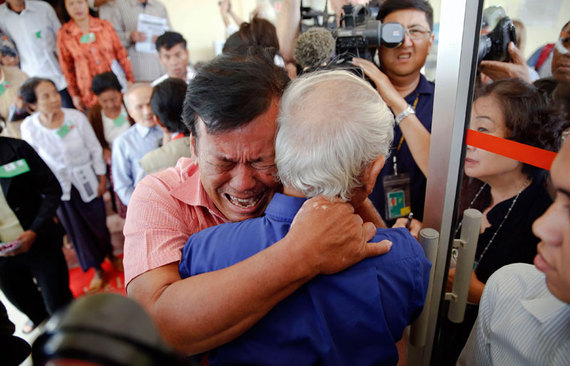 (Cambodia Daily)
These positive highlights, however, coincide with many obstacles encountered by the ECCC: protracted disagreements between Cambodian and international judges on procedures; allegations of salary kickbacks paid by Cambodian employees to their superiors; resignation by a reserve investigating judge who alleged political interference by the Cambodian government; disagreement between the international and Cambodian lead prosecutors regarding further investigations; refusal by Cambodian government officials to comply with summons; and continual budget shortfalls.
In both the lead-up to and aftermath of the recent verdict, I canvassed responses to see how the judgment shaped opinions on the ECCC. Many commentators, such as Open Society Justice Initiative and Amnesty International, found the verdict an important "milestone". For these observers, the ECCC's troubles did not diminish the "significance" of its work.
Others expressed a heavy dose of disapproval for the ECCC, however. Human Rights Watch said that "political interference, delays, corruption make [the ECCC] a failure". Prof. John Ciorciari, co-author of Hybrid Justice, stated that the court is "more of an impediment than a help, and for that reason, this model doesn't deserve emulation." Khmer Rouge victim and advocate Theary Seng said in a CNN interview that the ECCC "started off as legitimate but has transformed into political theatre", is a tool to "whitewash" Khmer Rouge crimes, and a "disservice to the victims."
Unfortunately, the only disservice to the victims are statements such as Mrs. Seng's comments, which are hyperbolic at best; misleading and damaging to Cambodia's efforts to deal with its tragic past at worst.
Human Rights Watch's assessment is likewise problematic. While alleged improprieties at the ECCC deserve serious inquiry, they most certainly did not result in a failed court of law. On the contrary, the ECCC is a fundamentally fair court that adheres to the highest standards of due process, as confirmed by outside observers. This achievement is impressive considering that the ECCC operates in a country whose domestic legal system is deeply flawed. At the ECCC, Cambodian judges are in the majority and Cambodian prosecutors and investigators share equal authority with their international counterparts.
Prof. Ciorciari's comments reiterate a common refrain that the ECCC model was the result of a political compromise between the UN and Cambodia, and is thus legally unfavorable. While this is historically true, it neglects the realities of international criminal justice in today's world. The ECCC is an important prototype for future efforts to secure accountability for mass atrocities.
By design, the permanent International Criminal Court cannot address atrocities everywhere. Creating temporary international tribunals for every conflict is politically fraught and logistically impractical. Atrocity-afflicted nations are generally unable to handle atrocity accountability alone either. So, hybrid tribunals with significant national participation will be an increasingly important feature of international criminal justice. This explains why ECCC-like efforts are under discussion or development in Senegal, Democratic Republic of Congo, and Central African Republic. As a result, the ECCC is not a "structural design to avoid", but a trailblazer.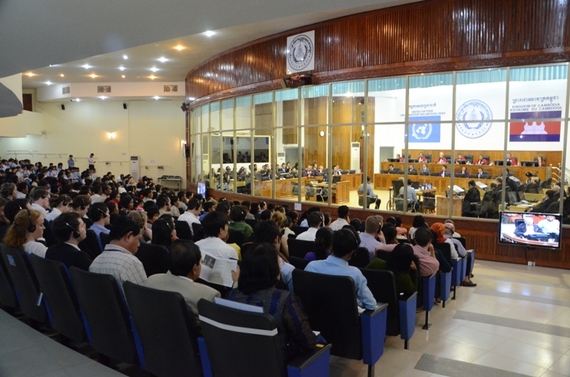 (ECCC)
It is also disconcerting that the ECCC's institutional successes are so frequently overlooked. Over 153,000 Cambodians witnessed its proceedings in person, with hundreds of thousands more following the proceedings on TV and radio. We should not be careless by glossing over these numbers. They deserve serious reflection. The ECCC's attendance record by members of the general public absolutely dwarfs that of other international criminal tribunals. Leaving aside "celebrity" trials in places like the US, Europe and South Africa, the public involvement in the ECCC trials also dwarfs criminal trials anywhere.
These facts mean that many thousands of Cambodians personally witnessed a functioning court of law conducting transparent and fair trials while delivering justice. These are among the most central objectives of transitional justice. The persuasive value of intimately experiencing the rule of law at work should not be underestimated either, especially when Cambodia's domestic judiciary routinely protects the interests of the powerful at the expense of its populace.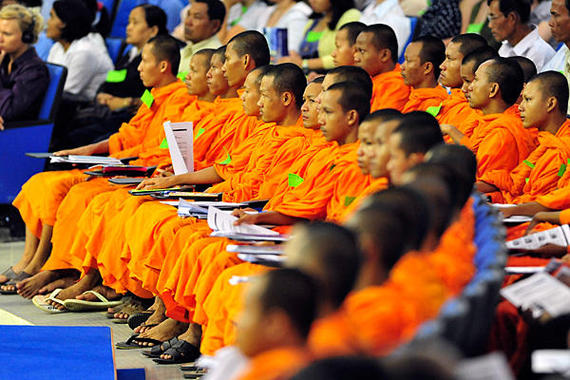 (Christian Science Monitor)
There is also convincing empirical evidence that the Cambodian population embraces the ECCC, thanks in large part to outreach programs. A 2011 study by the University of California-Berkeley on Cambodians' feelings about the ECCC uncovered widespread acceptance, including a high-degree of awareness of the legal process, belief of its positive impact on society, and overall positive attitude towards the Court, among other encouraging results. These numbers were a marked improvement over a similar 2008 study, demonstrating that Cambodians' approval of the Court increases with their exposure to its work.
Also, a 2010 German study and 2013 Harvard University survey found overwhelming support for the ECCC among victims who participated as "civil parties", or recognized victim participants in the case proceedings.
Critics also overlook the capacity building work taking place at the ECCC. Through day-to-day interactions between Cambodians and internationals, the ECCC has trained many Cambodian lawyers, court administrators, and other professionals who will work in various Cambodian public and private sectors once the ECCC closes. Many developed countries spend millions on capacity building programs just to achieve such results.
The ECCC also has immense symbolic value. It is a powerful statement to have formerly untouchable leaders in the dock. It is even more powerful when those former leaders apologize and admit guilt, which occurred at the ECCC. While these statements were qualified and lacked complete remorse, they represent important cathartic moments for a still-healing nation.
Given the odds, obtaining justice for Khmer Rouge atrocities and doing so in Cambodia is a genuinely remarkable accomplishment. Of course, this success is relative. The Court has a limited jurisdictional mandate that should have been handled more efficiently. Allegations of serious irregularities have hampered its progress. Moreover, its legacy will in part depend on how further cases against important Khmer Rouge suspects are addressed. Nevertheless, I am confident that the ECCC will prove to be a small, yet cascading event that helps change Cambodia's future for the better. But before this can occur, we have to be prepared to admit it.