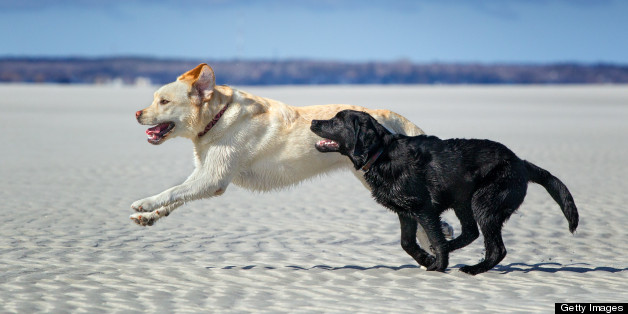 In about two weeks we'll welcome a new addition to the family: a black Lab puppy. We've even picked out a name for him: Loki, after the Norse god of mischief.

Some people, however, think I'm the one who's loco.
They tell me a puppy requires tons of work. That I should expect weeks of potty training. Sleepless nights. Soiled carpets. Ruined furniture. Some even liken it to having a baby. And what if the dog doesn't like me? Who needs that kind of tsuris, especially at age 53?

Dog people understand, though. They are quick to respond: "Why wouldn't you get a puppy?"
Here are just some of the reasons dog people cite for getting a dog:
• Dogs can reduce stress, both at home and in the workplace;
• They give us a reason for regular exercise through daily walks;
• Dogs reduce loneliness and make you more social;
• Perhaps most importantly, dogs provide unconditional love -- nothing makes a dog happier than making people happy.

I can deal with most things in life, providing they don't involve the harming of dogs. Tell me the lead actor dies at the end of the movie and I can cope with it. When Gwyneth Paltrow's head is literally handed over in a box at the end of Se7en, I shrug: "Eh." Klingons destroy an entire planet and its inhabitants in a Star Trek movie. No problem.

But I know I can never watch Sounder again because the family's beloved old coonhound is shot in the end. I well up when I recall how Odysseus's eternally faithful dog, Argos, instantly recognizes him after 20 years of struggling to return home to Ithaca in Homer's Odyssey.
Like Odysseus, I too, am a dog lover.

In anticipation of Loki's arrival, my wife and I have been visiting a local dog park to get our daily fix of second-hand dog. The other day, Anne locked eyes with a yellow female Lab and the dog came over to say hello. The Lab then turned to me wagging its broom-like bushy tail, inviting me to rub its blocky shoulders, which, of course, I did, and then it walked away contented.
My wife and I are convinced that this was a paranormal experience. It felt as though the spirit of our beloved late black Lab Berna was channeling to us through the yellow Lab. It was uncanny. There were dozens of other dogs chasing balls and Frisbees in the park, zipping by, oblivious to us. Only this lone yellow Lab decided to walk over. We just knew Berna was communicating to us from beyond the rainbow bridge. Anne got weepy. I know this sounds crazy, but dog lovers understand
Dog lovers will tell you that they enjoy the company of dogs as much, and often more than most humans. That while people will always disappoint, dogs will never let you down, except when their lives are over way too soon. Indeed, one dog lover's bumper sticker summed it up nicely: "Who rescued who?"
My wife thinks of Berna as the daughter we never had. We found her in 2002 at age two and a half through Midwest Labrador Retriever Rescue. She had already had a litter of puppies. We joked that she was a disgraced showgirl who got knocked up by the lead boy in her kennel and lost her girlish figure. When we first met her on a farm in southern Wisconsin, she charged out of her kennel with her siblings howling like a wolf in a pack. She came to a halt in front of Anne, gently bent a front paw, and stared into Anne's eyes and licked her on the nose. It was instant love. Berna fit into our busy lives without any problems. Our son, Max, would occasionally bristle when Anne would refer to Berna as his "sister."

"She's a dog, Mom," he would say, rolling his eyes. But even Max knew it was a lost cause, rubbing his face against Berna's fuzzy muzzle. Berna slept in our bed most nights, her square head nestled under my wife's chin until her final day.

My feelings for Berna were so strong that I fainted moments after we had to put Berna down two days before Thanksgiving last year. Paramedics were called. I quickly recovered and was told there would be no charge for their visit. Weeks later, however, I received a $300 bill. I called the local fire department to dispute the bill. The fire chief was firm, but softened when I told him how I had passed out in the veterinarian's office after putting our dog to sleep.
"Man. I didn't mind when my wife left me," said the sympathetic fire chief. "But when my dog died I couldn't handle it." Needless to say, he agreed to waive the fee.
I have never grieved for anyone as much as I did for Berna. While we know we can never fully replace her, we are heartened that Loki is her great-great nephew -- the last of Berna's blood line.
We plan to keep a dog cage next to our bed, but I know it's just a matter of time before my wife has Loki sleeping under her chin.
Yes, call me crazy but we are ready for a new pup in our life -- potty training, sleep deprivation and all.