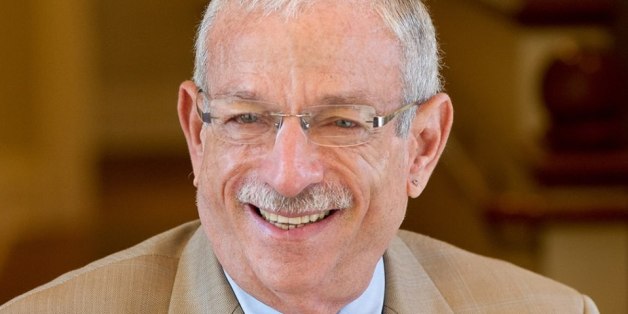 A month ago, one of the LGBT community's pioneers, William Meezan, passed away at the age of 69 from an infection that became too overwhelming for his body to fight. Bill, as we called him, was revered as a social worker dedicated to child welfare services and LGBT-related causes, dean of the Ohio State University School of Social Work, mentor to countless individuals and beloved husband to his partner of 37 years, Mike Brittenback.
Bill was widely recognized as a national and international expert in child welfare services. His research and writing was highly influential and he was a sought after collaborator. It's hard to condense the effect Bill had on the world into a few short paragraphs so I'll let the numerous awards and accolades he received speak for themselves
One of Bill's most notable qualities was his dedication to his loved ones, especially those within the LGBT community. He tirelessly fought for queer people as a social worker conducting research on same-sex parenting and AIDS services, and as a husband insisting on visibility for him and his partner within an all-too-rigid academic sphere. He pushed and pulled our community forward.
Bill died just a day before Pride month commenced and two weeks before the tragic Orlando shooting, but his legacy speaks louder now more than ever through those he nurtured and loved. With so much of Pride month being about honoring our pioneers, Bill joins the ranks of those we have to thank for fighting for equal rights.
In his honor, some of Bill's closest family, friends and colleagues want to share words on how he paved the way and encouraged them to live as proud queer activists. And perhaps our words will help inspire you to dedicate yourself to what you believe in, just as Bill did for us.
"I first met Bill about 25 years ago in a professional capacity. He was the lead investigator for a countywide research project and I was the project coordinator for one of the non-profit partners. This was my first opportunity to work with various public and private community leaders including the director of the foundation funding this project. One of my first memories is being at a luncheon with all these project partners, all of whom held higher positions than mine. I was a bit intimidated. At some point in the conversation Bill referred to having done something with Mike. I asked him who Mike was and he said his partner. I was blown away that he was so comfortable being out about this part of his life. At this point in my career I was still in the closet. Bill's nonchalance and comfort about being gay among all these 'important' people had a big impact on me. It was not long afterwards that I came out to my boss and colleagues and I have never looked back."
- Sandy Sladen
Retired social worker

"Dr. Meezan, Bill, was a dear mentor and friend. He made me laugh. He was genuine, forthright, smart and had that Bronx grit that I love. As his student, he welcomed and always answered each of my long-winded questions. He had a deeply generous spirit. I had no idea how close we would become. He was one of the first people in my school that I told about my wife and I having a child. He said 'Mazel tov" when he saw the sonogram pic and shared in our joy. He asked me good questions about parenthood and was so willing to always tell me stories about his life. When he and Michael were hosting me, the love amplified."
- Anna Ortega-Williams
Doctoral candidate, Fordham Graduate School of Social Services
Former student and mentee of Bill Meezan
"I first meet Bill when he was an instructor of one of my required doctoral research courses at Fordham University. As an instructor he was tough. He knew his stuff and expected his students to know it as well. Having an opinion wasn't enough, you had to be able to be able to support it with facts. His quick, and sometimes burning, sense of humor kept all on our feet. Somehow during a lecture on some statistical procedure, Bill would slip in a subtle gay reference that only he and I got.

His words of wisdom were consistently insightful and would always ring true. When discussing what I was going to do with my life after defending my dissertation, he would share, 'You aren't going to do anything. You are going to take time to breathe and enjoy life.' While I only had a handful of years knowing Bill, his words will be forever in my heart: 'Take time to breathe and enjoy life.'"
- David Vincent, PhD
Deputy executive director, The Door
"Last fall I was asked to give a speech as a student representative of the LGBTQA Center at the University of Vermont. I was told nothing more than that there would be a 'special announcement.' What I would learn that day was that Bill and Mike had named the Center in their will, securing both our future and our ability to continue serving queer students on campus. I still remember the first time I met Bill, right after that fateful announcement filtered out to the reception. With tears in his eyes, he embraced me in the most genuine, wholesome hug and from then on we shared a beautiful bond.

Though the miles drew him further away, Bill and I grew closer. When he visited Vermont again in this past spring, we shared the most incredible meal and talked for hours. I was lucky enough to learn about his life, his love and his history with the queer community. Bill shared that my speech and my transitioning publicly on a college campus inspired him. I wish I had told him more just how much he was the one who inspired me and how much it meant to have someone like him believe in me. I soon dubbed Bill and Mike 'my fairy grandfathers' and was in touch with them about when I would visit the city this summer. When my biological grandfather passed three days after Bill, I took solace knowing that these two strong men would be watching over me together. I am so grateful for the lessons, the love and the laughter that we shared. So long, my friend."
- Benjamin Kennedy
University of Vermont M.Ed. Student
"Throughout his life, Bill was out, he was proud, he was loud, he was strong. Everywhere he worked, and in all his copious research on children and families, he spoke out to make sure that LGBT perspectives were never marginalized or ignored, and when he saw injustice he went to the mat. Above all, though, he was gentle, using humor and wisdom to help countless others find their footing and voices in a world of new possibilities. When I was 25, still trying to be straight but knowing I was gay, he took me by the hand and showed me a world where I could be both gay and normal -- where I could love and be loved. I finally understood who I was when he told me, 'It's not who you have sex with that makes you gay. It's who you love.'
Bill had a luminous career, yet he reached the top of his profession without hesitating to be who he was or to help others make the same choice. By the time he retired, his young students, gay and straight, took equality for granted. Maybe, in a way, that's the greatest tribute. Bill made battling for equality look easy, even though it was so very, very hard."
- Jonathan Rauch
Bill's cousin
Senior fellow, Brookings Institution
"I first learned about Bill because he had insisted UVM add his partner, Mike, to his mailing address. Bill was always a fierce LGBTQ advocate and UVM had not been an affirming place to be gay when he was a student in 1967. He was so excited to hear his alma mater was becoming a welcoming place that he worked to make sure I stayed in touch. He sent me a change of address when he moved to become Social Work Dean at Ohio State, and later an article he co-authored about the well being of children of same sex marriages. Bill was exceptional from the start and I hoped I would have the chance to meet him some day.
One day in 2008 Bill walked into my office. That day I gained a mentor, a champion, and a friend. Bill understood things that were hard about leading an LGBTQA program in higher education. He got how being the first in my family to attend college made certain things harder for me. He checked in regularly, often realizing before I did that I could use his help, and he did help me survive disappointments, navigate challenges, and find my way to victories. When I enrolled in a doctoral program, Bill volunteered the same support for my personal goal as he always had for the success of the LGBTQA Center. Last fall Bill and Mike stunned the whole LGBTQA community at UVM with the announcement of a planned gift to the LGBTQA Center.
The last time Bill visited Vermont he vowed he would be the one to place a doctoral hood on my shoulders when I finally finish my degree next May. Bill has been gone for a few weeks now but he has not left me. I have felt him by my side, as my dissertation has poured onto the page, and as I navigate work in higher education with a new resolve. Bill's belief in my vision will always be with me in my darkest moments of doubt. His voice is clear, telling me, the rest is up to me. His tough, loving support fuels my determination as I work toward a goal that I know would have made him proud. Bill will be at my graduation next May, in my heart. He touched the lives of so many other people just as he did me. I'm only sad for those who had yet to meet him."
- Dot Bauer
Director of the LGBTQA Center, University of Vermont
"When I moved to New York two and a half years ago from California, Bill reached out to me offering to be my East Coast family. I trusted him as a longtime friend of my dad's but we weren't close until we started having regular dinners in his apartment on the Upper West Side. Whenever we got together, Bill, Mike and I would spend hours talking about all things gay: LGBT history, politics, who I was dating and whether they approved. Bill put things into perspective for me as a young lesbian who was likely getting herself involved with people she shouldn't. He lent me books on queer history he knew I'd never give back. He offered me career advice. He became part of my life here. But even more profoundly, he helped me feel close to my history as a gay person and for that, I am forever grateful."
- Kira Brekke
Editor, HuffPost Video
Rest in peace, dearest Bill.