Friday, the last official day of Fashion Week, is a day I'll remember with a smile, as it was the day that I got to watch Donna Karan present her signature collection. I was anticipating her show all week, excited by my good fortune of scoring an eleventh hour ticket through the kindness of a friend and Donna's generosity. There are a few select shows during fashion week that everybody wants to see, and this show was definitely one.
The Spring '09 collection was shown at the Stephen Weiss Studio in Greenwich Village. It's a minimalist space (the former art studio of her late husband) set in an old brick warehouse with a giant roll up door that leads you in from the street. It was a drizzly fall afternoon and the warmly lit space with its long wooden benches for the guests was a welcome respite. Somehow, despite the venue being quite large, there was an intimacy to the experience of being there. I walked along the U shaped runway searching for my seat and the place cards read like an international who's who list of fashion luminaries and celebrities. What was really refreshing, though, was that the event didn't have the feeling of everyone trying to be fabulous. There was none of that frenetic buzz of insecurity, of needing to be seen. The mood was anticipatory and upbeat, but calm. Joyful. The tone was supportive instead of self-involved.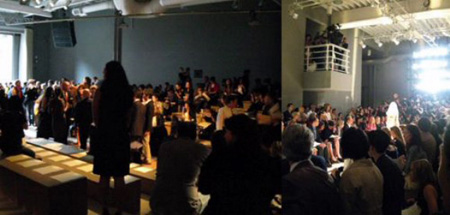 This season's collection was titled "Liquid Assets" and stayed true to Donna's continuing exploration of sensuality and the female form. She describes the pieces as "Clothes that evoke the fluidity and freedom of water cascading down the body." The collection featured softly draped suits, separates and dresses cut in languid fabrics like satin jersey and matte silk charmeuse. Here are a few of my favorite looks from the runway: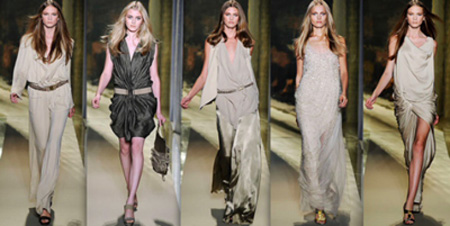 I've been a fan of Donna Karan's work since my introduction to fashion. Strong female designers have always intrigued me. Women designing for women create a different aesthetic than men who design for women. Sometimes the difference is subtle, but I think that female designers often create clothing inspired from a personal, internal perspective whereas male designers focus more on the external statement- an inside-out vs. outside-in sensibility. Donna's work has always honored internal sensuality instead of overt sexuality. She continues to demonstrate that personal power isn't about being hard- it's about being soft, fluid and comfortable in one's skin.