What inspires creativity? If you ask jewelry designer Anne Bezamat, she would tell you, "Love."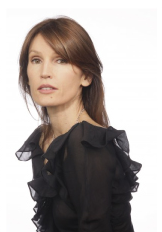 I recently spent time with Anne at her midtown Manhattan workshop to learn more about her new namesake jewelry collection. Our introduction was a pleasure- she is an effortlessly elegant woman with a quirky sense of humor that resonates in her casual-chic style. Anne is French, so she was practically born with great taste, but her design aesthetic is both an innate gift and one that has been honed by her experiences. She grew up as a ballet dancer and has worked as a prominent model, studied philosophy and literature at the Sorbonne and is the proud mother of two teenage boys.
Anne's work is steeped in her perceptions of the world and this gives the jewelry collection a special resonance. Her attention to detail is obvious in all the right places, from the comfortingly solid feel of the necklace pendants to the delicate chain clasps molded in the shape of fleur-de-lis. Something particularly notable about her dedication to detail is its co-existence with the pragmatic decision to keep the line's prices more accessible-- the pieces range from about three to seven hundred dollars, but they look and feel far more expensive. Her face animates with enthusiasm as she speaks about her work and about her process. Here is our conversation:
How did you decide to start your own line of jewelry?
I've always loved to draw- design and drawing, these have always been my passions. Now that my kids are getting older I decided it was time to put my dreams into production. About a year ago I began to get prototypes made of my sketches. My friends got really excited about the pieces and started requesting them- so it started like this. The enthusiasm for the designs grew and it gave me the confidence to really go for it.
Why did you decide to start your own line of jewelry? I started to design jewelry because I have a particular taste for things that are cool looking but not evident, not easy to find. These pieces, you can wear them with a beautiful dress and dress them up, or you can wear them with jeans on a cord in a casual way. (Each necklace pendant comes with both a chain and a velvet cord.)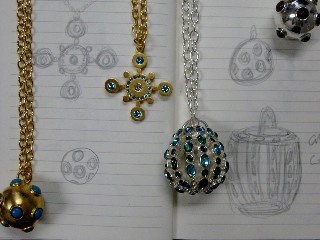 Some of Anne's initial sketches and the final results.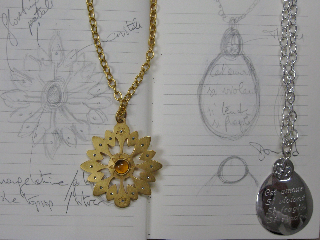 The first sketch for Anne's favorite piece, the Fleur D'Vie and of Jalila, a pendant inscribed with a French love poem.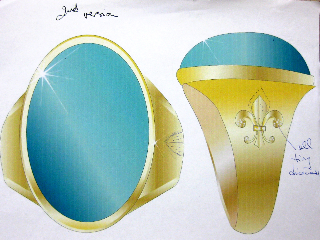 Graphic illustrations are made from Anne's sketches to help instruct the craftsman's creation of a prototype.
How long did it take to create your first collection? It took about 8 months to be made. I worked slowly because when I create a piece I need it to be what I see. If it takes me three months or a week, it needs to be exactly right. It's got to express the vision- otherwise I just can't do it. Sometimes the tiniest detail will be everything to me.
What do you love about jewelry? Everything! I love the stones, the feel, the creativity. Jewelry is what takes fashion to a personal place. Jewelry adds glory to what you wear- it completes the package.
What inspires you? Love, with a big capital "L." Love of everything.
Has it been this way your whole life, that love is your creative inspiration?
Yes, I think so.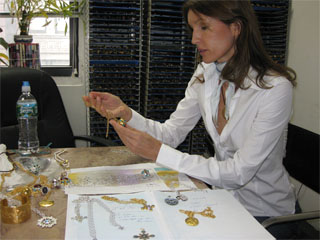 Anne examining design samples.
So it's when you follow love, that's when you find what you are looking for? Yes. For instance, the Pluie D'Etoiles (rain of stars) necklace was inspired by a memory of the night sky in Uruguay. I was sitting under the stars and loving the moment, it was so beautiful, and I thought, I've got to create something, to wear something that reminds me of this experience. So for me design is very passionate, for sure.
What piece began the line? The Carnelian Cameo began the line. I was in London with my son and we spent the afternoon together at a museum. We came across a painting of a woman from the 1800's who wore a similar necklace to sit for her portrait.
What is your favorite piece in the line? My favorite piece is the Fleur D'Vie (flower that you envy) necklace. The inspiration was the memory of traveling to my grandparents' house when I was a kid. The shape of the pendant is reminiscent of the fields of flowers scattered across the French countryside.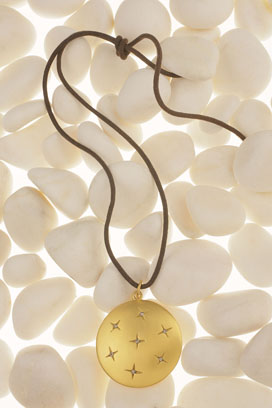 Pluie D' Etoiles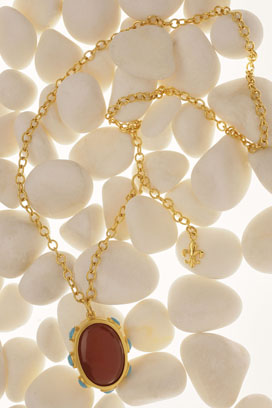 Carnelian Cameo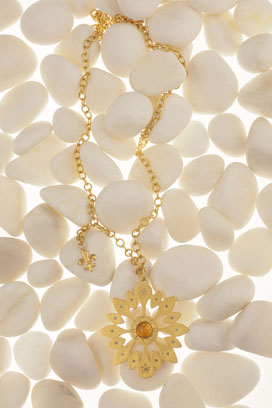 Fleur D'Vie

It sounds like your design inspirations are more emotional than pragmatic. You seem less focused on trends and more focused on meaning. Sure- absolutely. That's why I think designing makes me happy. My pieces are created from special memories of objects and places. It's a wonderful feeling to share this. Every time I see a piece come to life after I've drawn and worked on it - and I see people enjoy wearing it, it makes me so happy.
Where can people find your work?
At Scoop NYC and on my website www.annebezamat.com.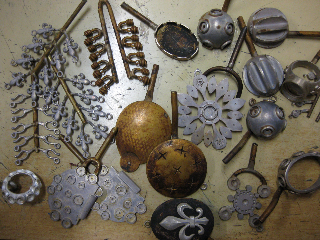 First prototypes are created for Anne's designs. Confirmed patterns will be used to make rubber jewelry molds.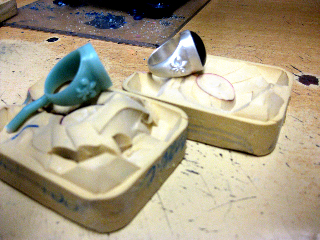 An example of a rubber mold, a metal casting and the final ring.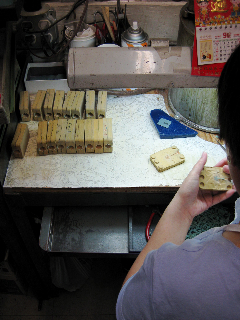 A craftswoman working on Anne's jewelry molds.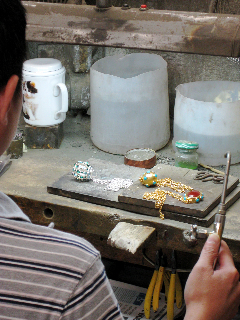 A craftsman putting the final touches on some of Anne's samples.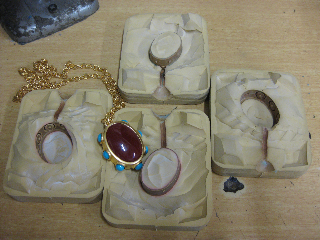 Anne's first piece in the line, the Carnelian Cameo, shown with its mold.