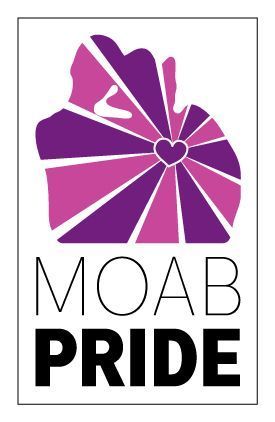 When you think of Utah, you probably conjure up images of vast desert landscapes, breathtaking rock formations, expansive salt flats and towering, white Mormon temples. Chances are you don't picture rainbow flags, outrageous parties, activism and a massive public outpouring of LGBT pride -- at least not yet.
Moab Pride has created one of the most unique pride events in the country, one that is generating a lot of buzz now in its third year. In fact, last year's attendance made it the second largest "small-town pride" in the nation. This year's theme, "Naturally Engayged," promises to combine the beauty of Moab and its surrounding national parks with Utah's growing awareness and celebration of its LGBT population.
Beginning with loads of outdoor fun, Moab Gay Adventure Week is an adrenalin-packed week of hiking, rafting, canyoneering and exploring. (You can even take a jeep tour out to Thelma & Louise Point!) This is the first national event to connect outdoor recreation with LGBT pride. Adventure Week culminates in a drag hike to Windows Arch in Arches National Park, where organizers promise that "the loop trail is brief, mostly paved, perfect for heels and with several beautiful photo opportunities to get your Vogue on!" There is an après-adventure mixer every afternoon as part of Dine Out for Pride, in which participating restaurants and bars will donate a percentage of proceeds to Moab Pride. This year's revenue will be put toward creating a permanent drop-in center in town, offering a larger scope of services to local LGBT youth, allies and visitors.
After a week of nonstop adventuring, Pride Weekend kicks off with the Orange Party, an all-orange dance party inspired by the color of Moab's surrounding rocks. As the organizers put it, "Moab has always known that Orange Is The New Black!" This official kick-off party is a time to meet and greet and become more "engayged" with the Moab community for events ahead.
Moab's "People Powered" Visibility March will be launched Saturday morning by a mayoral proclamation and encourages the whole town to participate on bikes, skates, skateboards, unicycles or your own two legs, just nothing motorized, though the world-famous art car "Chundra" will lead the crowd through town to the beat of the Fiery Furnace Marching Band. The march leads into an all-day festival in Moab's Old City Park, a picturesque venue south of town in Spanish Valley. The festival is the perfect place to relax outdoors, meet new people and enjoy amazing music, speakers, vendors and LGBT education, support and services.
This year's keynote speaker is Wayne Besen, author of Anything But Straight: Unmasking the Scandals and Lies Behind the Ex-Gay Myth. Mr. Besen currently serves as Executive Director of Truth Wins Out, an organization founded to combat the "ex-gay" myth and right-wing propaganda around homosexuality. Besen's work is particularly poignant this month, as a federal appeals court recently sided with California's S.B. 1772, upholding the first law in the country to ban the bogus psychological treatment that seeks to turn gay youth straight (known as "conversion therapy" or "reparative therapy").
After the day at the park, there's the Annual After Party, where mistress of ceremonies Indi Skies will present the Moab Pride drag queens and you can dance the night away surrounded by Moab's stunning natural beauty and the spinning sounds of DJ divaDanielle from Los Angeles.
Just writing about Moab Pride this year makes me want to join in! It gets me excited for the future of Utah and the entire country. As Donna Narducci, former Executive Director of Atlanta Pride, put it, "Small-town Pride events are the ones creating change. It's easy to blend in with 300,000 of your friends and another to be one of several hundred. That takes guts!" It is small-town pride events in places like Moab that are changing the political landscape and opening up dialogue in traditionally conservative states like Utah.
Moab youth Audrey Baird, who participated in last year's visibility march for the first time, shared her story:
It was a little bit hard, just because you don't really know what you should do, if you should come out or if you should just keep it to yourself, because you really don't know how people are going to react, because everyone knows everyone here.
Former resident Benton Johnson says such experiences exemplify the need for LGBT festivities and services:
It makes me proud, as a gay man from Moab, to see my hometown having such an inspiring event. When I was growing up, I had no gay friends I could talk to. In fact, I was the only out kid in high school. I really feel like this festival is a fantastic opportunity for gay youth in Moab who might be questioning or scared. It makes me happy to think that today's youth won't have to go through some of what I did.
Moab Pride's lead organizer, Jenn Oestreich, explained some of the significance behind the glitz and disco balls:
For Moab, pride is more than just a party and a parade. It is a political statement heard far beyond our town's borders. The attendance of approximately 500 people at the first pride event, which is 10 percent of Moab's total population and a number we hope to triple this year, illustrates how important it is, not only for the local GLBTQ community but also for our rural citizens hoping to show that Utah is just as progressive and supportive of equality and visibility as larger cities.
I too believe that real change happens on the fringe of society, and that it takes incredible courage to stand up and be seen for pride in Utah. Such bravery requires -- no, inspires -- me to change my preconceived notions of Utah and instead spend my energy and time getting behind Moab's brave trailblazers.
While I'm admittedly not much of a hiker or an outdoorswoman, I'll get behind anything that creates political change for all LGBT citizens and makes the world safer and more inclusive for all of humanity. Road trip, anyone?