Join me in chanting three basic truths about the new media landscape:
Communities are the villages, towns and cities of the web.
Communities need news and they thrive on it. If you want to grow a community, feed it specialized news.
News needs communities to serve. If you want to grow a news operation, make sure it serves one or more niche communities.
An example: When news of the disaster in Haiti broke last week, Michel Dulyx, a young musician and sound engineer in Montreal, quickly created a Facebook page "to find out how were my friends, father and family" back in Haiti, he told a local newspaper. Dulyx is not a rock star or a social media guru. His Twitter account recently said he has 25 followers and has issued 9 tweets. But by Tuesday evening, his "Earthquake Haiti" page on Facebook had some 280,000 members and was adding roughly 1,000 new ones hourly, making it the largest such Facebook group.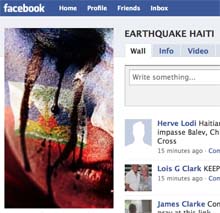 Dulyx's page keeps growing because it provides a unique news service to a unique community--family and friends trying to locate loved ones in Haiti. A week after the big quake, there were more than 1,200 ongoing discussions and 5,800 photos attached to the page.
The Earthquake Haiti Facebook page is the latest demonstration that news generates and sustains communities--and communities aggregate around highly relevant news that matters, contribute to that news with opinions and new information, and are loyal to the organizations that serve up their specialized news. The relationship between news gathering and community is one key to journalism's future. And because there are no longer any bright lines separating different "kinds" of media, the value communities place on news is just as critical to the efforts of brand marketers, especially as marketers increasingly are being required to cultivate communities in social media.
I've been saying for awhile (in bars, at lunch and on my company's blog, postadvertising.com, that so-called "social media" soon will be called just plain "media" and the world will accept that the power to publish or broadcast to large audiences has passed irrevocably from a select few to virtually everyone. As all content--books, magazines, TV, radio--migrates to the web, all media (with news and current affairs content leading the way) will rapidly turn social. (Click for a newly published ebook by my colleagues at Story--a practical guide to engaging in social media.)
Every community's need for (and ability to generate) specialized news is driving the explosion of so-called social media, which, in turn, is helping to wreck the old business models of the news business. To work in social media, journalists will need to understand how to serve niche communities, while marketers will need to understand how to nurture communities by providing real, valuable news. The rise of online communities is forcing news and marketing closer and closer to one another.
Penelope Muse Abernathy is a prominent former news manager who now is a new media guru and expert on the future of journalism at the University of North Carolina at Chapel Hill. Abernathy believes serving niche communities is a critical element in preserving a future for the news business, especially newspapers, which provide the vast majority of the original news and information that powers our society. (If you doubt the primary role of traditional media in producing news, take a look at "How News Happens" from the Pew Research Center's Project for Excellence in Journalism.)
Abernathy told me recently, "The bad news is [newspapers] have lost the communities that they took for granted." Chain ownership ripped apart the ties between local news organizations and communities; the Internet destroyed much of the importance of geography, which used to be the basis for effective news monopolies. News organizations now are searching for ways to re-erect barriers to competition. How do you keep readers loyal in the age of the web and commodity news?
Abernathy answers that question by explaining that some publishers still understand the value of community. She points to The Fayetteville Observer in North Carolina, average paid circulation around 55,000 copies, one of the vanishing breed of independently owned dailies.
Just west of Fayetteville is Fort Bragg, a vast Army complex that is home to the 82nd Airborne and more than 50,000 military and civilian personnel. "The question was how to appeal to this audience," Charles Broadwell, the paper's publisher, explained to me recently.
Some 18 months ago, Broadwell launched a web site called "Fort Bragg Life". The site led to a print version about six months later.
FBL shows how sustaining a community can sustain a news organization. The site provides a special feed of military news--part local reporting on Bragg itself by The Observer staff and part wire news about military budgets, operations and politics. Blogs by Fort Bragg residents provide news and commentary that The Observer could never produce on its own. A community forum hosts open discussions among the readers, mostly the wives of active Army men.
On a typical early January day, FBL was running a series by an Observer staffer on special forces training; the forum was alive with discussion of how best to be supportive of a husband undergoing the stress of special forces training. The positive feedback loop is familiar to anyone with social media experience: professionally produced news creates conversations that contain more specialized news and so on. As the information and conversation gets richer, the audience is drawn closer. So is the news organization. The relationship between community and news gatherers locks out potential competitors.
"You almost give it over to the users," says Broadwell, "trying to let them find a home away from home. Over time, they've kind of taken it over."
Listening to Broadwell reminded me of the now-accepted notion that brands belong to those who use and love them, not to those who make and market them. The same is becoming true of news: it no longer belongs exclusively to its publisher. Both forms of media--journalism and marketing--must get used to the idea and learn to live with it because they won't be able to live without it much longer. Nurturing and serving communities is now at the heart of all media, whether that media is primarily news or primarily marketing. News organizations that don't serve communities will wither. Brands that don't serve up news will see their communities wither or transfer their loyalty to brands that produce more valuable media.
There's no escape from being social in a greatly expanded media world where the only content that gets attention is the useful, the engaging and the easily shared.