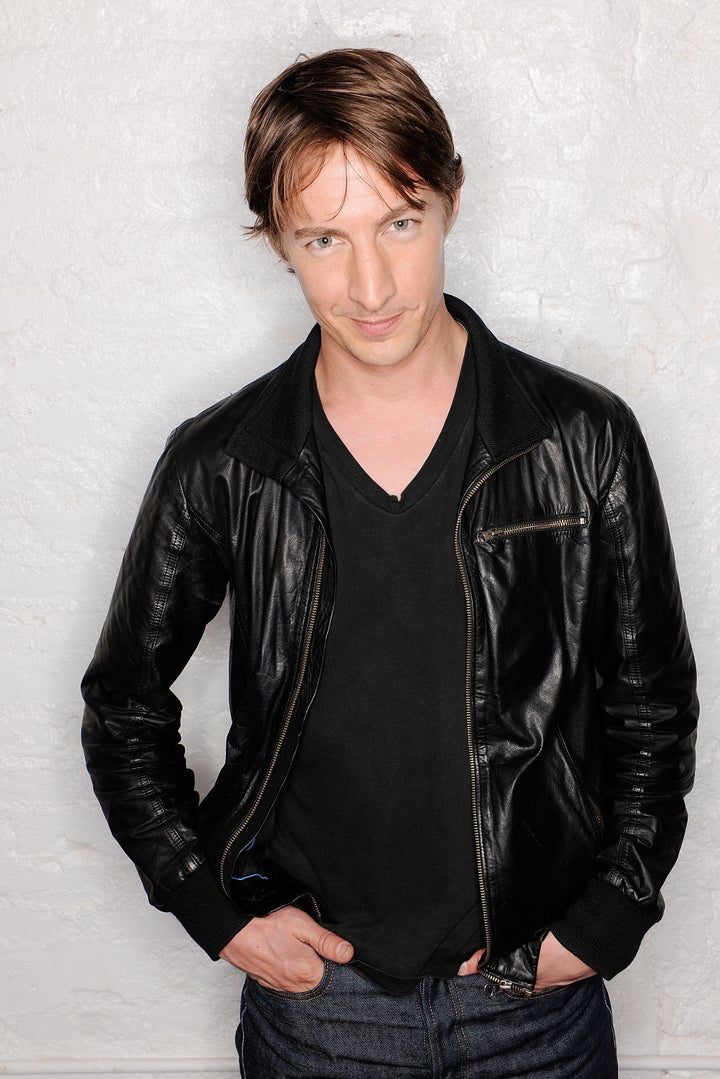 Last week in the legendary taxidermy salon Deyrolle, Benn Northover gazed through a pair of glass vitrine doors at an extensive collection of small stuffed birds. He was one of many who had come to toast Cindy Sherman's opening in Paris. Alone in the corner with his hands in his pockets, his demeanor was not that of an actor seeking to steal the spotlight. Northover pointed out to me that he had noticed some of the stuffed animals in the salon had very plain facial expressions. Others, he observed, particularly the wildcats, had much more strained, contorted looks. Dressed in black, his tone was almost like Harold discussing his morbidity with Maude.
There are two kinds of actors: those who seek attention from their work, and those who are attentive to others in order to enhance their own performance. Northover is the latter -- a careful observer of life around him. His attention to detail and atmosphere is clear in the films that he chooses to work on, both as an active participant on the screen and behind the scenes as a director. At the core, it seems, an internal calling to unmask the frailties of humanity fuels his unhidden passion for art and cinema.

In the first five minutes of talking with Northover, I learn that he is from the countryside in England, works in entertainment and fancies Agnes b. suits. Within ten minutes, we are delving into literature -- his love for Kerouac, mine for Henry Miller -- and how driving across the United States is a rite of passage for the literary soul to truly be set free.
Northover is no newbie to the world of independent film. One of his first jobs in New York was with subcultural movie icon Jonas Mekas, at the Anthology Film Archives. It proved to be a match made in cinematic heaven, as the young Northover and aging Mekas would find friendship in their work together. Since then, the two have produced exhibitions at such highly esteemed venues as the Serpentine Gallery in London and The Fondazione Ragghianti in Italy. Outside of his collaborations with Mekas, Northover has earned credits in a variety of films including House of Boys, Lotus Eaters, and Harry Potter and the Deathly Hollows. He's also graced the pages of Dazed & Confused, Vogue, and AnOther magazine, to name a few.
Being an indie it-boy is a difficult role to live up to, but for Northover, who possesses the edge of Jared Leto, timeless good looks of James Dean and charm of Jude Law, this leading role seems perfectly fitting.
Two days after our encounter at the birds, I find him working the room at Vionnet's 100th Anniversary celebration and later shaking hands with Kanye at Givenchy's after-party. The actor may have an unshakable itch for observing others, but it's clear that he is the object of interest for many. Before leaving the celebrity-packed party at L'Arc, Northover tells me he has to "run to this dinner thing" -- just Purple magazine's party for Diane von Furstenberg at the private club Chez Castel. And with that he disappeared into the night.
"et je trainais derrière eux comme je l'ai fait toute ma vie derrière les gens qui m'intéressent"
― Jack Kerouac, On the Road