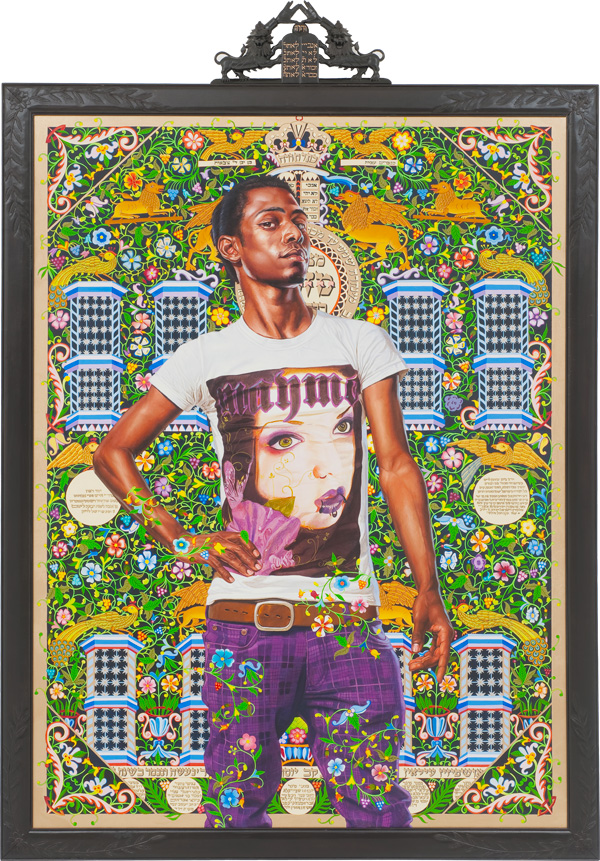 Kehinde Wiley's Benediter Brkou (The World Stage: Israel), 2011, oil and gold and silver enamel on canvas. Private Collection. © Kehinde Wiley. Courtesy Roberts & Tilton, Culver City, California.
Quick-and-easy snapshots have replaced the grand, gilt-framed portraits of Renaissance masters. Kehinde Wiley explores the rift between mug shots and the lofty style of past portraiture to see how we represent ourselves at any given time. I met the artist to talk about his series, The World Stage, which began with portraits of people from the BRIC nations of China, India and Brazil and led to his portraits recently of Israeli men now being exhibited at the Jewish Museum in New York.


Femme Piquee Par Un Serpent, 2008 - From Series: Down - Oil on canvas 102 in x 300 in Copyright Kehinde Wiley, Courtesy of Sean Kelly Gallery, New York
Pomp and Circumstance
Wiley greeted me at his loft in SoHo with a mob of whippets at his heels in a setting that might have accompanied a Raffles in 1920s Macao. Wiley's focus on the black man has been to some extent a play on his own self-identity. His Nigerian father had abandoned his mother, a UCLA grad in linguistics before Wiley was born. Being second born amongst twins meant that he was named Kehinde in Yoruba (Kehinde means "the last to come"). Wiley too, has inherited an academic fluency and gift for articulating his work with perfect lucidity.
While raising her family as a single parent, Wiley's mom subsidized her income by selling used furniture, faux-classical riffs on French antiques. These and trips to L.A. museums where he'd glimpsed Gainsboroughs and Constables, and a visit to an art camp near St. Petersburg at age eleven that includes a visit to the Hermitage, developed Wiley's early taste for baroque fantasy. "It was hard-wired in from early on. It was a general sense of the world being tangible, a type of escapism," he recollects.
After graduating from Yale, he moved to Harlem where the hip-hop street style inspired him to make art that was popular enough to enable him to travel the world for it. "Some of the things that were in the work, I started to see echoed all over the world, in the streets of Mumbai, Beijing, Sao Paolo and Lagos. It was a very black American aesthetic but altered, based on local temperature."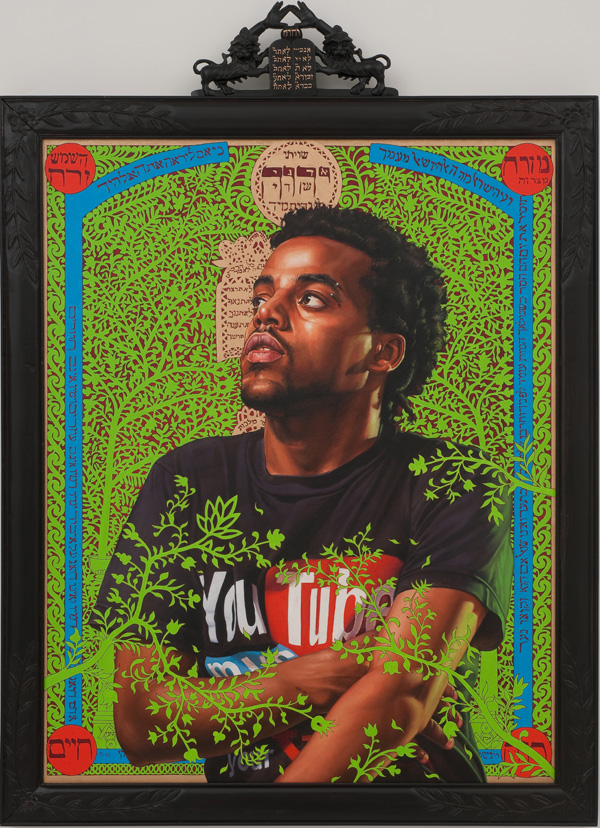 Kehinde Wiley, Mukat Brhan (The World Stage: Israel), 2011, oil and gold enamel on canvas. Private Collection. © Kehinde Wiley. Courtesy Roberts & Tilton, Culver City, California.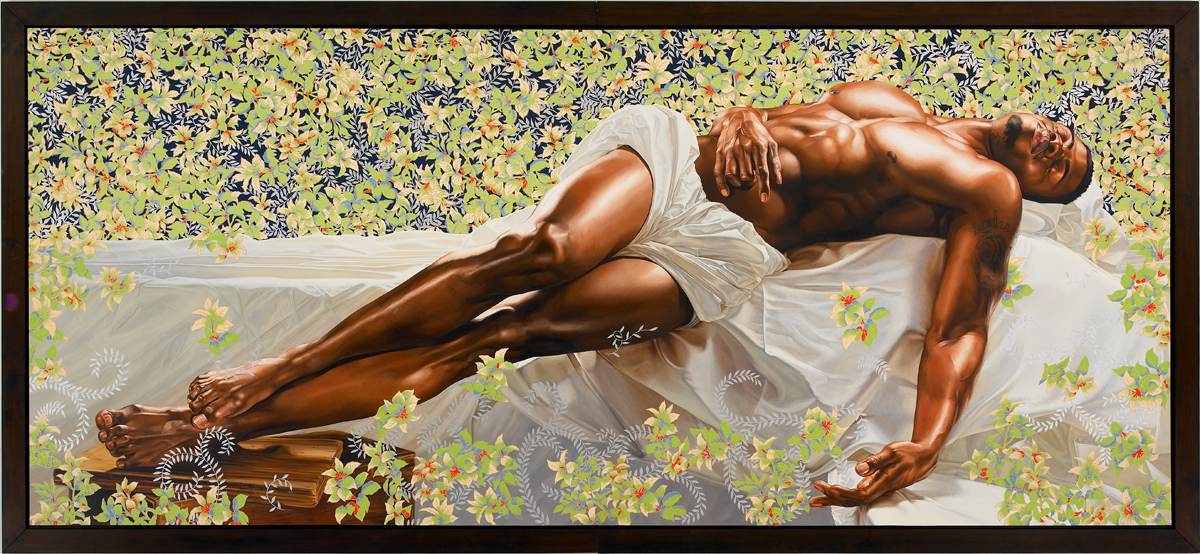 Sleep, 2008 - From Series: Down - © Kehinde Wiley Oil on canvas 132" x 300" Courtesy of Sean Kelly Gallery, New York, Roberts & Tilton, Culver City, California, Rhona Hoffman Gallery, Chicago and Galerie Daniel Templon, Paris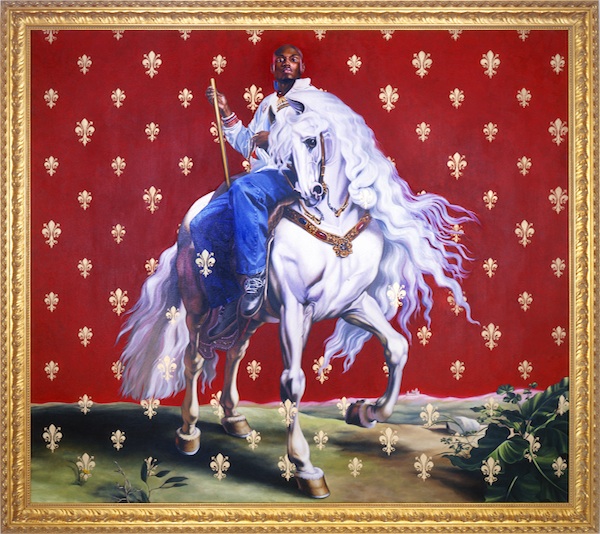 The Capture of Juliers, 2006 - From series: Rumors of War Oil and enamel on canvas 84in x 96in Copyright Kehinde Wiley Courtesy of Sean Kelly Gallery, New York, Roberts & Tilton, Culver City, California, Rhona Hoffman Gallery, Chicago and Galerie Daniel Templon, Paris
Macho Men & Harlem Bling
Wiley's focus has been the alpha-male with a post-modern twist on the grand hegemony of kings and dukes primped in finery. "It's letting bare the emperor's clothes. Generally those paintings are about white men beating their chest and announcing to the world how magnificent they are. These are beautiful paintings, but they're also ridiculous in many ways. So the project lays that bare."
Lured by the opulence of early Euro-American styles of portraits, he found it not unlike the men strutting the streets of Harlem whose uber-glitz, bling and vanity were a façade that belied their real lack of power. Wiley was intrigued by fakeness and authenticity when constructing identities. He invited men off the streets to pose and parody the pompous gestures of historical portraits -- it was a bit like voguing.
He mimics the power structures in those earlier canonical works where the macho posturing of white men went unquestioned, and though he holds the choice of theatrical décor and accouterments at an ironic distance, they're something he's also complicit to. He embraces it, but remains morally ambiguous.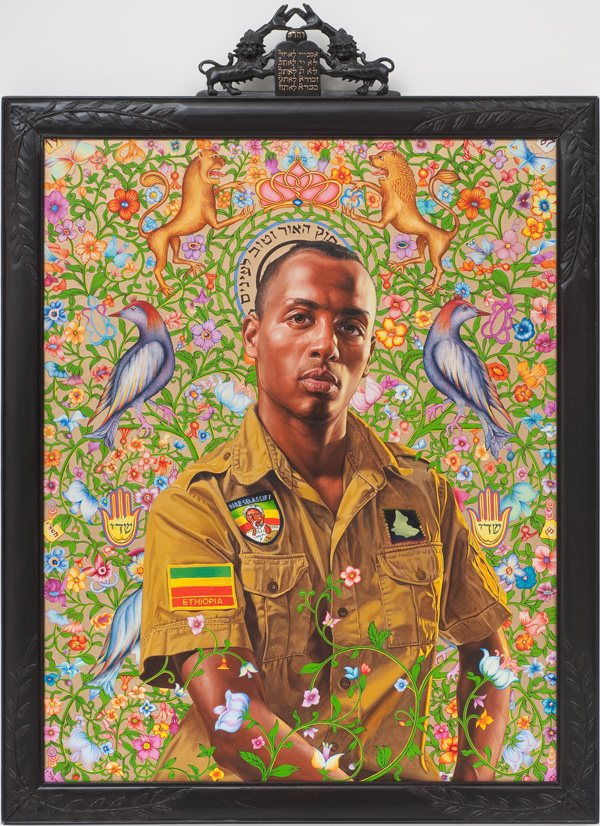 Kehinde Wiley, Kalkidan Mashasha (The World Stage: Israel), 2011, oil and gold enamel on canvas. Private Collection. © Kehinde Wiley. Courtesy Roberts & Tilton, Culver City, California
Clubbing in Israel
The street-life in Israel surprised him, "I assumed naturally it would be self-segregating, like a college lunchroom." There was still political strife under the surface, "When you pull up to the hotel - there's still bomb-sniffing dogs. There's tension in the air, but what's astounding is the graceful way people learn how to deal with it, and get on with it."
On the streets he met Kalkidan, a hip-hop musician and Ethiopian Jew, who he photographed along with his friends. Kalkidan later came to the opening at the Jewish museum and was awed to see his street buddies enshrined in Wiley's rococo portraits hanging at this august institution.
Israel was a nation of people escaping social, economic and religious persecution elsewhere, which had evolved its own systems of discrimination, and Kalkidan was vocal on issues faced by black Ethiopian Jews integrating into Israeli society.
Wiley was fascinated to hear Ethiopian Jews, Kalkidan's friends, speak about what it was like to be a person of colour in modern Israel, and he developed the idea to "do this show of black and brown people who live in the shadows all the time."
"One of the things I love about my project is that it's based more on the magic that happens on the ground," says Wiley, "It really depends on whoever happens to be there that day. Most portraiture in history is very effortful; it's about people who've worked their entire lives to amass extreme amounts of wealth to create a representation of how powerful they are -- whereas these are complete moments of chance. We're taking a moment when someone's minding their own business, trying to get to the subway, and the next thing you know, they're in these monumental paintings, hanging in great museums throughout the world."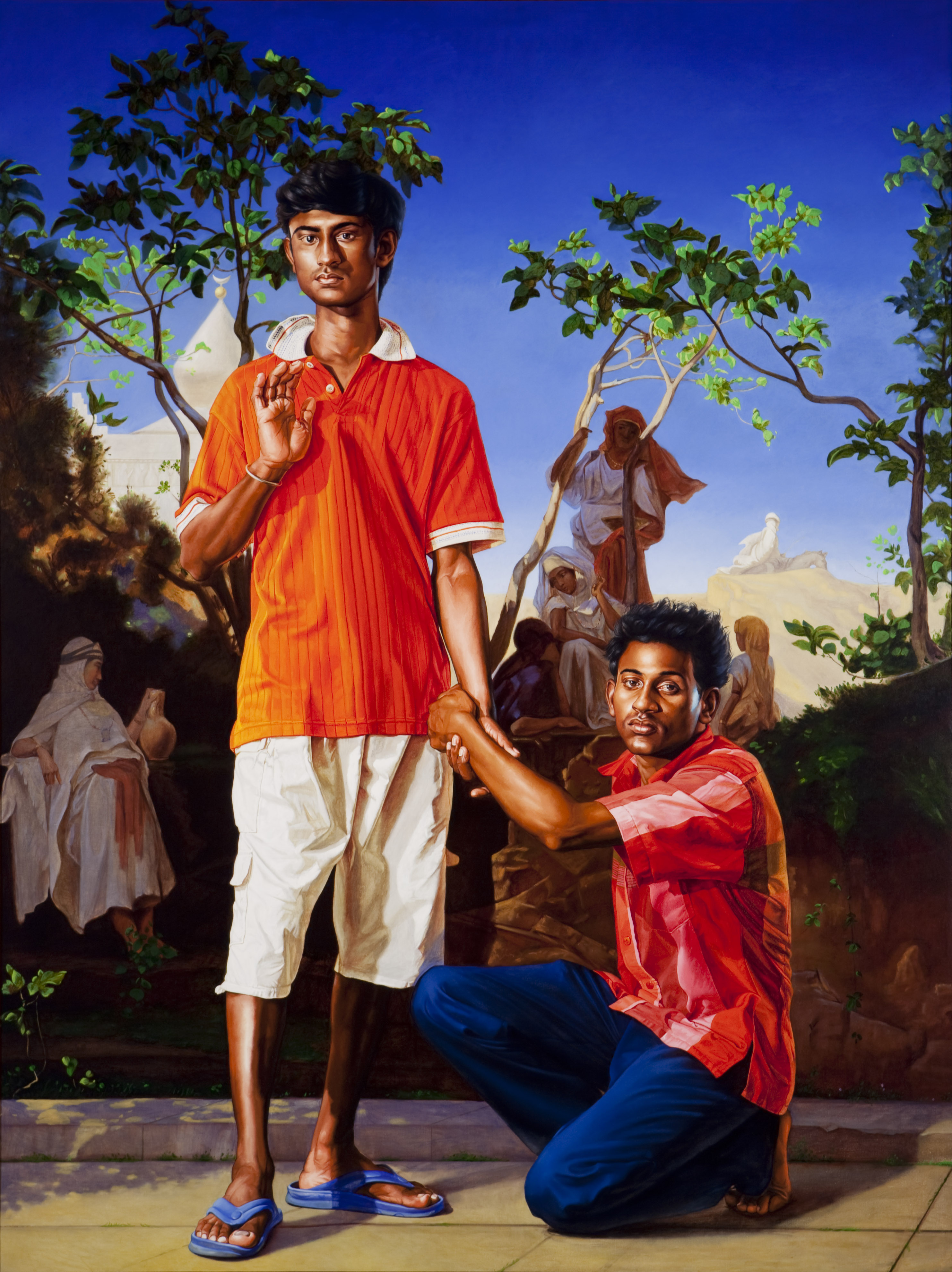 The World Stage: India & Sri Lanka - Annoyed Radha with Her Friends, 2010 © Kehinde Wiley Oil on canvas 72in x 96 in Courtesy of Rhona Hoffman Gallery, Chicago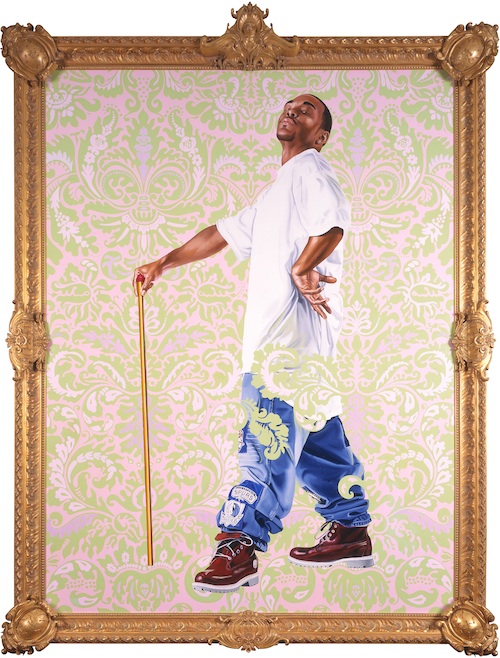 Portrait of Andries Stilte II, 2006 From Series: Columbus © Kehinde Wiley Oil and enamel on canvas 96in x 72in Courtesy of Roberts & Tilton, Culver City, California
Curlicues & Arabesques
In his travels across the world he's filled his canvases with patterns, timeless abstractions that form a decorative weave around his figures -- traditional paper-cuts, mizrahs, in the case of the Israeli portraits. I wondered if he'd formed any generalizations about why humans were attracted to patterns -- was it order out of chaos?
"In the field of aesthetic theory, humans are pattern seeking creatures," elaborated Wiley. "That can be seen in terms of musical structures, patternmaking, even in terms of storytelling and literature. What's interesting is that in western cultures, patternmaking has been relegated to women's work. And it's highly associated with the irrational and hysteria ...[from hyster, womb, discussed in Foucault's Madness and Civilization] whereas in other cultures patternmaking has been a shamanistic process, where religious leaders are in charge, so it is almost in the vanguard of the rationalist way of ordering the world. So, you have two very different ways of looking at patternmaking, even within the same human experience."
The geometric designs of South America appear in contrast to the hyper-ornate patterns of Islamic art. Wiley had studied Mogul art and miniature portraits in India, and I recalled how the Ottoman Caliph in Orhan Pamuk's novel, I Am Red, would sneak a peek at his own hidden-away portrait he'd had commissioned by Venetian artists - because in Islamic art it was forbidden to depict the face.
"I'm quite a big fan of Orhan's. But Islamic patterns are highly mathematically ordered. It's insane, there's this hyper-aesthetic calligraphy of flora and fauna which I've used as a decorative field in a lot of the work."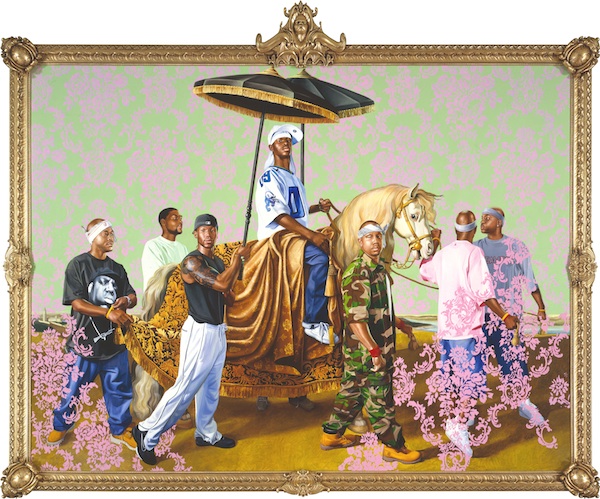 From Series: Rumors of War - The Chancellor Seguier on Horseback, 2005 Copyright Kehinde Wiley Oil and enamel on canvas 108in x 72in Courtesy of Sean Kelly Gallery, New York, Roberts & Tilton, Culver City, California, Rhona Hoffman Gallery, Chicago and Galerie Daniel Templon, Paris
The Invisibility of Whiteness
Identity politics in art seemed to have had a good run in the past decades. With Wiley's exclusive focus on the power structures of black men, was that conversation still relevant today?
"Is identity-politics stale and dated?" grins Wiley. "That's something I always try to run directly away from." Then he clarifies, "I do think that fist-waving conversations around liberation ideologies are sort of dated -- I'm not creating Barbara Kruger moments of self-actualization -- what I'm trying to do is create more moments of chaos where we don't really know where we are: to destabilize; where all the rules are suspended temporarily."

Wiley contests that gender, sexuality, nationhood and empire are just one way of looking at his work, "But I would posit that if you look at someone like Jackson Pollock in the 1950s," he says, "or you look at even Donald Judd, there's very few people who occupy that space of political neutrality as white men do. Even women are gendered and sexed in a way, whereas white maleness does not exist.  There's a way of looking at John Curran as outside of... it's a level of freedom that's a complete construction, which can be analyzed as a text in and of itself, right?" Right, so while Curran goes scot-free, under-scrutinized, Wiley eloquently chides, "So, you have to be careful about over-politicizing the utterances of people of colour because oftentimes there's poetry that seeks to go beyond that narrative."
Maybe we're moving to a place of more similarities than differences, I say. With governments having less of a role in defining those differences. Do we identify more with what we like than where we belong?
"If you allow people to define their priorities within their consensus building group, well that's what gives rise to the social movements we see all over North Africa." We're at an age Wiley feels, that's increasingly tribalized. "It has to do with naval-gazing lifestyle narcissism, and you can find that in communities into reggae, hip-hop, skating...but it's always mediated through localized culture. So, hip-hop heads in India are going to be different than the ones in the Bronx." And it's helped gays and lesbians in the third world to find people of good will without being killed or imprisoned...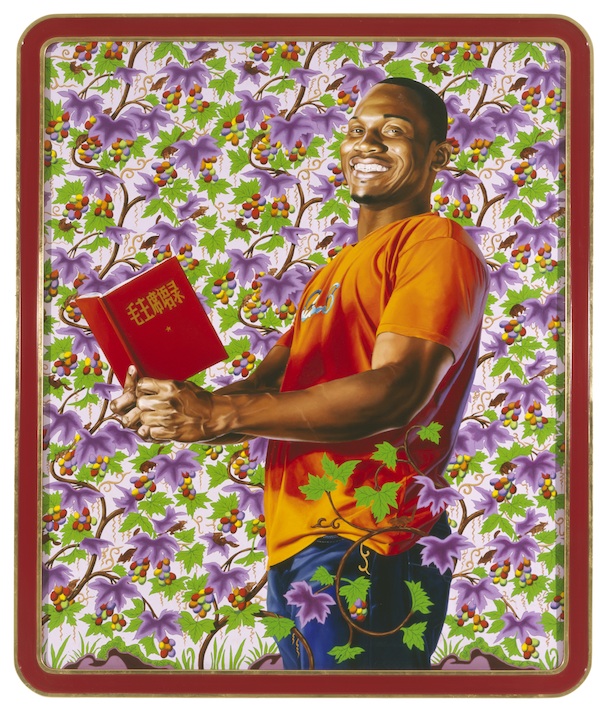 Acting in Accordance with Chairman Mao's Instructions Means Victory, 2007 From series: The World Stage: China ©Kehinde Wiley Oil on canvas 72in x 60in Courtesy of Roberts & Tilton, Culver City, California
General Mao's Soul-food
Wiley went to Beijing as a tourist then stayed on. "It started in baby steps...I was in love with my ex-boyfriend from Beijing - and it was this other love-affair - over time you realize you've developed a taste for Chinese cuisine and the language, and you've got two dogs, and it's your second home..." Then he gleefully adds, "Now, I sort of have this territorial mentality about Beijing, because I was there before it was cool," he laughs, drolly.
He says he can tell the government minders in galleries from their big tacky Commie shoe buckles, though he's never been hassled or censured himself. He was used to hanging with Ai Weiwei who had a restaurant there. "It seems to be the thing to do for a lot of famous Chinese artists," giggles Wiley. "I need to open a restaurant, a big soul food restaurant in Beijing!"
The future is the world's stage for Kehinde Wiley. One's always shifting between cultures now: it's about destabilization and Wiley wants to make sure you don't get too comfortable.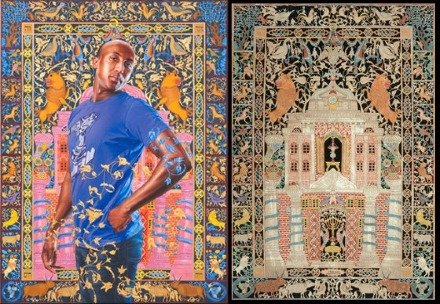 Close up detail showing Wiley's use of decorative patterns from the museum's collection. Details (on left): Kehinde Wiley, Alios Itzhak (The World Stage: Israel), 2011, oil and gold enamel on canvas. The Jewish Museum, New York; Purchase: Gift of Lisa and Steven Tananbaum Family Foundation; Gift in honor of Joan Rosenbaum by the Contemporary Judaica, Fine Arts, Photography, and Traditional Judaica Acquisitions Committee Funds, 2011-31. © Kehinde Wiley. Courtesy Roberts & Tilton, Culver City, California. (On Right): Mizrah, Israel Dov Rosenbaum, Podkamen, Ukraine, 1877 (date of inscription), paint, ink, and pencil on cut-out paper. The Jewish Museum, New York; Gift of Helen W. Finkel in memory of Israel Dov Rosenbaum, Bessie Rosenbaum Finkel, and Sidney Finkel, 1987-136.
More information: Kehinde Wiley/The World Stage: Israel March 9 - July 29, 2012
The Jewish Museum, 1109 Fifth Avenue, New York, NY
http://www.thejewishmuseum.org

Text & Interviews: Kiša Lala Website
Huffingtonpost.com/kisa-lala
Spread ArtCulture on Kisa Lala