When was the last time you felt empowered? Empowered by your peers, strangers, or friends? I couldn't really remember the last time I felt like I was suppose to be a part of something. The last time I held a stranger's hand or walked side by side with someone who I didn't even know wasn't until recently.
After leaving the sensuous and ethereal mood set by Sza, WIllow Smith, The Internet, and Jhene Aiko for their "Enter The Void" tour at Best Buy Theater, I walked into a sea of supporters, activists, and everyday people emphatically chanting "I CAN'T BREATHE... I CAN'T BREATHE." Collectively marching together for a greater cause, as one. It was spontaneous, unifying, tense, and empowering creating a melting pot of emotions that lingered in the air.
Just as I innocently stumbled into what resulted in a 50-block protest down the streets of New York City (in my five-inch heels), I recently stumbled across artist and producer Michael Uzoworu's Tumblr post in which he reflects on his own encounters with the law as a young African American man in today's day and age.
Not only does this young man have a keen ear, distinct sound, and alluring persona... he has a voice.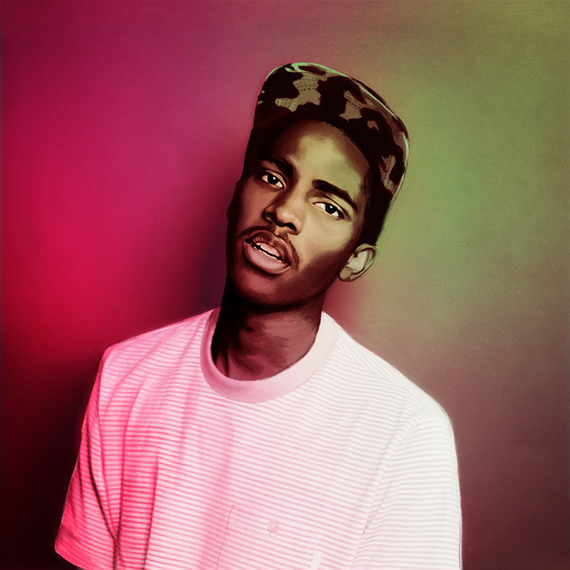 Read it here:
The tragedy of black men and women being killed by police weighs heavy on my heart and mind. The repetition of tragedy that my community endures is painful, and to live with the reality that our lives are being valued less and that our stories are unable to be told is devastating. Our lives do not deserve to be cut short, especially at the hands of those who swore to protect and to serve.

In the midst of the catastrophe of Ferguson and the non-indictment decision of the police officer who killed Eric Garner, I'm reminded of my own haunting experience with police. When I was 19, I was wrongfully and brutally assaulted by a police officer. Being profiled and assumed to be something that you're not -- a threat to society -- based on the color of skin is something that nearly every black person experiences in their lifetime. I did nothing wrong and was undeserving of being assaulted, and the realization that my life could have easily ended that day is one that haunts me. If I had been killed that day, if mercy was not ultimately shown to me, my story would never have had the opportunity to be told. And I can't stand the thought of that.

So many stories aren't given the chance to be told. We will never hear Mike Brown's account of what happened, we will never hear Eric Garner, or 12-year-old Tamir Rice, or Aiyana Jones, or Rekia Boyd relive their assaults. Instead, they lost their lives and their murders were turned into ethical and political debates. Their stories, in their own voices, will never be heard. It amazes me that I feel fortunate that my life did not end, and that I can tell my story. It is incredible, in the worst way, to realize that surviving an encounter with the police is considered to be a fortunate experience. There's a major problem with that.
"What, if allowed to live, we can grow up and become."
I'm now 23. I can't bring myself to imagine the tragedy of my life being cut short, and to be reminded of the heightened potential of that tragedy happening, simply because I'm a black person, is devastating. All of the things I've done, things I plan to do, people I've met, places I've been, and lessons I've learned would cease to exist. My story -- not just of my encounter with police -- but my life, my character, my successes, and my thoughts would have died with me.

Behind Mike Brown was a story filled with truths, goals, dreams, accomplishments, interests. He, like all of us, was fully human. He was a son, a graduate, a friend, and a brother. In writing this, I'm reminded of my own little brothers. I want them to know that their essence is power. I want them to have confidence as bold as the brown of their skin, and to never have their story be taken away from them.

As a community, we are connected. When one of our stories gets cut short, we all feel it, we all mourn. And with strength and solidarity with one another, we rise and we overcome. I'm fortunate to be alive today, and I want to utilize my existence to break barriers and to show what it is we can become if we're allowed to live. Those who doubt us, think less of us, murder us -- they will never win, they will never keep us down. They are dealing with a generation of young black people who are excelling in ways the world has never seen. I will prove that.
Black Stormtrooper from beyond category on Vimeo.
When I began writing this, I wasn't quite sure what the purpose of this was supposed to be. I felt compelled to write and express myself. The further along I got, the more I understood what it was that I was trying to say. My ideas evolved; they grew to be less centered around myself and more about us. I hope more of my sisters and brothers lives can be lived and I hope that our stories are no longer silenced. I know that when given the chance to fully blossom into who we are meant to be, to define, and redefine, who we are, we thrive.

Through strength, we have power. Our inspiration has long come from sources of pain, and we have always translated that energy in creative and inspiring ways. The spirit of those we have lost is never far from us. Eric Garner, Mike Brown, Tamir Rice, and a painfully long list of other black men and women who've been killed by police, did not die in vain. I refuse to let their deaths be reduced to that, and I will continually dedicate myself and my energy to dismantling the very things that kill us. My story, and your story, is able to be heard. Loudly, confidently, proudly--no one can silence us anymore.