By Kristrún Gunnarsdóttir, Kiva Zip Fellow
Earlier this month Kiva Zip celebrated a milestone of having disbursed its 1,000th loan to entrepreneurs in Kenya. What is unique about the Kiva Zip model is that it is a direct, person-to-person lending platform with 0% interest loans and no fees for the borrowers (learn more here!). Entrepreneurs are endorsed by Kiva Zip Trustees--individuals or organizations in their community who know and trust them. We are very excited about the tremendous progress we have made and about the improvements we continue to make that allow us to better serve our borrowers, Trustees, and lenders.
Kiva Zip targets entrepreneurs with very small businesses and who can benefit from a loan as small as $50-$100 USD. In Kenya, Kiva Zip uses mobile technology to facilitate borrower training, the loan application, loan disbursement and loan repayments. Therefore there is no need for an extensive branch network or for borrowers to travel to do any of those tasks. The only tools they need are a simple mobile phone and an M-PESA mobile payment account.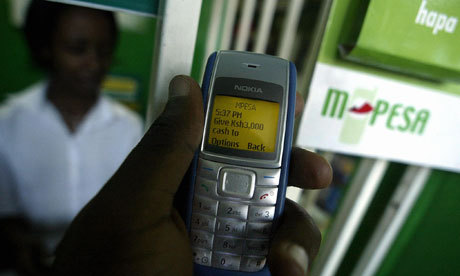 But what can you really do with a loan as small as $100? When I started my Kiva Zip Fellowship, I was skeptical about the viability of such small loan amounts. While on the ground in Nairobi, I decided to meet as many borrowers and Trustees as I could and ask them, firsthand, if these loans make a real difference...
Cash is King (even if it's not a lot)
One Kiva Zip Borrower was surprised by my concern: "Successful businesses don't need to start with big money. I'd rather start small and grow quickly," he told us. This can be a life changing amount.
Consider that many people that Kiva Zip supports get by with less than $2 a day. When put in this context, a Kiva Zip loan is equivalent to about 2 months' worth of salary, and there are multiple ways to make quick profits if the loan is used effectively.
There are many examples of how borrowers I've have met have used their small loans, but the most common strategies are buying more stock to increase selection, buying in bulk to get discounted prices, buying when prices are low, buying higher quality products and buying tools that increase efficiency (a sewing machine in Kenya costs less than $100). All of those seemingly small improvements in buying habits can have significant impact on profit margins and, in turn, on the quality of life.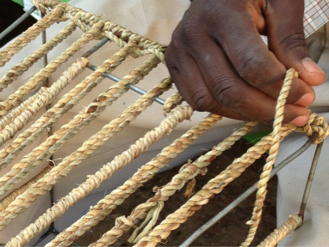 One of the 1,000 loans funded Dancun's Basket Weaving Business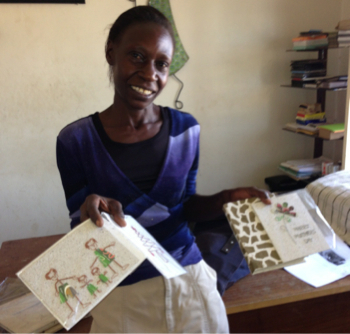 Milka used her loan to increase her monthly production from 1,000 cards to around 3-4,000 cards
Unexpected side effects of direct lending
There are other positive side effects of direct, person-to-person lending that I had not realized before going out in the field and interviewing people. I had not expected to hear stories about:
Increased self-confidence:

Kiva Zip loans are crowdfunded by lenders all over the world. In some cases, this gesture is the first time that a borrower feels the support and trust of a stranger who believes in his or her business.

Education:

Borrowers gain experience in how to manage and plan their business so that they can follow their repayment schedule.

Building credit history:

Borrowers might be able to provide evidence that they are creditworthy in order to access larger loans from microfinance institutions (MFIs) or banks in the future.

Environmental protection:

Some borrowers use their loan to turn waste into safe, marketable products.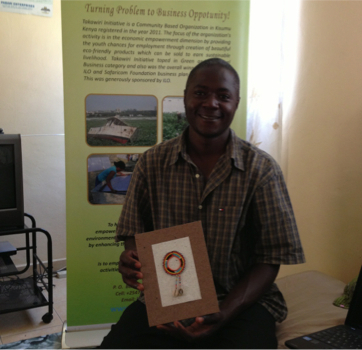 Michael used his loan to turn noxious weed from Lake Victoria into paper products
Having seen the difference a small loan can make to an entrepreneur in Kenya, I celebrate Kiva Zip's milestone of disbursing its 1,000th loan in Kenya and anxiously await surpassing the next one!
Author Bio: Born and raised in Iceland, Kristrun had the chance to travel the world, working and studying abroad for several years of her life. Holding a double master degree in Economics and International Management, the main focus of her studies and professional career is in the financial service sector and development economics. Microfinance can be seen as a bridge between those two fields. An active Kiva lender since 2007, Kristrun currently lives in Sweden and has been working as a consultant for major financial institutions across Europe on various risk and strategy related topics. Besides regular work and studies, Kristrun volunteers for the local Red Cross helpline in Iceland, visiting and giving advice to improve conditions for orphanage homes in S-India as well as assisting with fundraising to build a school for street children in Nairobi, Kenya. Now it is time to take one step further into the field of humanitarian work and help developing the Kiva Zip model.