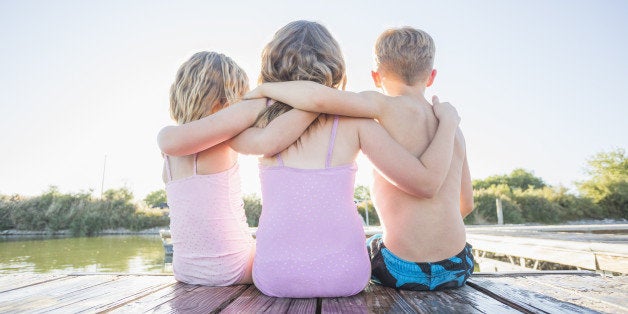 By Barbara Greenberg for KnowMore.tv

Mothers and fathers everywhere long for summer with fantasies of stress-free kids and, hence, stress-free parenting. Not so fast. Yes, you might not have to clean out backpacks, check your teens' grades online or even worry about having to psyche yourself up for yet one more parent-teacher conference, but summer can come along with its own set of stressors.
What's a parent to do? Well, step one is to be proactive and anticipate potential sources of stress and snafus.
Anticipating AND Beating Summer Stress
1. Make sure that your young kids and teens have structured summer plans with a balance of activities and some down time. We all know that kids thrive on structure. Don't let anyone tell you otherwise. Period.
2. Neither make your vacations too long nor too short. There is just so much vacation closeness that any family can tolerate. Think back to past vacations and you'll figure out the ideal amount of vacation time. Find a venue where there is a little bit of something for everyone. Also, keep in mind that even vacations are not relaxing at every moment, just like work and school aren't difficult all the time. In fact, some among us are most comfortable at work. (Just a little something to consider.)
3. Monitor your teens driving. It is proven that the 100 days of summer are the riskiest when it comes to teens and car accidents. Keep your eyes on the keys to the car. At the outset of the summer, set rules for who gets the car, when and how often. Let the kids clearly know their curfews. Make it clear that driving is a privilege, not a right, and that if you learn of any drunk, stoned, tired or any other sort of risky driving shenanigans, then the car keys will literally and figuratively disappear.
4. Help your kids transition for those two weeks, one month etc. with your ex, if applicable. Remember this person is their parent. Send them off in an emotionally and otherwise prepared fashion. Help them get what they need for this time including getting them bathing suits, hugs or whatever else they need. Do not, however, devalue your ex. Use the time away from your children to relax and stay in touch, but do not contact them constantly. This is important. They need space and to have alone time with the other parent.
5. Beat Boredom. Being bored can be stressful... and kids definitely get bored in the summer. (That will increase your stress, too!) Can't you just hear the whining already? This presents you with an excellent opportunity to teach your kids how to use their free time. Create opportunities for them to explore new passions, make new friends and to bask in the simple things like reading a good book or even going for a walk.
I wish you a healthy and rejuvenating summer. And I left out one major thing. Please try to make sure that everyone gets enough sleep. There may not be school in the AM, but we all need sleep to function harmoniously.
What are your biggest summer challenges?