By Tara Rummell Berson for KnowMore.tv
Thirteen years ago, our country -- and the world -- was forever changed when terrorists attacked our freedom and took the lives of innocent people, our friends, our loved ones. It was a horrific day; images that are burned into our memories and the aching feeling in our hearts still raw. But out of tragedy and pain, some beautiful things can be born. Strangers band together, people are kinder to one another... we're more tolerant.
"We need to continue to be tolerant of each other's differences, and more acts of kindness need to happen now," said Faith Miller, Chairwoman of the New Jersey 9/11 Memorial Foundation, a grass roots, non-profit organization. On Sunday, people paid tribute to the 749 New Jersey lives that were lost at the organization's stunning Empty Sky Memorial, which faces the World Trade Center at Liberty State Park, in Jersey City, NJ.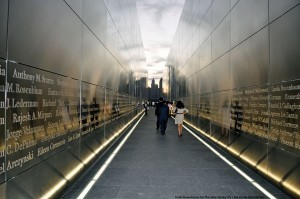 The Empty Sky Memorial. Photo Credit: Herb Rosenbaum
Similar to the other memorials that grace the areas that were impacted by destruction, including the National September 11 Memorial & Museum in New York, the Pentagon Memorial, and the Flight 93 National Memorial in Pennsylvania, it offers a beacon of light and hope. It's a quiet place to reflect, and a reminder that our freedom, and spirit to live our lives to the fullest, will not be crushed.
Every dollar raised goes to the organization. In addition to the maintenance of the memorial, they've also contributed to New Jersey residents affected by Hurricane Sandy.
Good From the Grief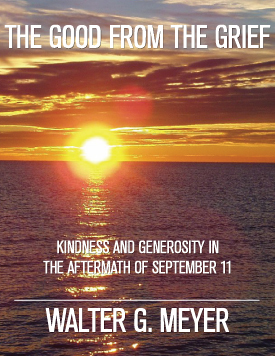 Author Walter Meyer is collecting stories of kindness in the wake of that tragedy for a book called The Good From the Grief. "There are too many books about the conspiracy theories and the wars the attacks spawned, and far too little about how ordinary people around the world came together to help each other and show love and support and sympathy in the hours, days, weeks and months following 9/11," said Meyer.
There are so many worthwhile organizations that came out of the tragedy of that horrible day. "One of my favorites is the National Day of Service created by the brother of a fallen firefighter. The idea is to encourage people to do some community service on 9/11 each year. Last year, more than 47 million people observed 9/11 by doing good deeds. You can check out what people are doing this year by clicking here.
The 9/11 Tribute Center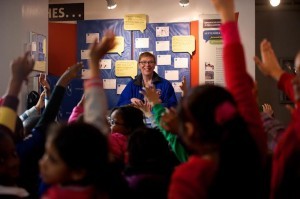 Many organizations have formed in memory of people who were lost to celebrate their life by inspiring others to do good.
Lee Ielpi, President of the 9/11 Tribute Center in New York City, uses the center to tell his story as a retired FDNY firefighter, and as the father of a 9/11 victim, to try to encourage students to make a positive contribution to their communities.
"Sharing the love that my son Jonathan also had for being a firefighter, and his mission on 9/11 to save people, brings me comfort," said Ielpi. "I can't change what happened on 9/11, but I can share my story to make tomorrow better for my grandchildren and future generations."
The 9/11 Tribute Center will be hosting a number events to honor and remember 9/11, including holding a large exclusive event in NYC on the day of national remembrance where 600 employees from companies affected by 9/11 will assemble bicycles for children of active military.
They've also launched a new online educational resource that will help teachers incorporate 9/11 into their academic year, and are participating in the annual Cantor Fitzgerald Charity Day on 9/11, which attracts major celebrities and dignitaries. Last year participants included Rudy Giuliani, Billy Crystal, Jamie Foxx, Piers Morgan and Whoopi Goldberg.
The Stephen Siller Tunnel to Towers Foundation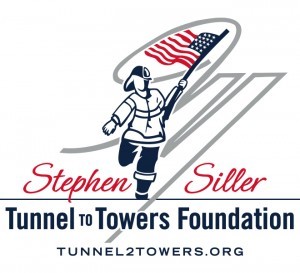 Many brave firefighters were lost on 9/11. Stephen Siller, a firefighter with the elite Squad One in Park Slope, Brooklyn, was one of them.
He was off duty when the first plane hit the World Trade Center, but he eventually gathered over 60 pounds of his firefighting gear and ran through a blocked-off Brooklyn Battery Tunnel to the Twin Towers, where he perished.
He was 34 and left behind a wife and five children, the oldest of whom was 10. Stephen himself had been orphaned at the age of 10, and was subsequently raised by his six much older brothers and sisters. It was these siblings who determined that the best way to ensure Stephen's legacy was to do good works in his name, so rather than curse the darkness, they lit a candle and formed the Stephen Siller Tunnel to Towers Foundation.
The goal of the foundation is to continue Stephen's legacy by supporting our nation's first responders and service members.
"We've raised millions of dollars in Stephen's name that have provided everything from equipment for burn centers to building "Stephen's House" on Staten Island for children going through a difficult time," said Catherine Christman, Stephen's cousin and Director of Media Relations for the foundation.
Another one of the foundation's programs, Building for America's Bravest, constructs customized 'smart homes' all across the country for military who are returning from war with catastrophic injuries.
In addition to these programs, the foundation holds a Tunnel to Towers 5K Run on the last Sunday in September that literally follows in Stephen's heroic footsteps on 9/11. Last year, 35,000 people from all over the world participated in the run. You can register for this year's run in New York on Sunday, September 28, here or click here to make a donation.
Jeremy's Heroes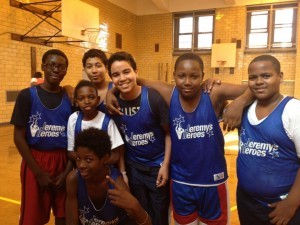 Jeremy's Heroes was founded in November 2001 to celebrate the life of Jeremy Glick, one of the passengers who fought back on the hijacked United Airlines Flight 93 that prevented terrorists from flying the plane into its Washington, D.C. target.
The organization represents who Jeremy was and how he lived his life. Jeremy's parents instilled in their children the values of what they like to call the three "Cs": compassion, courage and character. Jeremy strove to achieve those "Cs" in every aspect of his life. He was a National Collegiate Judo champion and an avid athlete. As a tribute to Jeremy Glick, Jeremy's Heroes combines physical activity and community service in a program designed to instill character in children in need.
Children participate in sports, dance and other fun activities, while experiencing the power that comes from making a difference in their community. Since 2001, over 5,000 children have participated in programs supported by Jeremy's Heroes.
"Jeremy gave the ultimate sacrifice to save others. We pay tribute to his memory by teaching children the value of compassion," said Jennifer Glick, Executive Director of Jeremy's Heroes. "By asking children to give back to their community, we are celebrating Jeremy's gift to America."
To learn more about the organization's programs, or to make a donation, please visit their website.
The Light of Healing Hope Foundation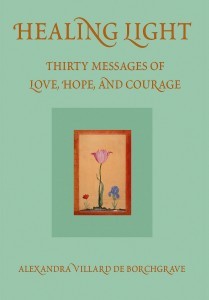 On the night of September 11, 2001, author and inspirational speaker, Alexandra Villard de Borchgrave began to pray for a way to bring some small measure of comfort and healing to the families who had suffered the most devastating loss of their loved ones. Then, on the first anniversary of that day of sorrow, as she watched the children call out with great courage their parents' names at Ground Zero, a space opened in her heart that made way for earnest verses about love, hope and courage to flow out of her.
"I had never written poetry before, but I felt I was being shown a way to bring comfort to those families in need, and the result, three years later, was the publication of HEALING LIGHT: Thirty Messages of Love, Hope and Courage."
In 2010, the book inspired Villard de Borchgrave to found the Light of Healing Hope Foundation (LHHF), a charitable organization dedicated to providing books of hope as gifts to hospitals to comfort patients and their families at a time of adversity. LHHF provides a book of hope, a music video DVD and a Healing Notes booklet in which patients may write messages to encourage the healing process.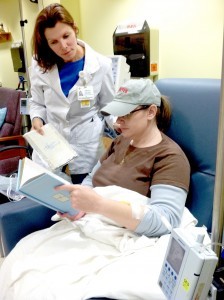 "It is my great joy to know that my original prayer has now extended out to bring comfort to patients and their families through the Light of Healing Hope Foundation," said Villard de Borchgrave.
Since its creation, the LHHF has delivered over 6,000 gifts to Johns Hopkins, NIH, Walter Reed National Military Medical Center, Fisher House, the Washington Home and Community Hospices, among others.
The Bill Kelly, Jr. Memorial Fund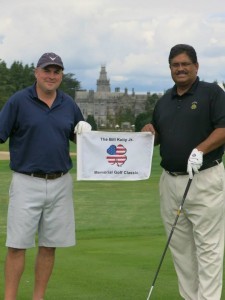 The Bill Kelly, Jr. Memorial Fund, Inc. 501(c)3 was founded and named in honor of Bill Kelly, Jr. who was attending a conference at Windows on the World at the World Trade Center, Tower One, and was among the thousands of innocent victims who lost their lives that day.
For the past 12 years, the organization has held a fundraising event, The Annual Bill Kelly, Jr. Memorial Golf Classic, over Columbus Day weekend at Greate Bay Golf Club in Somers Point, NJ. Each year, family and friends gather to fill two courses with golfers and another hundred participants for dinner. They celebrate Billy, support his endowed scholarship at his alma mater, the University of Scranton, and have a chance to reconnect with beloved family and friends.
The event raises over $50,000 per year and our goal is for the endowment to reach at least one million dollars. "Currently we've donated over $700,000 and we are well on our way!" said Mimi Kelly Donegan, Bill's sister and President of the Bill Kelly Jr. Memorial Fund, Inc.
This year's event, the 13th, will take place on Friday, October 10th, 2014, at Greate Bay Country Club. To register and pay online for golf and/or sponsorship opportunities, please click here.
Through the generosity of family and friends, and especially Bloomberg, where Billy worked, the organization is able to build his legacy, which brings the family a tremendous amount of peace of mind (and heart!). "Knowing that even after we have all left this earth, Billy's generosity of spirit will continue to impact so many individuals for years to come," said Donegan.
This 9/11 tragedy is a reminder to "appreciate the fragility of life, the honor we have to be a part of each other's lives, and to show even simple kindnesses throughout our days."
Some Other Wonderful Post 9/11 Charities to Support
Here are a few other organizations to support that not only bring peace to family members, but continue to make a positive impact on other people's lives in memory of those we've lost.
Tuesday's Children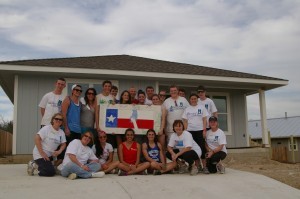 Tuesday's Children has spent more than a decade providing long-term recovery and support services for families impacted by 9/11, including families who experienced a loss, families of first responders, children impacted by terrorism around the world, families of veterans from post-9/11 U.S. military operations and communities recovering from the December 14, 2012 tragedy at Sandy Hook Elementary in Newtown, CT.
They provide a wide range of programs and services that address the unique challenges families face at every stage of their lives. Click here for more information on how to get involved and/or make a donation.
The Kenneth Tietjen Memorial Foundation
The Kenneth Tietjen Memorial Foundation was created in November 2001 as a non-profit organization to honor the memory of Port Authority Police Officer Kenny Tietjen who, at the age of 31, sacrificed his life on September 11th.
The main goal of the foundation is to work with local police and fire departments to provide aid to underprivileged children throughout New Jersey. Because the foundation is run by volunteers, donations go directly to the children. Click here to make a donation.
Heartworks
Heartworks is a 501c3 non-profit Acts of Kindness group created in response to the tremendous kindness that sustained so many families in the months and years following September 11th. This grassroots group focuses on people or circumstances that are "missed" by traditional ways of support such as fundraisers, churches or public services and operates mostly by word of mouth.
Heartworks reaches out to families experiencing health issues, healing from accidents or living with grief. Most of their focus is directed towards local situations, but they have balanced that out with efforts that are happening around the world as well.You can donate to the organization here.
PHOTOS: All used with author's permission
More from KnowMore.tv:
Do You Have Ovarian Cancer? Important Warning Signs
5 Solutions When You Feel Like You're Coming Unglued
Heart Palpitations: When It's Time To See The Doctor
Respiratory Virus Hitting Kids in at Least 12 States