By Barbara Greenberg for KnowMore.tv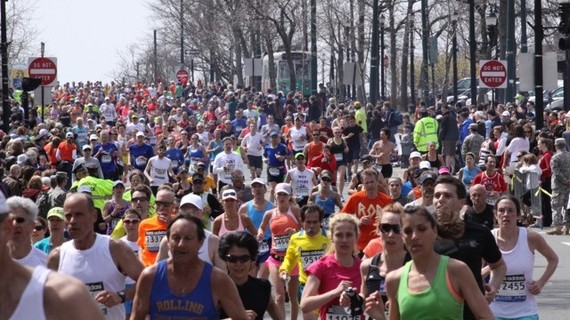 Runners on the final mile of The Boston Marathon 2013 Credit: Sarah Dyer
Sometimes in life we, as a community of basically good-natured and hopeful individuals, are thrown a very dangerous and tragic curve ball. Sadly, this curve ball affects the tapestry of so many lives. Last year on this date thousands of people and their families -- and much of Boston and the country -- were enjoying the excitement of the Boston Marathon.
Things were going swimmingly or at least they appeared to be until two pressure cooker bombs exploded at the finish line. This resulted in the death of three and 260 others injured. True terror on American soil.
Two police officers were shot, one killed, in the subsequent manhunt for suspects.
Two brothers, 26-year-old Tamelan Tsarnaev and his younger brother Dzhokhar Tsarnaev, were nabbed for the horrifying acts. Tamelan was killed in a police shootout and the younger brother was caught in a made-for-tv capture. He is awaiting trial next fall.
I am now being asked how survivors, their families and we as a nation can cope with the anniversary and deal with the re-traumatizing images that remind us of this tragic event, marred by carnage.
Take heart in knowing that there were heroes and heroines.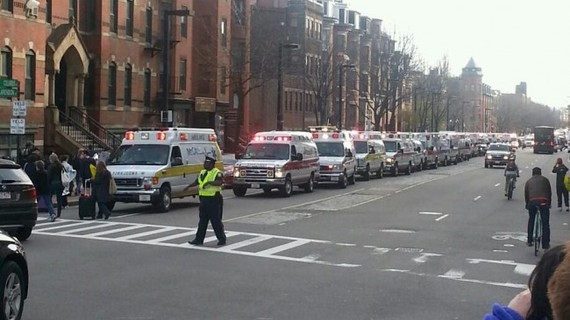 Ambulances line the street for three blocks at the Boston Marathon Credit: Lynn Crisci
I say, concentrate on the images that show a communal response and the resilience of a community where we have each other's back when terror strikes.
Think about the concern of the bystanders and the work of the first responders and keep in mind that people basically want to be good, helpful and necessary in this lifetime because what are we if not members of the larger community of our fellow brothers and sisters?
Do not watch news about this anniversary date over and over again.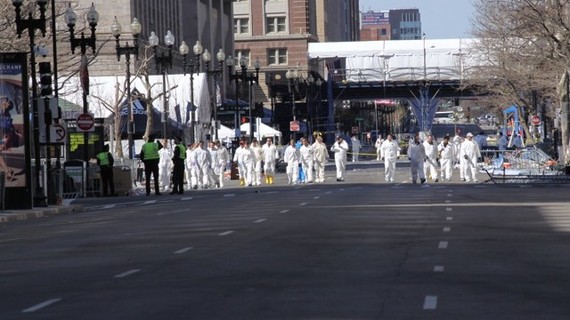 Hazmat teams comb the Marathon crime scene. Credit: Sarah Dyer
There is not an adult or child who will come away from hours of this imagery feeling safe and whole. In other words, limit exposure to media coverage. I cannot emphasize this suggestion strongly enough. Please, trust me on this one.
Honor this anniversary in a meaningful and comforting way.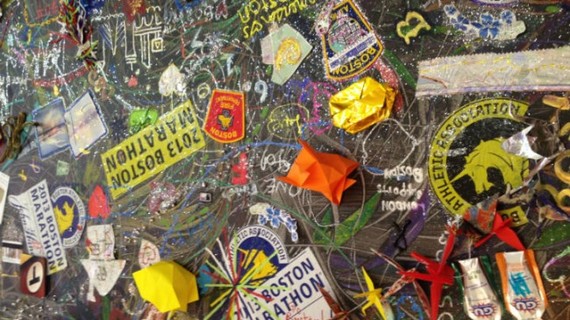 Artwork at the Marathon Memorial. Credit: Skye Schulte
Perhaps you and your family will want to have a moment of silence or even express your deep appreciation for one another. Honoring the victims and those who are meaningful in your life should give you some comfort. And, we all need comfort, right?
On this anniversary take the opportunity to reflect on the concept of empathy toward others.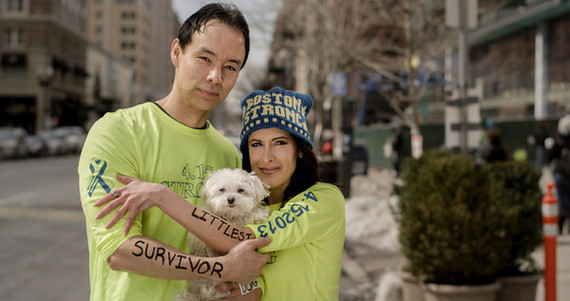 A little survivor after the Marathon Credit: Dear World
Share this lesson with your children and meditate on this concept yourself. If we are able to put ourselves in the shoes of others and reach across the figurative table to touch each other's lives and impact someone else, then we have a chance at a meaningful and spiritual existence.
Moving on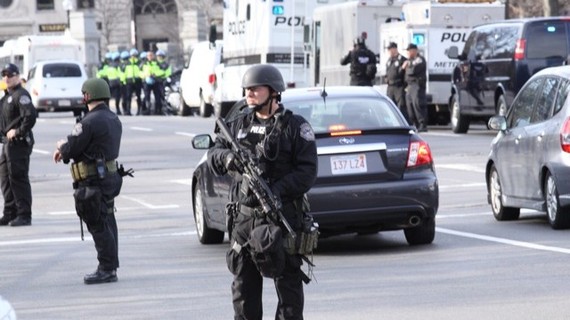 Swat team at the Marathon as the area goes into lockdown. Credit: Sarah Dyer
We will perhaps never quite know what motivated the attackers other than a lack of respect and empathy for human life. The older suspect is dead and his brother, if convicted, may face the death penalty. Even that outcome, however, will not bring back those who were killed or relieve the anguish of the families and friends of victims or of the spectators who had their sense of safety and a just world shattered.
What we need to remember is that Americans bounce back. We take care of our own- and others. Today, we are all #BostonStrong.
Permission granted from author to use all photos.
More:
Boston Bombing Coverage Triggers Flashbacks in Vets with PTSD