Parachute journalism -- a reporter lands in an unknown world and has to quickly assess the situation. These days, it can also happen on the phone, over email and via Twitter. Anyone can file stories from everywhere and the stories can go viral.
It's thrilling in nature and sometimes over before you know it, but not for the people left behind.
Dan Vice, assistant state director for Wildlife Services of the U.S. Department of Agriculture on Guam has been doing some damage control, so to speak, on the issue of brown tree snakes on the island.
Full disclosure: I grew up there.
People don't know much about the U.S. territory but they might have heard something peripheral about the invasive species.
Recently, I started reading all these articles about my home and the latest acetaminophen-laden mice drop into the jungle to combat the brown tree snake population.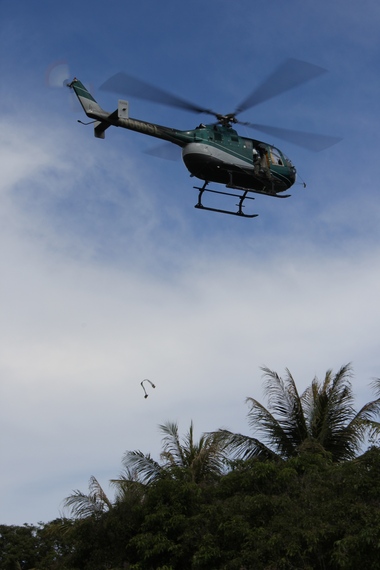 (Photo credit: D. Vice, USDA, APHIS)
Vice moved to Guam from the mainland in 1996 to start working on the project. Fast-forward to the latest and fourth application of a flagger floating down from a government-approved helicopter. He and his colleague are hopeful the three-year, $1.3 million effort will work against the maybe million (give or take 100 percent, he says) snakes.
"A lot of the outlets made it look like we're doing this willy-nilly," Vice explains. "This is a logistical next step in a sequence of a research-fueled project with developed technology."
I saw a dead one on the road once. I heard about a snake inside a friend's toilet or air conditioner, I can't remember. I recall going to the diner many times to do my homework, because of a black out likely caused by a you-know-what climbing a power pole.
Guam is a tropical paradise -- humid, diverse and Americanized. It is not an island overrun with snakes. There have been no real-life snakes on a plane incident that I know of.
Vice recognizes the unique, headline-grabbing quality of the story. But adds: "it's important for me to try to get that message out that even though Guam has a snake problem, it doesn't affect your everyday life."
Maybe this post defeats the purpose of perpetuating a stereotype... Try not to take the bait.