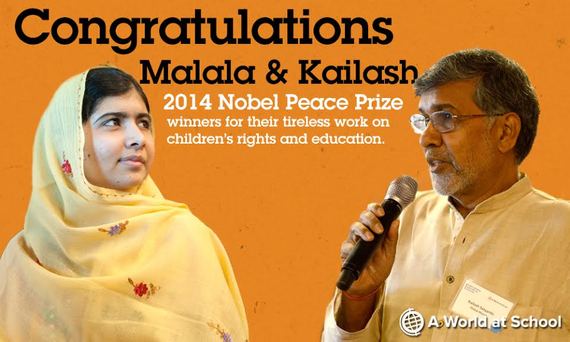 You can spend a lifetime screaming into the wind. And then, unexpectedly the wind changes. That's how it felt today as Kailash Satyarthi and Malala Yousafzai shared the Nobel Peace Prize.
By now the whole world knows who both of these activists are and what they are working to achieve -- freedom for children from exploitation and a seat in a classroom where they can learn what they need to thrive.
The stakes are high. Malala and her friends and many girls still in Pakistan, have risked their lives for an education. And they are not alone. Millions of teachers, school staff and students around the world risk their lives every day to get to or to stay in school. In Nigeria, hundreds of girls were taken by force from their school nearly 6 months ago and nearly 200 of them are still missing. Syria, which had near 100 percent enrollment for primary education before 2011, has seen their education system shattered by war. Instead of a stable education system abuse and exploitation are on the rise.
Exploitation that includes the worst forms of child labour. An estimated 168 million children are doing hard labor in factories, farms, homes, streets and battlefields. These children are subjected to abuse, hunger, poor health, and death. Most of these children are not in school.
These vulnerable children come from loss -- from wars they did not start or from families that are crushed by poverty. Meanwhile, many of us live in the greatest prosperity the world has ever seen. And our governments claim that their budgets cannot support the task of protecting these children.
This is a lie.
And it's a lie that both of today's Nobel Prize Winners certainly question.
Now, both of them have a global megaphone on these issues, but that's not how it began. Although Mr. Satyarthi has rescued more than 78,500 child slaves, there was a time when he was rescuing that first child. Although Malala has spoken to countless world leaders, there was a time when she was speaking out in her hometown for the very first time.
Global movements start with one action.
Last month in New York, I co-hosted a small meeting with Mr. Satyarthi on child labour, child slavery and education. Mr. Satyarthi outlined for the few education, child labor and child slavery activists who had gathered what we could potentially do together.
Now, everybody in the world is in that meeting. We can all potentially work together. We do all have power to do something.
Start now. Start here. Stand up for the 58 million children still denied an education. Sign the #UpForSchool petition and demand education for every child everywhere.
Kolleen Bouchane is the Director of Policy and Advocacy for A World At School and Director of Policy and Research for The Global Business Coalition for Education.
Ms. Bouchane served with the U.S. Army from 1993-1997 including with Operations Restore and Continue Hope in Somalia. Ms. Bouchane has a BA in International Studies from the Jackson School at the University of Washington and an MA in War Studies with a focus on Conflict, Security and Development from Kings College London.