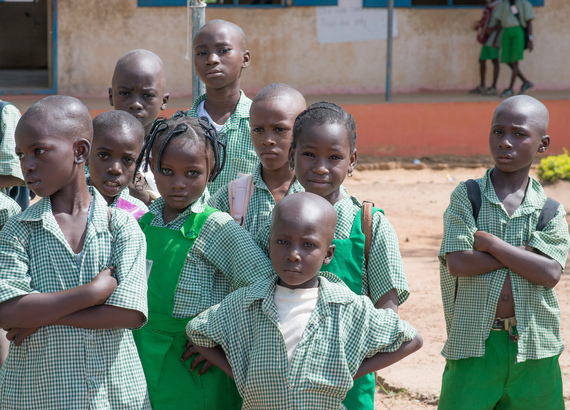 Children assemble in the school yard at Kuje Primary School in Abuja, Nigeria. Credit: A World At School/Nick Cavanagh
The world is transfixed by the kidnapping of more than 230 girls from a school in Northern Nigeria by Boko Haram insurgents. Stories of the fate of these girls and the suffering of their families and communities have people around the world outraged, wondering how this could be allowed.
Unfortunately despite the heinousness of this crime, this latest attack on school children is not an aberration. It is part of the calculus of terror and warfare in Northern Nigeria and around the world.
Attacking schools -- turning a place of opportunity and promise into a place of fear and death -- is a deliberate and increasingly widespread strategy.
Beyond Nigeria, across 30 countries between 2009-2013 a disturbing pattern of intentional attacks on schools, students and teachers has been uncovered by the Global Coalition to Protect Education from Attack.
Schools are part of the battlefield and the stakes are high. In the poorest settings, access to a quality education can be the difference between poverty and prosperity. If all women had had at least a primary education in 2012, there would have been 1 million fewer child deaths that year -- triple this if these same women also had access to secondary education.
It's outrage heaped upon outrage. As financial resources for education decline globally particularly in the poorest countries, the risks of not getting an education or attending a school that cannot be kept safe continue to escalate.
So what should we do?
Norwegian Foreign Minister Borge Brende and United Nations Special Envoy for Education Gordon Brown and others have argued that schools should be, like hospitals, given the protection of international law.
They are right of course.
For the last two years the Global Coalition to Protect Education from Attack and experts from several supportive governments have been working to develop the draft Lucens Guidelines for Protecting Schools and Universities from Military Use during Armed Conflict. The guidelines draw on international human rights and humanitarian law to protect schools from warfare and they are a clear and reasonable set of rules for government as well as non-state armed groups.
While efforts to bring back these Nigerian girls must continue, the long-term efforts to protect students and teachers, to protect education from attack, must continue. As part of efforts to get the 57 million children currently unable to realize their right to a free primary education into a safe quality school, the Lucens Guidelines need to be finalized, endorsed and enforced.
Further, global leaders should take a good hard look at their declining investments in education more broadly. Donors have not met their commitment to ensure no country would fail to achieve education for all due to lack of resources.
What leaders say to the families of these girls in the face of a tragedy like this must be backed up with consistent action and investments that prioritize the protection of the most vulnerable schools and the most vulnerable children.
Kolleen Bouchane is the Director of Policy and Advocacy for A World At School and Director of Policy and Research for the Global Business Coalition for Education. She has a BA in International Studies from the Jackson School at the University of Washington and an MA in War Studies with a focus on Conflict, Security and Development from Kings College London.