I don't know about you, but I grew up in a household in which dinner was made on a nightly basis. So when I walked in the door to see the crockpot on the kitchen counter, I felt a moment of dread. For some reason, those meals never appealed to me. My mom was and still is an amazing cook so I am not sure why I had little desire to eat those meals. Now that I am running a household of my own, I can see exactly why my mom would turn to her crockpot on certain nights. She had four kids to get to various activities and still wanted us to get a nutritional meal.
When I got married, my husband and I registered for and received a crockpot, but I had little experience with it. Sure I knew the several recipes that my mom had in rotation, but like I said before, I didn't really love those. I am always on the hunt for delicious crockpot meals that can be prepped the night before and welcome me at five o'clock when I walk in the door from work. This happens to be my absolute favorite recipe for preparation in the crockpot. It is jam- packed with flavor and will have you craving it even when it is 90 degrees out, it is that good! The recipe starts off by creating a roux that helps thicken the soup, it was actually a replacement to cream of chicken soup. This makes the soup even better for you! The Mexican flavors are superb and the soup serves as a vehicle for all those amazing toppings. Trust me when I tell you this will soon become your favorite go-to meal.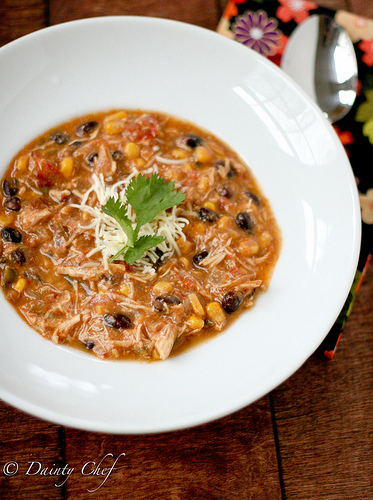 Crockpot Chicken Enchilada Soup
Ingredients
:
3 tablespoons butter
3 tablespoons flour
½ cup chicken broth
2 cups milk
1 can (15 ounce) black beans, rinsed and drained
1 can (14.5 ounce) Rotel diced tomatoes and jalapenos
1 package (10 ounce) frozen corn
½ cup onion, chopped
½ cup bell pepper, diced
1 can (10 ounce) Enchilada sauce
2 whole chicken breasts
For serving:
Shredded Monterrey Jack cheese
Sour Cream
Crushed tortilla chips
Avocado slices
What you'll do:
Melt butter in a saucepan over medium-low heat. Stir in flour; keep stirring until smooth and bubbly. Remove from heat and add the chicken broth and 1/2 cup milk, a little at a time, stirring to keep smooth. Return to heat. Bring sauce to a gentle boil; cook, stirring constantly, until it thickens. In a large bowl, whisk together the enchilada sauce and chicken broth mixture. Gradually whisk in remaining milk until smooth. Set aside.
In a crockpot, combine drained beans, tomatoes, corn, onion, and bell pepper. Place the chicken breasts on top of the mixture. Pour sauce mixture over ingredients in cooker. Cover; cook on low heat for 6 to 8 hours or on high for 3 to 4 hours. When you are ready to serve, remove chicken and cut or shred into bite-sized pieces. Add chicken back into the soup, mix together. Top with cheese and serve. I topped ours with slices of avocado, sour cream, and crushed tortilla chips.
Source: So Tasty, So Yummy