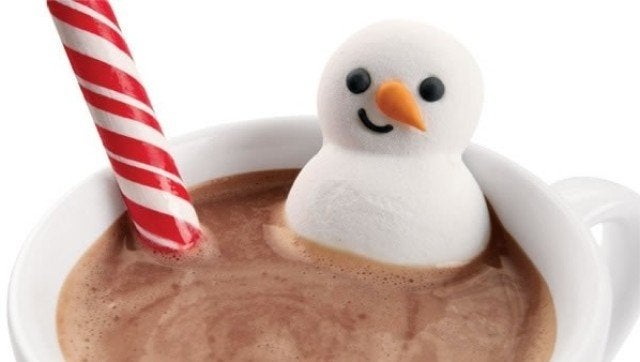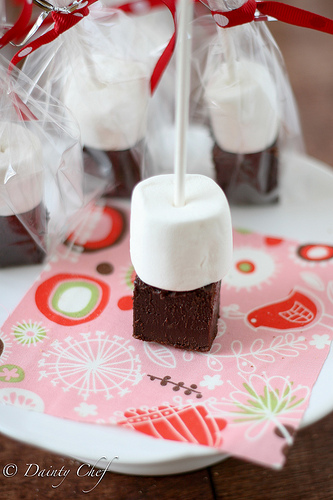 Are you finished with your holiday shopping yet or are you a last-minute kind of person? If you know me in real life, you know that I am pretty organized so my holiday shopping is all complete. If you are still in need of some homemade gift ideas, may I suggest these adorable hot chocolates on a stick. They make the perfect winter treat for neighbors, co-workers, and family. I know my girlfriend, Bethany, made them for her family's place settings this year, such a cute idea!
These come together with incredible ease and when they are packaged up are incredibly darling. I planned to pair them with some homemade marshmallows, but I just didn't have the time to make them so I went with the store-bought instead. Blair and I have been enjoying the leftovers cozied up on the couch next to the fireplace. They make a mean cup of hot cocoa that has been perfect for chilly nights. If you need a little tag to print out with them, click on the Source at the bottom of the recipe for a cute printable instructions tag to go along with them.
Hot Chocolate on a Stick
Yield: 36 squares
Ingredients:
1/2 cup heavy cream
One 14-oz can sweetened condensed milk
3 cups semisweet or bittersweet chocolate, chopped or in chips (I used semi-sweet chips)
One 4-oz bar unsweetened chocolate (broken or chopped into smaller pieces)
For assembly:
Marshmallows, homemade or store-bought
Wooden or cookie/lollipop sticks
Cellophane bags
Pretty ribbon
Prepare an 8ᅢラ8 pan by lining it with parchment paper. Set aside. Heat the cream and sweetened condensed milk over medium-low heat until it starts steaming, stirring frequently. Remove from heat and add chocolate. Stir and let sit for 10 minutes. After ten minutes, put the chocolate mixture back on medium-low heat and stir with a whisk until chocolate is completely melted and shiny. Pour chocolate into prepared pan and spread chocolate as level as you possibly can. Let sit overnight (12 hours or so).
Remove chocolate from pan and cut, top side face down, into squares. Divide the block into sixths each direction, so your squares will be a bit larger than 1″ x 1″. Use a long, thin knife. Heat the knife under hot water, wipe dry with a towel or paper towel, make a few cuts, then repeat the knife-heating procedure.