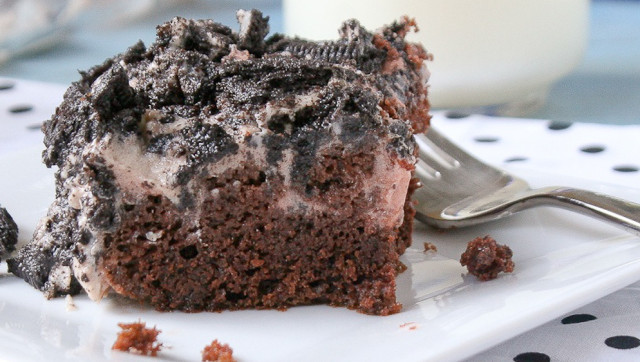 A few weeks ago on my blog, I talked about my salty weakness for chips. Today I am going to unleash my other weakness, this time in cookie form. Oreos. I don't know what it is about these cookies, but I can't resist them. When they are in my house, I end up going to town on the entire package, a few cookies here and there every single day. It's bad. My mom recently had made a Banana Poke cake that she raved about. She pointed me to the blog where she found the recipe and then mentioned to me that there was an Oreo one, swoon. I knew at that moment that I had to make this cake for our very first salad bar at work.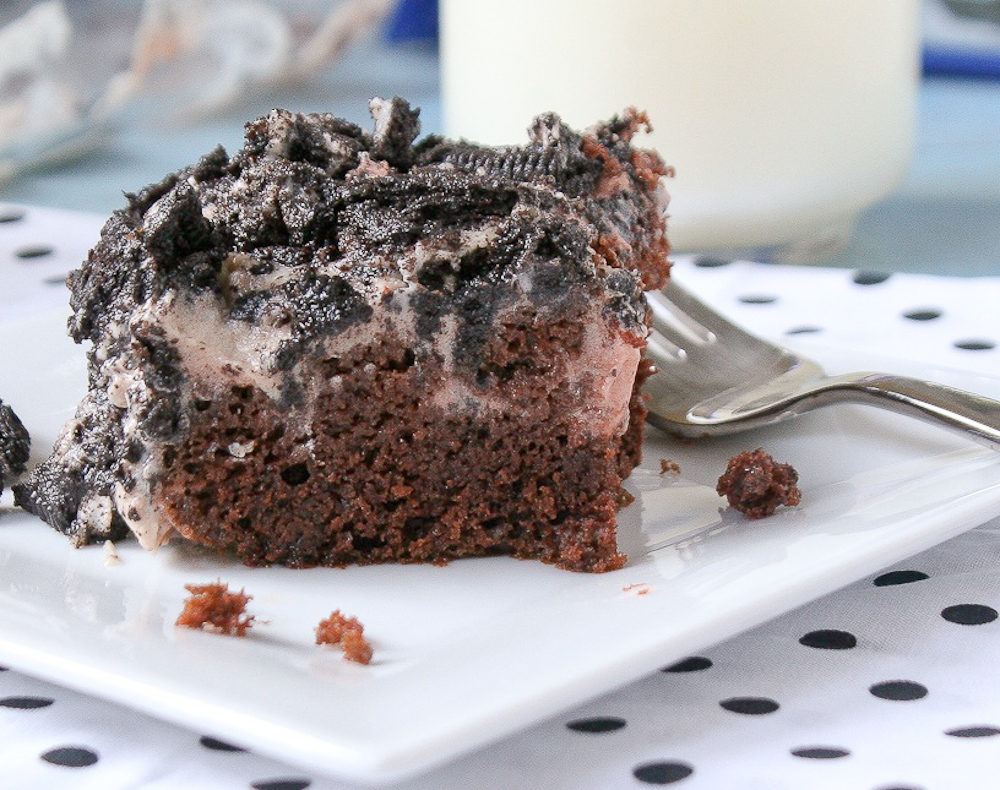 Apparently, poke cakes used to be all the rage in the 70's, but I am determined to bring these babies back. They are so simple that any novice baker could surprise his or her guests with this fantastic cake. You start with a box mix, which is not my favorite, but I got over that real quickly. The cake gets holes poked all over it and the Oreo pudding gets layered on top (I found this in my baking aisle at my grocery store). This time around, I did not add the layer of Cool Whip, but in the future I will definitely be adding it, so I made that change and you will see it reflected below. I just think it will add a whole new dimension to the cake. I thoroughly enjoyed my first poke cake experience, and I can honestly say it will not be my last!
Oreo Pudding Poke Cake
Ingredients:
1 Box Chocolate Cake Mix
Ingredients needed to make cake (usually eggs, oil and water)
2 (4 oz.)packages of Instant Oreo pudding
4 cups milk (2% or higher)
1 container of Cool Whip
Crushed Oreo Cookies (optional)
What you'll do:
Make cake mix according to directions and bake in a well-greased 9x13 pan. I think next time I am going to slightly underbake the cake by a few minutes, but I haven't tried this yet!
A few minutes before the cake is done, mix up the pudding. In a medium bowl, add milk to the pudding mix and continue to whisk until most of the lumps are removed. Let pudding mixture sit for about 2 minutes. You want it to be thin enough to easily spread on the cake layer. When cake is done baking and still warm, poke holes all over cake (about 1-inch) intervals using a wooden spoon handle or a straw. I used the end of my spatula's wooden handle.
Pour pudding over the entire cake, spread it out with a spoon, and gently push it into the holes. Put cake in the refrigerator and allow it to cool completely, this will take about one hour. Once the cake is cooled completely, top with the Cool Whip. Top with crushed Oreos and keep refrigerated.
Source: slightly adapted from The Country Cook