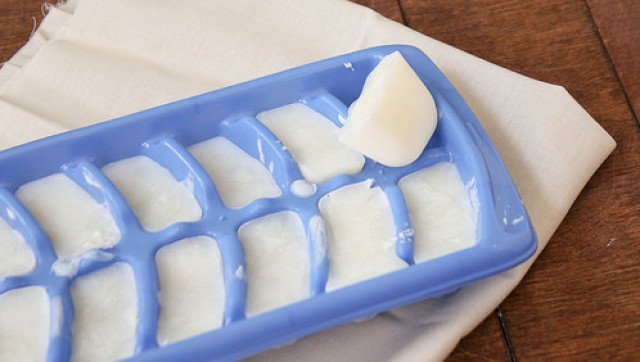 I absolutely love when I stumble upon a recipe for buttermilk, but hate the fact that every single grocery store I have ever been to only sells it in a much larger container than I need. As much as I would love to eat buttermilk pancakes or waffles every day, my waist line wouldn't agree with it. So finally I have tried out a solution and I can now say I have solved my own problem. What's the answer to this problem? Freeze it!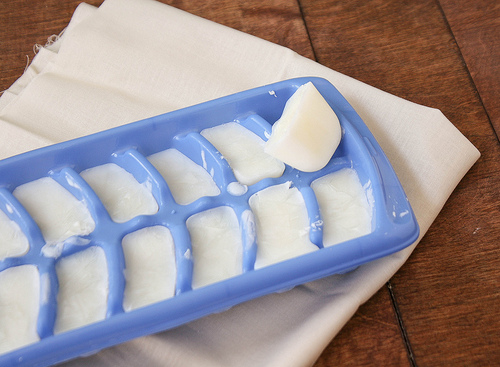 I was hesitant at first since I wasn't quite sure how all this would work, but I can report now that I have been successful with it. You simply freeze your leftover buttermilk in tablespoon increments and use as needed. The one and only drawback about this is there is some separation after thawing, but nothing that a quick whisk or whiz in the blender won't fix. The awesome part about it is now I can enjoy Buttermilk Blueberry Breakfast Cake and Granny's Banana Bread whenever the craving hits me!
What you'll do:
Freeze leftover buttermilk in 1 Tablespoon portions in ice cube trays. Once frozen, the cubes can be stored in a freezer bag, and since they're already measured, just pull out the number of tablespoon-cubes you need for the recipe. To thaw the cubes, place them overnight in the refrigerator or melt them at a low power in the microwave. Freezing will cause the solids and the whey in the buttermilk to separate. Before using in your recipe, whisk the buttermilk or run it in a blender until reincorporated.
Source: The Kitchn