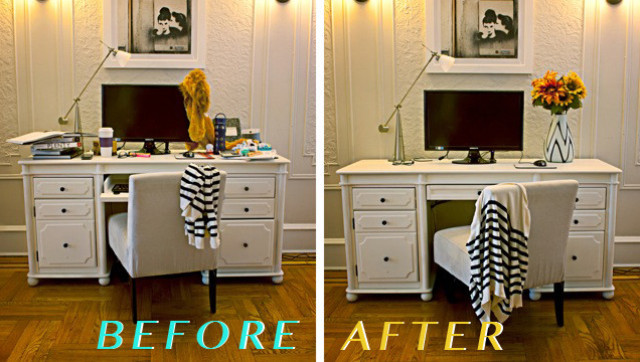 I hate getting the mail. I mean I really hate getting the mail, besides for the occasional card or invitation we may receive, bills, offers to turn my gold into millions and auto part magazines just do not interest me and instantly turn to clutter in our home. (As soon as I walk through my front door, I shove the day's dreaded pile of paper on the counter, and it just grows and grows.)
Recently after a long day at the office, I was relaxing on the couch and caught sight of the horrendous stack. I decided I couldn't avoid it any longer and finally started sifting through it... and actually found an unopened birthday card. Oops! 15 minutes later the pile didn't exist, I felt proud of myself for tackling a daunting task but also frustrated at my laziness for not doing it sooner.
So the next day, working off of the momentum from the night before, I decided to take 15 minutes to tackle another dreaded task: ironing. I decided to set an egg timer for 15 minutes and play a little game to see how much I could accomplish. And I was pleasantly surprised. The next night I finished straightening that whole pile and even had 5 minutes remaining... so I decided to sweep the kitchen floor!
Slowly but surely tackling a project or task for 15 minutes a night has turned into a habit. It's totally manageable and when that timer rings I feel pretty good. I no longer stare guiltily from the sofa at overwhelming task that seemed to taunt me.
Click through the slideshow to see a few of the tasks I've been able to accomplish at home in 15 minutes or less, and let me know if this works for you too.
PHOTO GALLERY
Cleaning And Organizing Tips
Have something to say? Check out HuffPost Home on Twitter, Facebook, Pinterest, Tumblr and Instagram.