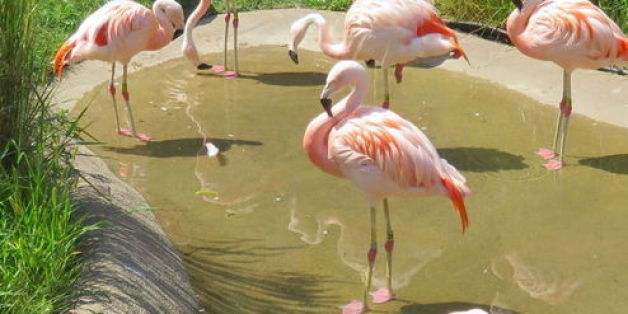 Somewhere in this great land of ours is a magical metropolis where everything is pink.
OK, that's a bit of an exaggeration -- but Sioux Falls, S.D. comes close. Maybe not everything is pink, but it's easily America's pinkest big city.
Sioux Falls sits atop an immense geological outcropping of a pink-colored rock dubbed Sioux Quartzite. It's just about the most unbreakable stone in the world, averaging between 7.5 and 8 on the Mohs Scale of hardness -- harder than granite, marble, slate, and even some other types of quartzite; only gemstones are tougher.
Early settlers realized this stuff would make an indestructible building material, so many of Sioux Falls' public buildings were constructed out of pink Sioux Quartzite. Over the decades, the city began to take on an unmistakable pink hue, especially considering that Sioux Quartzite was also sometimes used for private homes, retaining walls, staircases -- it was so plentiful that even the gravel for the roadway was often pink quartzite rubble. The cumulative result, as Sioux Falls grew over the decades to become South Dakota's largest urban area, was America's only major city with this distinctive hue.
Although most newly-built 21st-century commercial buidings in Sioux Falls now use standard modern construction materials, the original pink monuments still stand and comprise a unique Pink Architectural Tour.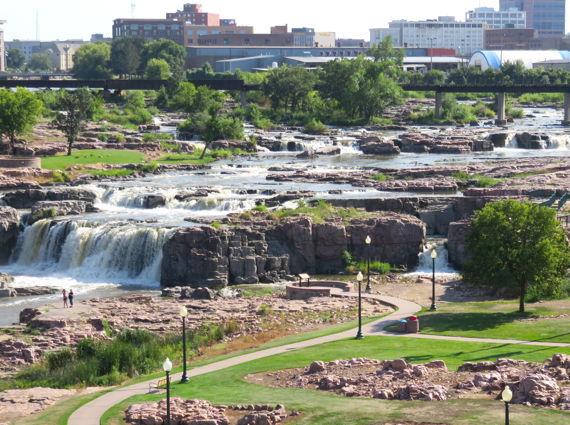 The best place to start is a few blocks north of downtown in Falls Park, a series of picturesque waterfalls on the Big Sioux River, after which the city itself was named. Here you can clearly see the vast expanse of pink stone erupting from the Earth; note how the coursing river water over countless thousands of years has barely eroded the impenetrable rock at all, a clue which informed the first settlers that they had stumbled onto something special. Picturesque pink quartzite ruins of former mill buildings grow almost organically from the waterfalls' Mother Lode of pinkness.
Quartzite is composed of quartz granules (crystallized silicon dioxide, a.k.a. sand) compressed and partly melted over millions of years, eventually forming a new type of rock whose molecular structure makes it harder than the original quartz from which it was formed. If iron ore is in the mix, the new stone comes out varying shades of pink, from dusty rose to ruddy fuschia.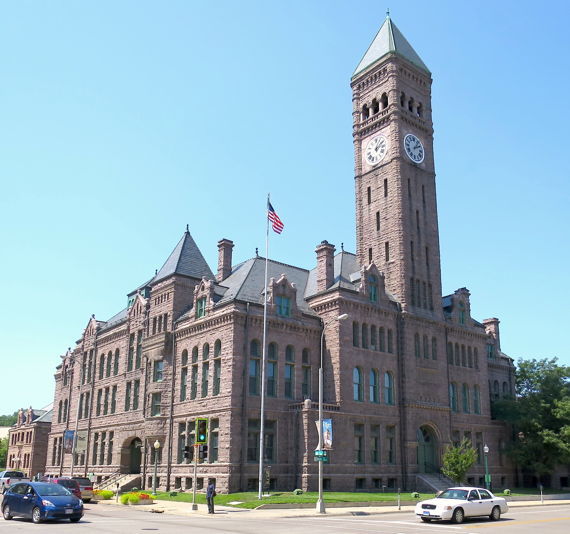 Along Main Avenue on your way back dowtown you'll pass what resembles a medieval cathedral fashioned from pink cake frosting: The Old Courthouse, an early pink masterpiece completed in 1893 in the Romanesque Revival style and now converted into a (free!) museum of local history.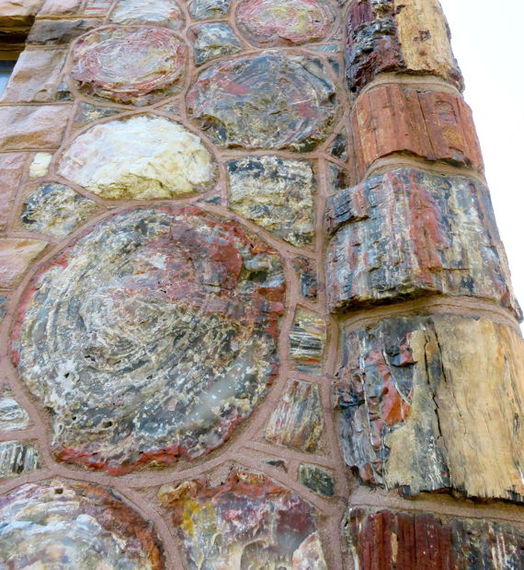 Sioux Falls' first-generation private homes, too, were sometimes built with pink quartzite; if you see only one, it must be the Pettigrew Home and Museum, perched on a nearby hill in a nostalgic residential neighborhood overlooking downtown. The Pettigrew Home is remarkable for a first story made not just of quartzite but of petrified wood as well, transforming the entire building into a Queen Anne jewel box.
Head a couple blocks over to Sixth Street at Duluth Avenue to see the city's last surviving pink quartzite cobblestones -- which were once common throughout the city, until they were mostly removed for being too slippery in Sioux Falls' snowy winters. But in many places around town -- such as the pavement of adjacent cross streets like Duluth and Summit avenues -- the streets of Sioux Falls are still pinkish anyway, because quartzite gravel is to this day blended into asphalt to create roadways almost impervious to wear and tear.
The heart of Sioux Falls' downtown shopping and dining district, along Philips Street between 8th and 12th streets, hosts a year-round public art exhibition titled SculptureWalk which often features statuary bases and signage made of pink quartzite, giving an unmistakable local flair to the otherwise quaint but mostly non-pink mid-century small retail buildings lining the sidewalks. But your Philips Street stroll climaxes at 12th Street where the imposing 1895 Federal Building -- crafted entirely of the purest pink quartzite -- is considered the archetype for the Romanesque style in the American west.
A block away looms the Washington Pavilion, yet another massive monument to the power of pink. A former high school, the Pavilion -- now with modern components to complement its pink core structure -- has been transformed into Sioux Falls' primary cultural nerve center, housing the state's largest concert hall, a science museum, and seven galleries of Native American and contemporary art.
Just a short stroll across the river from downtown, Sioux Falls' up-and-coming East Bank historical district has more Sioux Quartzite buildings in one block than perhaps anywhere else in the city.
When the railroad first came to town in 1878, businesses of all sorts quickly erected new facilities along the Chicago-bound tracks on the eastern bank of the river. Later, as the importance of rail transport began to recede over the decades, the area become somewhat derelict -- until it was given a new lease on life by 21st century entrepreneurs who repurposed the old quartzite industrial buildings and created a miniature Midwestern Brooklyn.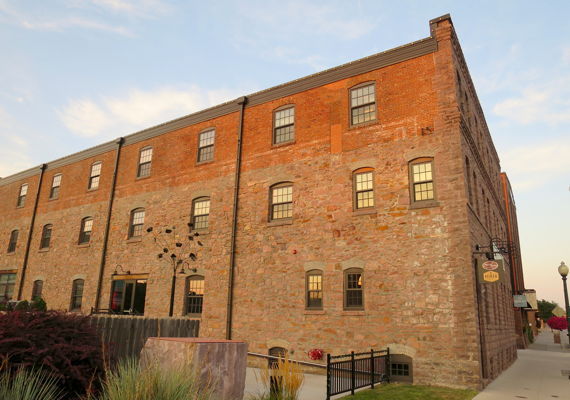 A good example can be found in the Frank Transfer building (seen above). Originally built of glowing pink quartzite for a lumber company and later occupied by various industrial firms, it has now been reborn as a tasting room for Prairie Berry's fruit wines and a laid-back cafe for the Queen City Bakery. As you enter along the side of the L-shaped building, the additional towering quartzite wall of the adjacent Crane Building completes an immersive all-pink architectural environment.
A few steps west along 8th Street, a bit hard to notice adjoining a parking lot on Cherapa Place, lies the picture-perfect Illinois Central Passenger Depot, the first all-pink all-quartzite structure in Sioux Falls, originally built in 1888 for the railroad and still in perfect condition today as an office building -- the kind you might imagine in a fairy tale, at least.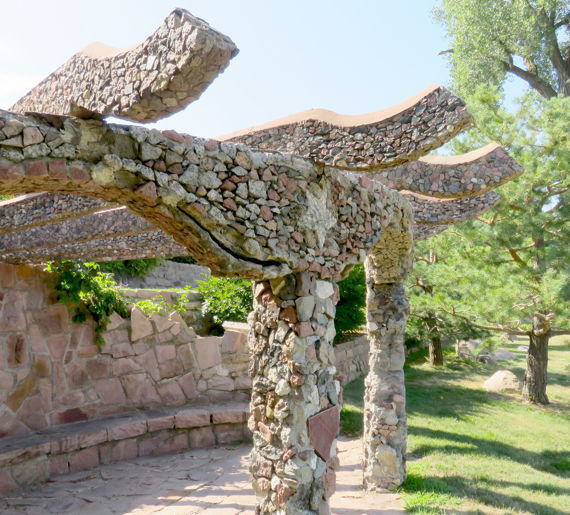 A short excursion into Sioux Falls' residential areas will bring you to Terrace Park, an otherwise unassuming neighborhood park which features a hidden promenade of eccentric hand-made Sioux Quartzite alcoves and archways noted as the city's only "Japanese Garden" but which instead counts more as a charming and underappreciated example of classic American "outsider art" -- built on a whim from 1928 to 1936 by a local park employee who had never been to Japan -- rather than anything particularly Japanese.
In fact, everywhere you go in Sioux Falls you'll encounter schools, churches, banks -- even the state penetentiary at the north end of town -- made of pink Sioux Quartzite.
For over a century, Sioux Falls didn't seem to fully appreciate the natural beauty of its namesake waterway, instead using the Big Sioux River at first for industry and hydroelectric power, while later town planners regarded it as more of an annoyingly wide drainage ditch to be crisscrossed with utilitarian bridges -- an attitude shared by most American cities during the era, unfortunately.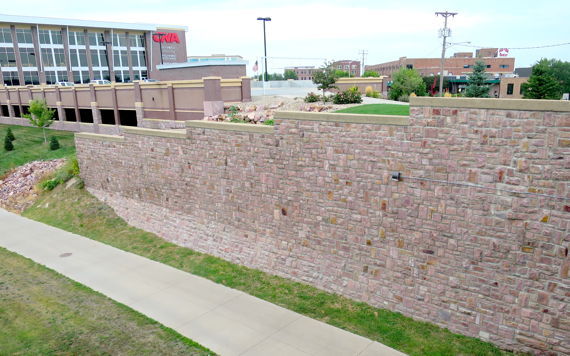 But all that has changed in recent years; unsightly industrial structures were removed and the river's entire course through Sioux Falls has been transformed into the Downtown River Greenway, a verdant riparian park snaking its way around the city -- and landscaped wherever possible with (yes, you guessed it) pink Sioux Quartzite.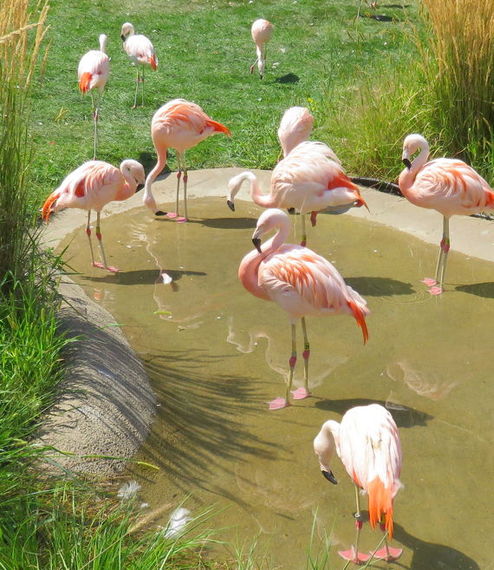 (Not everything pink in Sioux Falls is made from quartzite: the Great Plains Zoo, southwest of downtown, has a thriving colony of pink flamingos, and equally vivid scarlet ibises.)
The immense vein of Sioux Quartzite extends from Sioux Falls all the way into nearby Minnesota; dedicated rockhounds and pink-lovers can follow the Quartzite Trail to admire more picturesque outcroppings and historic pink buildings in the surrounding region.
Locations
Falls Park
Between Philips Ave., Falls Park Dr., and Weber Ave.
Old Courthouse Museum
200 W. 6th St.
Pettigrew Home and Museum
131 N. Duluth Ave., at W. 8th St.
Pink streets
Sixth Street at Duluth Ave., and surrounding area
SculptureWalk + Federal Building
Philips between 9th and 13th streets
Washington Pavilion
301 S. Main Ave.
Prairie Berry & Queen City Bakery (Frank Transfer building)
322 & 324 E. 8th St.
Illinois Central Passenger Depot
N. Cherapa Place, at E. 8th St.
Terrace Park Japanese Garden
N. Euclid Ave. and W. 4th St.
Downtown River Greenway
Along the banks of the Big Sioux River, throughout town
Great Plains Zoo
805 S. Kiwanis Ave. at 16th St.