A couple of weekends ago, I hosted my daughter's 8th birthday party. I'd considered having it anywhere but my house, but every place I called was expensive, really expensive. And even if I could afford it, I just didn't want to spend the money.
I mean, really, how could I justify the $295 for a two-hour party at the fairyland-themed craft cave where she had originally wanted to have it? Even though the hosting site generously supplies "the adventure and clean up." I'd still need to bring "the food, drinks and tableware."
And regarding that adventure: "Children are engaged for the first 1½ hours in theme related dress-up and drama, face painting, craft project and treasure hunt."
And just in case parents think that $295 buys them a whole party, with a cake and plates and stuff, think again:
After that, it's time for cake! (Remember: You supply the tableware and treats).
Are you thinking what I'm thinking? Exactly. Hell no.
Party on the moon
Like a lot of 8-year-olds, my daughter is really into space -- planets, the moon landing, Apollo 13, all of it -- so like any good mom, I scoured Pinterest for space-themed birthday party ideas. I found dozens of fabulously curated tablescapes that looked like they were constructed with more care and attention than the Apollo 11 mission. There were party favor ideas, cake decorating how-to and I think I saw a tutorial on how to stage a moon landing in your backyard.
All of it, while beautiful, just seemed so involved. So I went rogue and just made stuff up, like this lunar landing cake: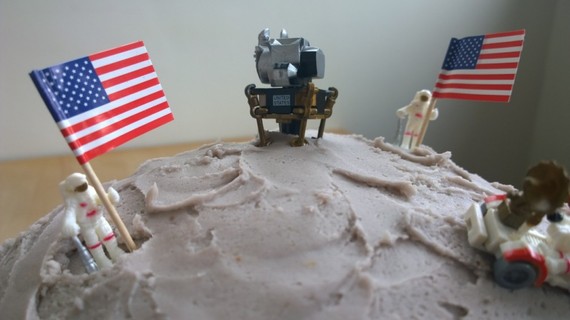 It's a cake, from a mix, with gray frosting. Add plastic moon landing toys, light the candles and serve.
For adventure: A scavenger hunt for planet stickers in the park that kept 10 squealing girls occupied for 45 minutes. When I announced that it was time to leave and go have cake, my daughter sneered at me -- me, the bearer of birthday gifts, cake decorating extraordinaire and scavenger hunt planner.
I quickly reminded her of those things before she went head-first into a stunning impersonation of Veruca Salt . And, if you think about it, my daughter's unwillingness to end the dime-store Pinterest-free birthday party I threw was a sure sign of its success.
Or she was just really annoyed with me.
Either way, everybody had a good time, and the pictures prove it. And I'll probably post them on Pinterest the next chance I get.