When in the midst of planning your wedding, it's easy to let your girlish guilty pleasures persuade your decisions. After all, you have been planning your wedding since the time when your favorite color was a tie between pink and sparkly. But, what about your groom -- isn't he getting married, too? Last time, we discussed the importance of thinking "we, not me" as your wedding will signify becoming one.
Does that mean you have to sacrifice the pretty frills and details you've always dreamed of and let your man plan? Not necessarily -- although if given the opportunity, he might just surprise you. To help you pull off a feminine, yet fiancᅢᄅ-friendly wedding, here are four tips.
Color: If when you present your Pinterest board of wedding inspiration to your fiancᅢᄅ, he freaks and says it looks like a little girl's tea party, you may need to be more respectful in your color choices. Keep the feminine hues and even patterns, but don't make them the focus. If pink is your color, for example, tie it into your bridesmaids dresses, bouquet or the venue itself, but don't overwhelm. You want your wedding brand to be noticeable, not overkill. Try balancing your color palette with tasteful browns, grays and shades that are more gender-neutral. This will allow for a look that is soft, yet groom approved.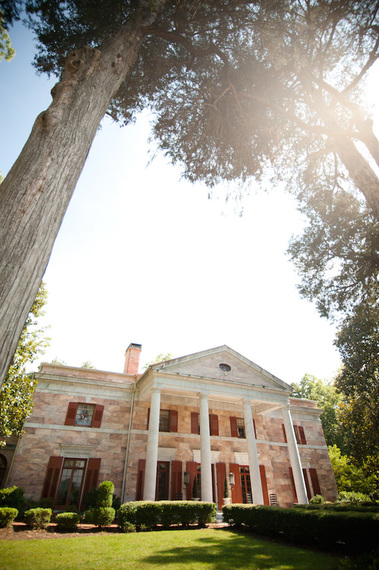 Sip and nosh: Catering is one of the simplest ways to tie together your personalities and wedding brand. Instead of opting for the traditional fare, discuss food and drinks that are reminiscent of your relationship. What are your go-to cocktails you love mixing up together? When you go on a date to your favorite restaurant, what do you each get?
Consider dressing up the foods your fiancᅢᄅ loves. Instead of mini burgers for passed hors d'oeuvres, opt for lamb and feta sliders with cucumber and mint aioli. Manly munches don't have to scream bar food. Include his preferences -- if he wants whiskey, cut the cosmos from the menu and instead have your bartender come up with two signature whiskey cocktails that will compliment both of your tastes. For an added feminine touch, display your liquor in vintage crystal decanters for a bar display that exudes old Hollywood glamour.
Dᅢᄅcor: If you enlist your fiancᅢᄅ's input on centerpieces, be prepared for the eminent response, "I don't care," which you'll likely get for many wedding planning aspects other than the cake tasting. However, if you find more masculine alternatives based on what he loves -- painted wine bottles, vintage beer bottles, terrariums or something he can build himself -- you've instantly included his preferences in another way.
DIY wood centerpiece vases are huge right now. The bases of smaller cut trees are perfect for carving out a space for a tea light, or even table numbers. Bigger stumps hollowed out and stuffed with a water-filled vase make for a beautiful and rustic statement piece to hold your florals. Handmade flower boxes and lanterns are also feminine, yet fiancᅢᄅ-friendly pieces.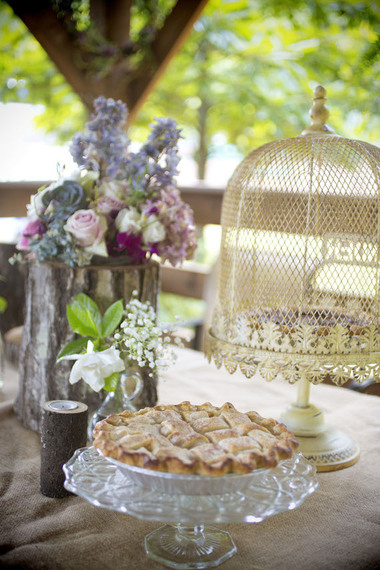 His duds: This one is tricky, although a very important touch point. You want your groom to be comfortable and look his best, so as a general rule of thumb, give him free rein over his wedding day duds to allow his own personality to shine. If he doesn't want to wear a jacket, he's a bowtie kind of guy, he'd hang himself from suspenders if you made him wear them, or he can't wait to break out his custom cufflinks, agree on only one rule -- he must adhere to the color palette -- and then let him at it.
If you are considerate enough to make your wedding day truly about two people becoming one, you'll create a more endearing event. You might even get this reaction.