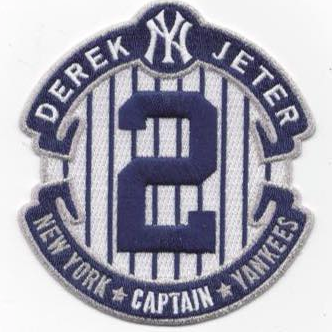 Whoever said there was no crying in baseball clearly wasn't glued to their TV screen the night Derek Jeter, captain of the New York Yankees, played his last game in pinstripes, ending a 20-year career before a sell-out crowd in excess of 48,000. Pass the tissues please. Not a dry eye in the house, or out there in TV-land. Even I, a New York Yankee fan, a Derek Jeter fan... was surprised by my own emotions.
There are two surprising things here -- One: That I'm writing about baseball to begin with and Two: That the New York Yankees saved my life. After a long, hard year of great personal family disruption and loss, I was forced to leave my life in NYC with my young son and move back home with my parents. I had just turned 40 -- not the Happy Birthday I had in mind.
When my son was two years old, his father was arrested in a high profile Wall Street securities fraud case and our world was subsequently turned upside down. In an instant, as with a flick of a switch, it was all gone -- our home, our money, our perceived happy-ever-after life, all of it -- gone. For over a year, we struggled in legal battles, the marriage ultimately crumbled, and my then-husband was sentenced to 13.5 years in a federal prison. With a toddler in tow, I was left to pick up the pieces. But this isn't a story about that, let's get back to baseball.
The lease on my last NYC apartment was up in March, school didn't end until June -- for four months I commuted daily with a kindergartener at rush hour on the Long Island Railroad. Standing on the train platform each morning with swarms of daily commuters, decked out in their work attire, anxiously glancing down at their watches, peering out beyond the tracks anticipating an oncoming train, sipping steaming to-go coffee cups -- my boy was the only child in a sea of adults. This was no amusing excursion for us, no day of fun in the city. This was our new life; one hour on the LIRR to Penn Station followed by a cab ride or several subway rides to land at PS 158 on York Avenue, about as far east as one can get on the island of Manhattan.

Looking back, I'm still amazed how we did it, and better yet, how my then 5-year-old never complained. He ate breakfast on the train as we read books to entertain us. And in rolled the New York Yankees. One weekend, a cardboard memorabilia collectible holder was included in the Sunday paper. Each day for a month, a coupon would appear in the daily New York Post that could be redeemed at a newsstand for a mini baseball with a player's face on it. This ball could be fit into the cutout holder, with the goal of eventually collecting all players on the team.
Spring emerged with promise that year, as it does, and along with it came longer, warmer days. Suddenly we were not departing and arriving home in the dark and there was life in between -- there was time for after-dinner baseball in the backyard with Grandma. Friday nights were pizza and Yankee games, and seeds of tradition grew roots. Every day (and I mean every) was a Yankee t-shirt-wearing day. The anonymous sea of commuters we would meet each morning, who stood in the same spots and sat in the same seats, began to not only recognize my boy, but started calling him "Mr. Yankee." One stranger even presented him with a Derek Jeter bobble-head as a gift. He wore his Yankee baseball cap with pride and toted his schoolwork in, what else... a coveted Yankee backpack that was almost larger than him.
Excitedly arriving at the train station a few minutes earlier each morning to get the paper became "our thing" -- we would read the sports pages, rip out the coupon for the day and try to guess who would be the player of the next day. He probably wasn't the only kid who managed to complete the collection that spring, but I bet he was the only one who did it on his own (not many 5-year-olds were commuting to work in the city).
There would be birthdays spent at Yankee Stadium, box seats and bleacher seats, old stadium and new -- there were memories, the sweet imprints of a mother bonding with her son. I learned to love the game, and even more to love the discourse that ensued between us. A few years later, when the Yankees won the World Series, and we had relocated to upstate New York, we even skipped a day of school, and with a few friends, headed to the parade. The New York Yankees helped us through that difficult transition in our lives and created an indelible mark upon my heart.

So what came up for me as I watched Derek Jeter take the field for the final time at Yankee Stadium, to a thunderous roar of cheering, "THANK-YOU-DEREK?"...all my memories...my 5-year-old decked out in Yankee regalia and all my precious time with him...it all flashed before my eyes. Thank you Derek, for being a sports figure who is a true role model, someone so easy to look up to -- something so rare to find today.
As we stared at the game last night, emotions welled up. It was an Americana moment of baseball, apple pie and Chevrolet. The predicted rainstorms dissipated and the skies cleared. The ending was even too schmaltzy for a Hallmark movie, and yet, sometimes real life can be sweeter than a fairytale (well, ok -- it could only have been a tad bit more saccharine if the team was continuing on to play in yet another post-season).
Derek Jeter went out like a hero in a way that even Hollywood couldn't have scripted...a walk-off hit that won the game. Thanks for the memories!
O Captain! My Captain!