In every speech given at the Republican National Convention, Barack Obama appeared.
Mentioned twice as often as Romney throughout the roster of speakers, attacks on Obama often comprised the bulky middle of remarks bookended with praise for Romney.
On the final night of the GOP convention, there were tears, female leaders like Jane Edmonds lauding Romney as "authentic," and overworked skeet-shooting Olympic metaphors, but those were mostly filler between zingers on Obamacare, national debt, and the economy.
This was to be expected, given the previous two nights' pattern of dropping five or so questions about Obama policies in a row.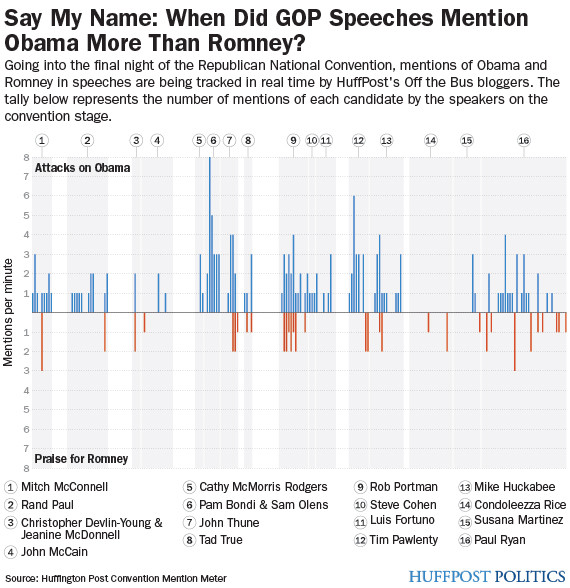 During a wandering monologue delivered to an empty chair meant to represent Barack Obama, surprise guest Clint Eastwood went off-script, asking his furniture prop a series of questions. Known for his gritty punchlines, the actor's delivery faltered somewhere between King Lear and film director Wes Anderson's character Ritchie Tenenbaum taking off his socks in mid-court during a tennis championship.
Like other speakers this week, Eastwood's words did not explicitly mention Romney when arguing for the timeliness of the Republican candidate. "Now, possibly, it may be time for someone else," Eastwood said quietly, as if in conversation with the teleprompter.
Before the final speeches began, the Internet had already claimed @InvisibleObama, a tweeting chair ready to take Reddit AMA requests. Obama had been referenced all week; tonight his presence was recognized on the stage, as Eastwood even rescinded a teasing admonishment to the chair, complaining about Air Force One's fuel efficiency before admitting he was perhaps the wrong person to level that complaint.
Praise for Romney was the early theme of the night, swinging back toward attacks on Obama from a candidate that struggles to talk about his own record. Thematic words for the week include: exceptional, Reagan, hands, milk (all varieties of), love, golf, Ann, Bain (it reappeared tonight), and Mom.