Last October, indie film fans across America attended the premiere of director Edward Burns' latest flick, Nice Guy Johnny. Instead of hanging with "Eddie" at NYC's Tribeca Film Festival or schmoozing down a red carpet in L.A., though, moviegoers watched actors Matt Bush (Johnny) and Kerry Bishe (Brooke) bring Burns' latest Long Island love story to life while curled up on couches in their own living rooms.
Nice Guy Johnny hit Comcast's "On Demand" with a bang, in part thanks to the power pop stylings of Burns' soundtrack guru, P.T. Walkley, a fellow New Yorker who provided a psychedelic sonic layer to the film's romantic dilemma.
It all started in 2003, when Burns purchased a guitar and began taking lessons from Walkley, who at the time was working at Manhattan's infamous Ludlow Guitars. Walkley slipped Burns a demo, and the rest is history.
"I'm a music nut," Burns admits. "And I'm attracted to the music of singer-songwriters," (Burns has used music from Sarah McLachlan, Pete Yorn, and Bruce Springsteen in his film projects.) "P.T. and I were both big fans of The Graduate and the way Mike Nichols used music in that film," says Burns.
From hanging out, Burns says he and Walkley became fast friends and "stumbled upon" an original song while playing music -- and eventually even formed their own band, The Blue Jackets.
Although Burns loves to write and perform, he defers to Walkley's expertise on all things musical.
Walkley, 34, is no newcomer to the film or music scenes; he's scored three other Burns projects (2004's Looking For Kitty, 2006's The Groomsmen, and 2007's Purple Violets), as well as Paul Myers' 2005 comedy Southern Belles -- and, with his live bands (Track Rabbit and The Blue Jackets), has even opened for Coldplay at Madison Square Garden and appeared on the Sundance Channel music series "Live From Abbey Road."
Yet, even though the perfect marriage of beachy visuals and breezy sounds ("Beautiful Ride," "Something More,") in Nice Guy Johnny garnered the Beatlesque Walkley some deserved attention, he's still not a house hold name; his whimsical scores for Mastercard and Starbucks ads as part of the hip NYC jingle house Frisbie may actually be more well known to the general public.
"This is my job, too," Walkley says of his commercial work. "What better way to put [my] music on tour than to have millions of people hear it?"
And rather than feel like he's selling out, Walkley says his reel compositions allow his real rock 'n' roll songs to "be more pure," because life as an independent songwriter means "you don't have a label breathing down your neck."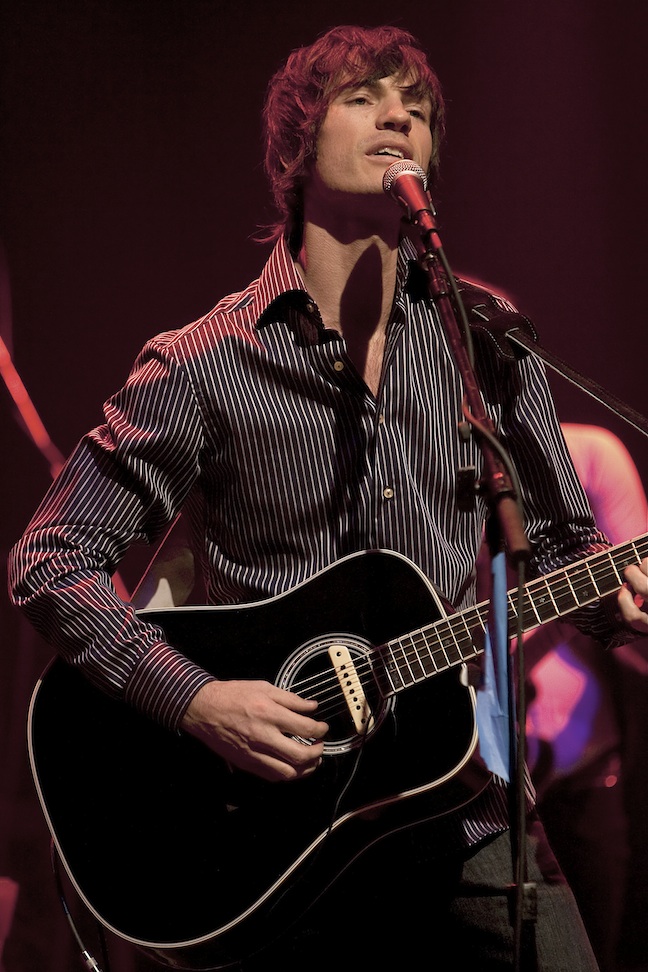 Photo courtesy of P.T. Walkley. Photo credit: Hal Horowitz
His latest batch of tunes, an EP called The Ghost of Chivalry, musters the sort of artful exuberance rare in today's overly-compressed popular music landscape. Combining his love for classic rock (Bowie, Stones, Zeppelin) with the music he grew up listening to as a teen on Long Island (Pavement, Superchunk, Sonic Youth), Walkley has a knack for mining influences without veering into retro territory. Fans of early-1990s sensations Jellyfish and The Grays will easily recognize Chilvalry's similar 1960s-inspired aesthetic -- but the only truly old-fashioned thing about this music is Walkley's insistence on real instrumentation.
"If it can translate well to acoustic guitar or piano, then you can say it's a good song," Walkley says. "You can always dress it up."
For Chivalry, Walkley dressed "Save the World" (the pivotal ballad from Nice Guy Johnny) in a cloak of revved-up guitars, strings, and horns.
So, how does Burns feel about having such a versatile musical collaborator?
"It's a great luxury to have a composer like P.T.," Burns says.
When it comes to music, "P.T.'s Michael Jordan and [I'm] a junior high basketball player," he laughs.
PHOTO GALLERY
Sounds of P.T. Walkley
P.T. Walkley is performing at New York's City Winery on February 22, 2011. Click here for more info or to purchase tickets.
To receive a free advance stream of The Ghost of Chivalry, visit Walkley's Facebook page through March 31. For more info visit www.ptwalkley.com.